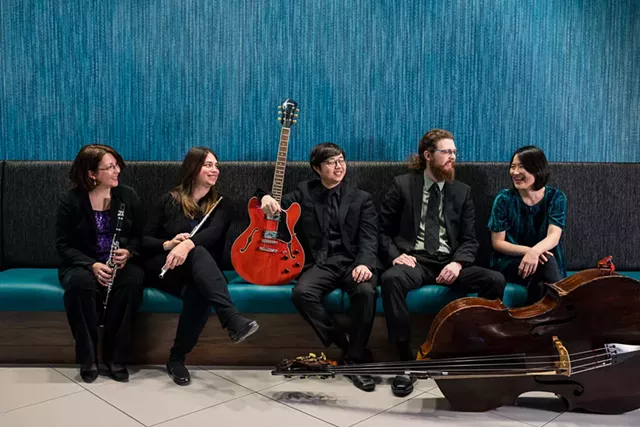 PHOTO PROVIDED
Fivebyfive is clarinetist Marcy Bacon, flutist Laura Lentz, guitarist Sungmin Shin, bassist Eric J. Polenik, and pianist Haeyeun Jeun.
The end of 2021 was an auspicious time for the Rochester contemporary classical quintet fivebyfive. The chamber group released its debut album "Of and Between" on Dec. 1, and two weeks later it was awarded two grants from the New York State Council on the Arts.
"Of and Between" was a culmination of three years of collaboration with composers to commission new music inspired by the work of photographer James Welling and stained-glass artist Judith Schaecter. And with NYSCA's financial support, fivebyfive has begun to look ahead to the next phase in its creative trajectory, with a cash-bar concert event at ARTISANWorks on March 20 called "Heavy: Music With Bite."
The program consists of compositions by new-music heavyweights such as Philip Glass, Missy Mazzoli, Marc Mellits, and others. It also includes Edie Hill's startling but beautiful work "Blue Jewel," which is part of the "Glass Works Collection" heard on "Of and Between."
For an idea of what to expect at Sunday's concert, it's as good a time as any to revisit "Blue Jewel" and how it exemplifies the vibrant music-making of Rochester's preeminent professional avant-classical ensemble.
Inspired by Schaecter's "The Battle of Carnival and Lent," the composer Hill sought to create music that would reflect the turbulence of the imagery when viewing the stained glass up-close instead of at a distance, in which the conflict is less apparent.
The music begins with jarring dissonances from pianist Haeyeun Jeun, as flutist Laura Lentz and clarinetist Marcy Bacon quickly interject with competing trills and alternating restless phrases. Electric guitarist Sungmin Shin picks repetitively at a single note and Eric J. Polenik thumps sporadically on his upright bass, creating added tension.
Fivebyfive excels at taking material that seems prickly at first blush and revealing its more lyrical elements. Despite clashing chords and unsettling harmonies, ascending chromatic melodies emerge as the piano, guitar, and woodwinds engage with one another. The musicians' sharp articulation of phrases — as well as close attention to how different volumes communicate meaning — makes the work especially poignant.
Although chaotic, the music never descends completely into cacophony, and eventually the dust settles on a decidedly more serene and spacious sonic environment. Long, legato lines from the flute stretch out over mystical piano and bass clarinet flutterings.
Regardless of the musical mood at the moment, fivefbyfive performs with a combination of intensity and synchronicity that provides a sense of urgency without detracting from the composition's subtle musicality.
Fivebyfive performs "Heavy: Music with Bite" on Sunday, March, 20, at 4 p.m., at ARTISANWorks, 565 Blossom Rd. $15 advance, $18 at door. Cash bar, 21 and over, with ID. Masks optional.
fivebyfivemusic.com
.
Daniel J. Kushner is CITY's arts editor. He can be reached at dkushner@rochester-citynews.com.