The historic neighborhood boasts plenty in the way of parks and community events
Nestled alongside the Genesee River and I-390 in the city's southwestern sector is the 19th Ward, a largely residential neighborhood that's been home to Rochesterians since the late 1800's. And yet, you could easily spend a lifetime in Rochester and not make it to this historic community. That would be a mistake. From summertime gatherings to beautiful public parks, the 19th Ward offers plenty of opportunities for activities that foster community growth. Here are five options to check out.
Aberdeen Square Park, 330 Post Avenue
Need some green space to stretch your legs, play some impromptu soccer or ultimate frisbee with friends; or do you just want to get some fresh air? Aberdeen Square park is just the spot. It's also home to the annual 19th Ward Community Association Square Fair, on the first Saturday in June. The fair is a great multifaceted event for the whole family, complete with a parade and other performances, games, book sales, wares from local vendors, and a pancake breakfast.
PHOTO BY MARK CHAMBERLIN
A biking group rides through Genesee Valley Park.
Genesee Valley Park, Elmwood Avenue
For a much larger space to roam, bike, canoe, fish, or even golf, this 800-acre park is located alongside the scenic Genesee River. The park also includes the Genesee Valley Sports Complex on 131 Elmwood Avenue, with an outdoor Olympic-sized swimming pool and an indoor ice skating rink.
Westside Farmers Market at St. Monica Church, 831 Genesee Street
From June through October, the Westside Farmers Market market is open rain-or-shine on Tuesdays from 4 p.m. to 7:30 p.m. Whether you're looking for fresh produce, baked goods, flowers, or other locally sourced items, you're sure to find what you need. And with live performances from area musicians, it's easy to turn a trip to the market into a fun social activity.
PHOTO BY MARK CHAMBERLIN
Campi's was featured on an episode of "Man v. Food."
Campi's Restaurant, 205 Scottsville Road
You could fly by this unassuming spot day after day and not see it, but you'd be missing out on some satisfying comfort food. Once featured on the Travel Channel show "Man v. Food," this greasy spoon specializes in subs, sandwiches, wings, and of course, "sloppy plates." If you're hankering for a steak sandwich, this is the place. And with ample portions and affordable prices, you can't go wrong.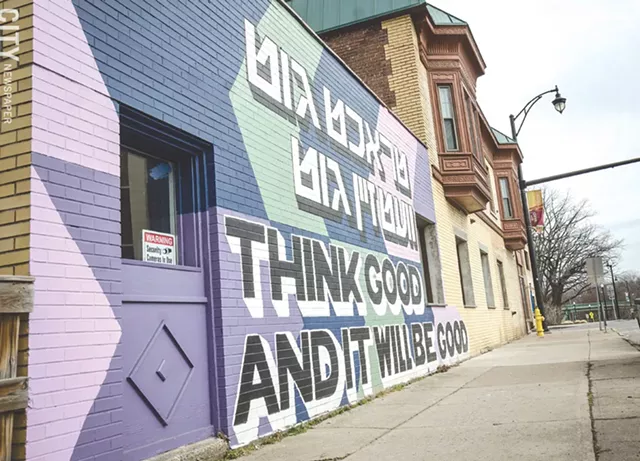 PHOTO BY MARK CHAMBERLIN
The 19th Ward Mural Project is in both English and Hebrew.
19th Ward Mural Project, Rohr Chabad House, 955 Genesee Street
If you're walking around the neighborhood and you could use a boost in your mood, or just something to restore your faith in humanity, be sure to check out the mural on the corner of Genesee Street and Brooks Avenue. Painted in 2015 by local artist and social designer Shawn Dunwoody and about 50 community members and University of Rochester students, this bold, exuberant public art installation reads "Think Good And It Will Be Good" in both Hebrew and English.