A small, excited grin starts across Ward Stare's face as he dives into a description of the program he'll conduct during the Rochester Philharmonic Orchestra's season opener on September 18 and 20.
Johannes Brahms' Violin Concerto in D Major "is very much like a seed just growing out in a beautifully shaped plant or organism that's living and breathing," he says, hands gesturing a blooming plant. "It gives the orchestra a chance to bring out a lot of subtle color and shape with the soloist in a very intimate, expressive way."
Blue eyes light up. His enthusiasm builds as he describes the music. And it's infectious: It's hard not to get swept up by Stare's excitement, simply because of his eagerness to share.
On September 1, the 31-year-old Stare will become the RPO's music director, the 12th in the organization's 91-year history. His selection is an indication the RPO is determined to find new ways to break down long-standing barriers to classical music and reach a broader audience.
The music director's position has been vacant since January 2013, following the RPO's dismissal of Arild Remmereit.
"We looked at a number of really good candidates," says Dawn Lipson, RPO board chair, during an interview with CITY. "But ultimately, what we thought we needed for the RPO was someone who really had a new vision for the orchestra."
Financial troubles have been pushing orchestras across the country to search for new ways to engage audiences and draw more people into concert halls. There's a major effort to reach younger members of the community; to create a welcoming, less intimidating environment; and to find ways to connect the unfamiliar with classical music. But while these aren't necessarily new problems, no one seems to have found a perfect solution.
For many symphony orchestra leaders, the discussion has included incorporating new media into concerts, but they'll have to make sure that efforts to attract new audiences won't drive away existing ones. A difficult question remains: How do organizations add to the concert experience without demeaning artistic value?
"You use the same wheel, but you use it a little differently," says Mark Kellogg, the RPO's principal trombone and chair of the musicians' section of the music-director search committee. "I think that's incredibly important, and Ward gets that. I think he'll be the right person to help us find and define new ways to do that."
Stare will be the RPO's youngest music director, but he already has a lengthy list of accomplishments: principal trombonist for the Lyric Opera of Chicago Orchestra at age 18; recipient of the Robert J. Harth Conductor Prize and the Aspen Conducting Prize; conducting appearances with the London Philharmonic Orchestra, the Norwegian National Opera, the Cleveland Orchestra, the Moscow Chamber Orchestra, the Deutsches Symphonie-Orchester Berlin.
He was resident conductor of the Saint Louis Symphony Orchestra from 2008 to 2012, and he made his Carnegie Hall debut with that orchestra in 2009. Stare debuted with the RPO in February 2013 and conducted the RPO again in a summer concert last year.
"In the orchestra, we're all very excited to see how the relationship with him will develop," Kellogg says. "Ward has already demonstrated tremendous work and great accomplishment in his short career, and I think his trajectory has such potential."
Stare will develop in parallel with the orchestra, Kellogg says. "This is an orchestra that will continue to grow."
And Stare says he thinks his youth is an advantage, a bridge between the RPO's rich history and the possibility for an innovative future — a sentiment echoed by Kellogg and Dawn Lipson.
"We're looking for new ways to reach our public," Stare says. "Because ultimately, music is about communication, and I want to reach out and communicate with as many people, on a direct level, as we possibly can in Rochester."
Stare discussed his vision for an innovative Rochester Philharmonic during a recent interview. The following is an edited version of that interview.
CITY: What music are you listening to right now?
Ward Stare: Well, I'm listening to some things for projects coming up in the future. I've been listening to a lot of Bach lately, because I'm working on an arrangement for a concert I'm doing next season of the Chaconne for violin. Just to get back into the mindset of Bach, I was listening to a lot of it the last few months. I've always loved it, but I've been reconnecting with that. Pop culture wise, I like to turn a radio station on in the car to see what's getting a lot of play and get a feel for it.
Do you often get out of the classical world? Or is it that when you listen to music, you have to listen to things like Bach because you're working on a project?
People ask me if I want to relax and listen to classical music, and I love it, but it really engages my mind in a pretty full way, so it's not necessarily relaxing. Things like jazz, popular music, or rock 'n' roll, I find that relaxing because it's still familiar, but it's not my business; I don't listen to it with the same critical ear as I do Classical music.
From your perspective, what is your job as music director? What is on your shoulders as you go forward with the RPO?
A lot of people have asked me this week what's the difference between a music director and a conductor. The conductor only conducts concerts. The music director is responsible for the whole wide range of things the orchestra does artistically and for the big picture really — in addition to the responsibilities of conducting concerts. Things like programming the entire season. Even when I'm not conducting, I'll still be part of the process of selecting repertoire and artists and making sure there's a common thread — or a vision at least, if not a common thread — for the overall season, so we have the right diversity for the season.
More than that, the music director is responsible for maintaining and growing the artistic excellence of the orchestra. One of the things I'm most attracted to about being a music director is you have so many more opportunities to interact with the orchestra. Every time I come to the podium to rehearse and perform with them, we're building on what we've done before. So at a certain point a lot of the work has been done and we won't need to establish our mutual take on how we interpret Brahms versus Stravinsky. "What does a forte mean in Beethoven?" "What does a sforzando mean?" All of these little things are questions you can ask yourself and answer when you're the music director with your orchestra. Also, you develop a sort of culture of personality with the orchestra and music director, and eventually, I would like us to develop our own unique sound to where people will say, "Wow, yeah that sounds like Ward Stare and the Rochester Philharmonic." Together it's that one-two punch.
The next big part is figuring out how we can relate to the community in a fresh, modern, and relevant way. I'm interested and excited to break down the barriers that exist between classical music and the public. It took me a long time to get my head around it. I came to classical music so early that for me there were no barriers, it was always a part of my life. But once I went out into the world and started to realize that a lot of people don't have much common experience to base any knowledge of classical music on. And I think it's unfair for us to expect that they would, especially when music education is in a pitiful state. We hope to do everything we can to encourage people to resurrect and improve upon music education in schools. It really starts there with children having a baseline of knowledge. Now we have a generation of people who, through no fault of their own, just have no knowledge of music, and it's not their fault. I want to start at the ground level and make sure they know it's OK, they shouldn't be intimidated by the orchestra; they shouldn't be intimidated by us.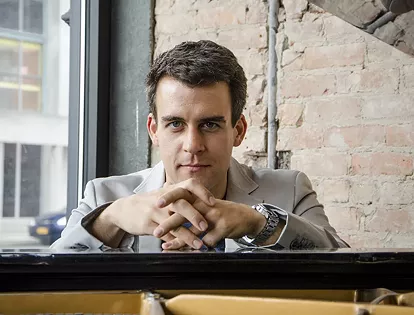 6 slides
Is there a disconnect between the classical music world and, for lack of a better term, the popular world, then?
Unfortunately there is. I think people have a misconception that we're living in a wax museum. For example, we still wear concert clothing that's very much removed from anyone's common experience. There was a time — around Mozart, Haydn, Beethoven's time — where the public, many of them, would have been better dressed than the musicians. And then it kind of evened out, and we came to a time when most of the audience and the musicians would have been in tails to attend a concert. And for some reason, the orchestra froze there and now the audience wears more modern, nice clothing. That's another barrier. We have all of these barriers and I think it doesn't serve us well to perpetuate those. I'm interested in any way we can shatter that perception.
Do you think many of these barriers or problems are new?
It's been going on for a long time. But what we need people to know is that music is very much alive. Music is not the problem. There was a study ["The Search for Shining Eyes" conducted by the John S. and James L. Knight Foundation] done of the last 15 years or so that said 60 percent of the adults polled had an interest in classical music, but out of that 60 percent, only 5 percent stepped foot into a concert hall. We have to ask ourselves, why is that? When asked further, most of these people said that if they were to stick their toe into the pool of classical music they would do it in their car or at home on their stereo. That was the way they would choose to consume the media.
That tells me classical music isn't the problem; the interest is there. It's the delivery system. It's how we're getting it to the public that needs to be updated. That's a complex issue, but there are things we can do in the concert experience itself to make it more welcoming. People can feel uncomfortable because they're out of their element. I would like the concert experience to be an event, something people look forward to, something people can talk about for weeks to come and create a little more of a buzz around the event. And to make it a little more user-friendly.
I'm sure it's too early to talk specifics —
Well, I wouldn't want to promise anything I can't deliver.
Do you have a few general ideas, though? Is it through integration of certain technologies, is it through performing in a more casual setting, or in less formal clothing? How can the RPO be innovators?
All of those things you just mentioned have great possibility. We've finally reached a point where technology — we've had the capabilities to do a lot of things for a long time, but it was prohibitively expense. Now technology is affordable enough that we can do a lot of really exciting things that would have cost too much before. We always hear the stories about the phone that goes off during inopportune moments during the concert, it's a fact of life. I'm not suggesting we encourage people to take phone calls during concerts, but I think there are some that would like to see people leave the phone at home — that's not a reality, that won't happen. I think we should figure out a way to get ahead of it and use it to our advantage, rather than pushing back against it. Because it's not a battle we can win.
[Stare was later asked] Could you give me an example of how cell phones could be used? Have other orchestras tried cell phones and apps before?
I don't want to go into too many specifics here, because we are currently working to develop ideas. But one could imagine having extensive program notes and supplemental information about pieces and performers available on a mobile app (eliminating the need for thick program books), as well as various ways to integrate social media into the concert experience.
Orchestras have had hand-held electronic "concert companions" and such before, and some orchestras have done concerts where people were encouraged to tweet live during the performance, but it hasn't yet all been integrated into one app which can be made available by the orchestra itself (and operated by the user from his or her personal cellphone). The possibilities go far beyond the two examples that I just mentioned but, again, I don't want to get ahead of myself by promising things which I won't be able to actually deliver to our public.
Are many other orchestras around the country already doing trying these things?
Conversations are starting to happen all over the country, so I would like to see the RPO and the community get behind it so we can be a leader and innovator. There was a time when the Rochester Philharmonic was on the cutting edge of technology. George Eastman bought radios and had them sent to schools so children could hear the Rochester Philharmonic during lunch time. There was a very brief window when the Rochester Philharmonic was heard in more households and by more people, locally and nationally, than the New York Philharmonic. It was very brief, but there was a time. I would like to come full circle and see the Rochester Philharmonic be on the cutting edge again. I think we're ready; the community's ready and the orchestra is ready.
Have you heard pushback against those ideas? Are some voicing, "This is what classical should be, it shouldn't integrate other technologies into it." For example, if you add video projections, could this become too messy?
It depends on how you integrate the technology. I don't think we should do anything that could be offensive or intrude on the traditional concert experience for those would like to enjoy it. That's the key. I'm not looking to fundamentally change it for those audiences, I'm looking to fundamentally enhance it for those who are missing something. When you talk about projections on the screen, that's a movie concert and that's different. I would never see that as an enhancement to a Philharmonic's concert, but there are other things that can be done which are on a more personalized level that would not necessarily disturb someone who just wants to go and unplug and have a traditional concert experience. Those are the kinds of things we're looking for.
Do you run the risk, though, of pulling in an idea and it becomes a gimmick, dumbing down the experience in some way?
Not if it's done well; if it's done right. Think about how we all consume most everything these days. It comes through a phone. And it doesn't have to be through a phone in a concert. Many people bring binoculars to a concert, for example. They want to see up close and personal what's happening on the stage. There's nothing wrong with that, but because you don't have to charge the binoculars and they might not ring, people might not think about that. It's a way to enhance the concert. Little small things that could enhance the live experience for people are very good. Embracing the media aspect of things is the way to the future.
I'm sure, again, it's too early to talk about specifics, but do you have anything on your mind about the kinds of composers you would like to bring in when you start programming the 2015-16 season?
I want a wide variety. I want repertoire for the season that will be fresh and new for the orchestra and for the audience. But I would like repertoire for the season that will familiar to the audience. It's unfair to expect them to take not just one leap of them coming to the concert hall, if you're trying to grow an audience, but then three and four. If they sit down, they're unfamiliar with the composers and wonder why they spent their money. I think it's important to have a balance.
I would like to see at least one thing on every program, even if it's just an overture, that is familiar to the audience so they can say, "Yeah I know that, it was great to hear it live, and by the way, the piece we heard by that new composer, that was interesting, too." But they feel like they got their money's worth because they heard that great overture, that famous symphony that they've known since childhood. If you show good faith to the audience in that way, they'll be more apt to trust you. It's a give and take, you have to build a relationship with your audience.
I'm also very interested in cultivating relationships with new composers, or younger composers, living composers. I really love creating a new work together, world premieres; I loved the fact that my debut with the orchestra included a world premiere by the late Doug Lowry, "The Freedom Zephyr," on my first concert with the RPO. That was a wonderful experience. It adds a certain excitement to it when the audience know this work hasn't been heard by anyone. The orchestra and I get to be, essentially, the pioneers, the first ones to realize a new work.
Is there any discussion about shrinking the number of subscription performances? Are the talks about: rather than doing a subscription concert, going into a new location or trying a new program?
We've had all of those discussions, and we've already reduced our subscription numbers by two, which doesn't eliminate the concerts, but it frees us up so we can consider other venues and other concert formats — which I think is very exciting as well. There are a lot of things we forget about in a classical concert hall that's taken for granted at other venues, like being able to enjoy a drink during a concert — it doesn't even have to be an alcoholic drink, even at the movies you can have a soda and a snack. That's how people are used to being entertained. But that's forbidden in the concert hall. And there's a reason for that, I understand both sides, but it would be interesting to explore venues where people can sit at tables and even have a meal and have a glass of wine and enjoy the concert in a more relaxed casual atmosphere that's more familiar to them.
The idea, though, isn't to reduce the number of performances, it's about the delivery system.
We can still do a Haydn symphony in the round with audience around us at tables enjoying win, in fact that might heighten their experience. We're going to still rehearse it four times and bring them a very high quality product.
Do you think there might be some misunderstanding in Rochester that because the RPO performs "Pixar in Concert" or "Video Games Live" or that there are two less subscription concerts, that the RPO is reducing what they offering. Have you encountered that?
Well, people have asked, and I think we need to reinforce the message: no, we're not dumbing down our season, we're branching out; we're enhancing it. We're looking for new ways to reach our public, because ultimately music is about communication and I want to reach out and communicate with as many people on a direct level as we possibly can in Rochester. We have this amazing orchestra and I want people to hear it.
Being 31, are you aware of your youth? Knowing that you are young, but the music director for this large organization. Does that stay in the back of your mind?
It's not something I think about much at all. I've always just focused on the music. I was 18 when I was appointed principal trombonist for Lyric Opera Chicago, and that gave a lot of people pause. I remember a lot of people making comments at the time, but I never really thought about it. I was too consumed with the music making and what were my responsibilities in a leadership position. I feel the same way here. Although, when I do consider my age, I consider it an advantage because I do have an appreciation for how people in my generation understand technology. I was right on the cusp, I didn't have a cell phone in high school; some of my friends did, but I didn't. I know what it's like to be in both situations. I understand and appreciate the evolution of how people consume media. I think that gives me a unique perspective to integrate classical music into that.
---
The Rochester Philharmonic Orchestra will open its 2014-15 season on Thursday, September 18, and Saturday, September 20, with performances of Hector Berlioz's "Beatrice and Benedict Overature," Johannes Brahms' "Violin Concerto in D Major," and Pyotr Ilyich Tchaikovsky's "Symphony No. 4." Ward Stare will conduct — he will also conduct a performance of Verdi's "La Traviata" on February 26 and 28. The September concerts will feature violinist Midori.
During his interview, Stare spent some time enthusiastically describing the concert's program.
Ward Stare: Berlioz is one of my favorite composers, too. I put him and Beethoven in the same category in a lot of ways. They were both mavericks. Berlioz was just so zany and so crazy, and he pushed the boundaries just like Beethoven did. Beethoven had broken all the rules; Berlioz just went even further. "Beatrice and Benedict" is the overture we're starting with. I frequently like to start concerts with Berlioz overtures because they're exciting but they're spicy and lyrically expressive.
The Brahms is one of my favorite violin concertos. I love Brahms for the riches in the texture and the color, and it's very thoughtful, organic music. Brahms is very much like a seed just growing out in a beautifully shaped plant or organism that's living and breathing. It gives the orchestra a chance to bring out a lot of subtle color and shape with the soloist in a very intimate, expressive way. It's almost like a symphony, it's very long, it's rich; it has great moments for the orchestra and for the soloist, which I would want for an opening program. You want to feature a great soloist, but you want to make sure the orchestra has an opportunity, too.
Tchaikovsky's "Fourth": everyone will probably recognize some themes from that. For Tchaikovsky, it was about fate and this inner struggle that he was going through. It's a real journey that you experience. The first movement is a crisis of faith for Tchaikovsky and has some really deep poignant questions. At the end of the first movement, we're not quite sure — it does not end on a happy note. It's almost episodic, so the second episode, with a really beautiful solo, takes us into a warmer place where there's a little bit of optimism. The third movement has the wonderful highlight for the strings doing the pizzicato — plucking the whole time.


EDITOR'S NOTE: This article has been corrected to add an additional RPO conducting appearance. Ward Stare will conduct a performance of Verdi's "La Traviata" in February 2015.