Pulling double duty as both a character study and a Space Race historical drama, the frequently breathtaking "First Man" chronicles the life of astronaut Neil Armstrong (Ryan Gosling) and the legendary Apollo 11 space mission that made him (spoiler alert) the first man to ever walk on the moon.
The film is director Damien Chazelle's follow up to his Oscar-winning "La La Land," though "First Man" has more in common with his white-knuckle jazz drama "Whiplash" than that swoony musical romance. It's also another story centered around the obsessive drive that fuels so many of the characters in Chazelle's films.
"First Man" is a reverent film, in awe of what these astronauts, engineers, and scientists were able to accomplish in the name of scientific progress (and the government's desire to stick it to the Soviets). Perhaps not surprising for a film co-written by "Spotlight" screenwriter Josh Singer (adapting James R. Hansen's biography) it has the feel of a procedural, fixating on the minutiae of space exploration in often exacting detail. It emphasizes that this monumental achievement was the result of endless test runs and calculations and failures.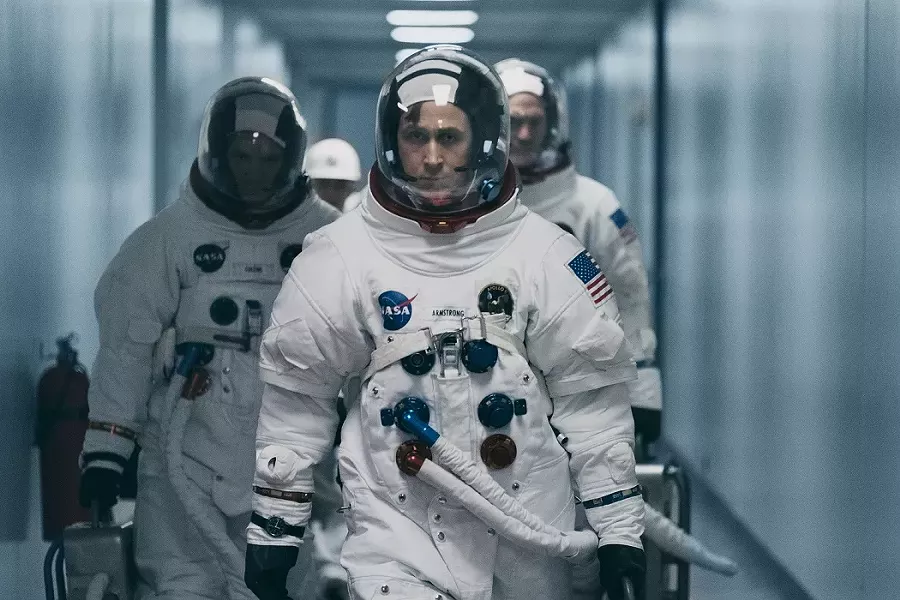 PHOTO COURTESY UNIVERSAL PICTURES
Ryan Gosling in "First Man."
Early in the film, Neil and wife Janet (Claire Foy) lose their two-year-old daughter, Karen, to a malignant brain tumor. They're each grieving in their own ways, but Neil's response is to dive further into his work at NASA. He applies to Project Gemini, helping to develop methods of space travel that would support the Apollo missions in their ultimate objective of putting humankind on the moon.
He moves up the ranks at NASA before joining the mission that would lead him to his place in history. The mission's success isn't exactly a surprise, but Chazelle skillfully manages to create suspense out of events whose outcomes are well documented. And the moon landing sequence itself is so thrilling and gorgeously directed that it hardly matters.
Neil Armstrong is a stoic, closed off character, though Gosling gives us glimpses of what drives him. He's a quintessential example of the Silent Generation, never expressing his emotions outwardly. But Gosling's performance allows us to see Neil still struggling to come to terms with the death of his child. Like "Gravity" it's a film that in many ways uses space exploration as a metaphor for parental loss. A driven man overcoming tragedy is a standard biopic trope, though it's an affective one. But Chazelle's film takes a tonal cue from its protagonist, and there's an emotional distance to the film's earthbound scenes.
Though playing the role of worried wife at home, Foy gives Janet a fierce inner strength as she keeps up appearances for their two young sons. Neil may be a hero to the world, but it's Janet who forces him to function as a father to their children.
Neil makes his way through the space program alongside several other men played by a talented ensemble of character actors (including Kyle Chandler, Jason Clarke, Ciarán Hinds, Pablo Schreiber, Ethan Embry, Cory Michael Smith, and Patrick Fugit). Then there's Buzz Aldrin (Corey Stoll), whose unfiltered pragmatism adds a much-needed bit of humor to a film that, for all its celebration of human achievement, can feel dour at times. Focusing on the communal achievements of an entire team of individuals does much to emphasize the idea that, despite the film's title, this isn't simply a Great Man story.
And when it's focused toward the heavens, "First Man" is a visceral, palm-sweatingly physical experience, and Chazelle offers a more tactile representation of space exploration than we've seen before. He captures how truly terrifying it is to be crammed into a metal bucket and launched into the atmosphere with tons of fire power exploding underneath you.
Shooting largely with aggressive close-ups, Chazelle and cinematographer Linus Sandgren recreate the experience of being inside the spacecraft in immersive detail, allowing us to hear every bolt rattling and panel groaning under the pressure. We're made all-too aware of the inherent danger in these missions, where any miscalculation or flaw in the mechanics could (and frequently did) mean imminent death for everyone aboard.
Directed with immaculate detail, "First Man" is in the end a stirring tribute to the individuals who dreamed of reaching the stars and succeeded, as well as the sheer force of will and determination it took for them to achieve the seemingly impossible.