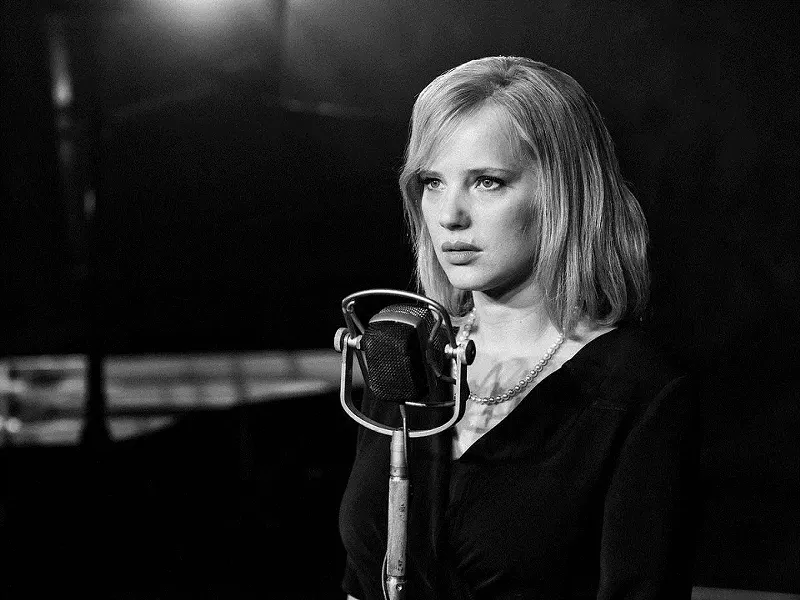 PHOTO COURTESY AMAZON STUDIOS
Joanna Kulig in "Cold War," screening as part of the Rochester Polish Film Festival.
Starting on Tuesday, November 6, the Rochester Polish Film Festival returns for its 21st year of bringing the best of contemporary Polish cinema to Rochester. Presented by the Skalny Center for Polish and Central European Studies, the Polish Filmmakers Association, and the University of Rochester Cinema Group, the festival will screen nine features over six days, concluding on Sunday, November 11.
What follows are a few highlights from this year's films. All except "Loving Vincent" are in Polish with English subtitles. Visit
sas.rochester.edu/psc/CPCES
for ticket information and a complete schedule.
The festival opens with the Oscar-nominated
"Loving Vincent,"
about the final days of 19th century artist Vincent van Gogh. The film begins a year after van Gogh died by suicide at the age of 37, as a young man named Armand Rolin (Douglas Booth) plays detective and attempts to make sense of van Gogh's death by seeking out and interrogating those who knew him. But what really makes "Loving Vincent" special is the technique behind it, being the first feature-length animated film to be made entirely of oil paintings on canvas. Every one of the film's nearly 65,000 frames were hand-painted by 125 artists mimicking the painter's distinctive style, and the results are truly breathtaking.
(Tuesday, November 6, 7 p.m., Dryden Theatre)
The documentary
"Communion"
follows Ola, a Warsaw teenager living in a small, shabby apartment with her father Marek, who is an alcoholic, and her brother Nikodem, who has autism. Forced to grow up too fast, she takes on most of the responsibilities around the household as she tries valiantly to hold the family together while attempting to maintain a normal life of her own. First-time director Anna Zamecka draws on her background in journalism to create a deeply empathetic portrait of the family.
(Wednesday, November 7, 6:45 p.m., Little Theatre)

Winner of Best Director at this year's Cannes Film Festival, and Poland's official entry for the Best Foreign Language Film for the 2019 Academy Awards,
"Cold War"
is a love story set against the ruins of post-WWII Poland. The tale revolves around Wiktor (Tomasz Kot) a conductor at a music academy, and Zula (Joanna Kulig) the young woman he falls for when she comes to audition for a place at the school. They're two broken people who can't stay apart, even when their circumstances make it impossible. Shooting in gorgeous black and white, filmmaker Paweł Pawlikowski (the Oscar-winning "Ida"), creates a film romance as stark and icy as its title implies.
(Wednesday, November 7, 8:15 p.m., Little Theatre)
Family melodrama blends with a historical epic in
"The Butler,"
which follows an aristocratic Prussian family over the span of 45 years — from 1900 through 1945. At the center is the love affair between their daughter (Marianna Zydek) and the young Kashubian man (Sebastian Fabijanski) her family took in as a child. Meanwhile in the background, hostility grows between the various peoples — Poles, Kashubians and Germans — who inhabit their borderland home as war draws ever closer. Director Filip Bajon will be in attendance for a Q&A session following the screening.
(Friday, November 9, 7 p.m., Little Theatre)
Set in Poland of the 70's and 80's,
"Breaking the Limits"
is inspired by the real-life story of Jerzy Górski, who overcame his 15 year addiction to drugs to become a world-class triathlon athlete. Through the film doesn't break too much from the addiction or sports drama formulas, it's always compelling thanks to Lukasz Palkowski's dynamic direction and the moving performance of Jakub Gierszal as Górski.
(Saturday, November 10, 3 p.m., Little Theatre)
Part crime thriller and part activist drama, with a touch of black comedy sprinkled throughout,
"Spoor"
is the most unusual of the festival's lineup. The plot follows Janina (a fierce Agnieszka Mandat), an elderly woman living alone in the woods of the Klodzko Valley. She's also fiercely protective of animals, a stance that often puts her at odds with the rest of her village. But when prominent local hunters in the woods start turning up dead, she becomes convinced that the creatures of the forest have begun to fight back. Naturally, the authorities don't buy this explanation, and start considering her a prime suspect. Directed by Agnieszka Holland ("Europa Europa") with her daughter Kasia Adamik, the film's moody cinematography and oddball cast of characters make for an engrossing crime story.
(Sunday, November 11, 7 p.m., Little Theatre)