City Council will not be voting on the Cobbs Hill Village project at its meeting next Tuesday. Mayor Lovely Warren has submitted an amended version of legislation, with new details about the apartment affordability rates. The new information was submitted today at a meeting of City Council's Neighborhood and Business Development Committee.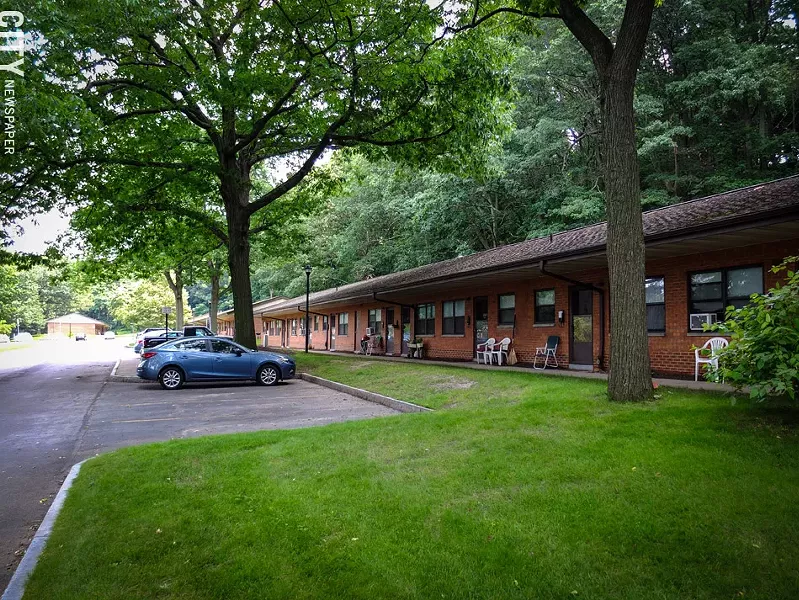 PHOTO BY KEVIN FULLER
The current Cobbs Hill Village apartments. Rochester Management wants to replace the single-story buildings with new, taller ones.
Rather than asking for a vote, committee chair Mike Patterson said that the legislation will be held in his committee "until further notice."
Council had been expected to vote next Tuesday on the controversial project, which would have allowed Rochester Management to replace the current 60 apartments with 104 new ones. At an emoti
o
nal public hearing last night, opponents and supporters of the redevelopment plan packed City Council chambers. And on Tuesday, opponents made their strongest effort so far to stop the project by filing a lawsuit against the city in state Supreme Court.
The suit is supported by nearly two dozen neighborhood, community, and environmental groups, as well as some of the Cobbs Hill Village tenants. Many of the people opposing the project live in neighborhoods near Cobbs Hill Park.
While some opponents agree that there is a serious shortage of low-income and affordable housing for seniors in Rochester, they do not want Cobbs Hill Village to be redeveloped and expanded. They argue that the project will result in the loss of some very low-income apartments and that the new project will adversely impact the surrounding park.
Many opponents want the property to revert to parkland and accused Council members of not listening to public demands for more green space, both in Cobbs Hill Park and at downtown's Parcel 5. And some speakers at the hearing warned Council members that a vote in favor of Cobbs Hill Village would lead to a challenge to their re-election.
Supporters, many wearing blue shirts that said "Save Cobbs Hill Village," argued that Rochester Management has been a supportive company. And they said they were confused about why there was such strong opposition to the project because it would add more affordable housing.
Built in the 1950's, Cobbs Hill Village consists of six one-story buildings. Rochester Management wants to replace them with a six new buildings, some of them two stories, some three. Rents would remain the same for all current tenants, and Rochester Management said that when current tenants leave, it would leave 20 of the units at the current rates for 40 years. In addition, in the latest version of the plan, Rochester Management proposed keeping another 20 units at or below 50 percent of the Area Median Income (the federal guideline for determining eligibility for affordable housing.)
Cobbs Hill Village lawsuit