UPDATED 3/29/13 to correct the date for the Park Avenue Summer Arts Festiva.
No matter if it's spring, summer, fall, or winter, there are so many events going on in Rochester on any given week that it's almost impossible to keep track of them all. It's a little bit like a constantly updating Twitter feed. So we took that social-media inspiration for this year's Annual Manual special events/festival guide. Below, you'll find a host of upcoming Rochester-area events described in 140 characters or less, along with actual Tweets by people who have enjoyed previous editions of those festivals.
Did we miss an exciting upcoming event? Leave it in the comments section of this article, below.
APRIL
Erotic Arts Festival April 5-6. • Radisson Riverside Hotel, 120 E. Main St. • Singles and couples, get your freak on with a weekend of art sales, dance shows, bondage and striptease workshops, and more, more, MORE! • rochestereroticartfest.org, @EroticArtFest
paint-play.com #REAF #fetish #cosplay #fantasy Rochester Erotic Arts Festival - The painted posse! twitter.com/BratPrincess/s…

— Sarah DiAvola (@BratPrincess) April 2, 2012
PHOTO BY MATT DETURCK
The Erotic Arts Festival will return April 5-6, 2013.
High Falls Film Festival April 18-21 • Little Theatre, Dryden Theatre, Cinema Theater • The film festival is back with its original name and a renewed focus on women in front of and behind the camera. • highfallsfilmfestival.com, @HighFallsFF
Sheep Shearing Festival April 20 • Springdale Farm, 700 Colby St., Spencerport • Still trying to figure out the best way to clean your wool? Learn all sheering with demos at this festival, which also has live music. • heritagechristianservices.org/springdale
Color Vibe 5K Race April 20 • Monroe Community College, 1000 E. Henrietta Road • This is one race that everyone will finish with flying colors. Get blasted at the color stations that are sprinkled all throughout this 5K. • thecolorvibe.com, @colorvibe
Signed up for Color Vibe 5K in Rochester! So excited! #colorvibe

— Anna Coyle (@acoylemama) February 11, 2013
Rochester International Film Festival April 25-27 • Dryden Theatre, George Eastman House, 900 East Ave. • The world's oldest continuously run short film festival returns to the renovated Dryden Theatre for its 55th year. • rochesterfilmfest.org, @DrydenTheatre
Flower City Challenge April 27-28 • Genesee Waterways Center; War Memorial • United Health System presents a dualthon, triathlon, half-marathon, and 5K, all in one of Rochester's most exhausting weekends. • flowercitychallenge.com
For my 30th I am doing the Flower City Challenge Double-Du. fb.me/KQCFgFKQ /cc @yjr_98 @fleetfeetroc

— LB Denker (@elblinkin) February 24, 2013
MAY
City Newspaper Best Busker Competition May 2 • East Avenue, between Chestnut and Alexander • Local musicians play on the sidewalks on the East End for votes from passersby and the chance to win gift certificate prizes. • rochestercitynewspaper.com, @roccitynews
Roc City Tattoo Expo May 3-5 • Radisson Hotel Rochester Riverside, 120 E. Main St. • More than 100 tattoo artists, coming from across the US, Canada, Japan and Europe, will be tattooing on site at the fifth annual expo. • roccitytattooexpo.com
Roc city tattoo expo this year has been a blast. Got tattooed by mike Bennettlockerz.com/s/133186410

— Jamie Moore (@JMMoorePhoto) August 27, 2011
Imagine RIT: Innovation and Creativity Festival • May 5 • RIT Campus, 1 Lomb Memorial Drive • RIT students and faculty showcase their innovations and creations at a campus-wide festival of games, demonstrations, performances, and more. • rit.edu/imagine, @RITNEWS
Imagine RIT: Felt and more felt - Felt. Gallons of warm water. A bar of soap. Ten ounces of sheep's wool. Oh... tmblr.co/Z4dBpvKxzTwF

— Hinda Mandell (@hindamandell) May 6, 2012
Lilac Festival May 10-19 • Highland Park • One of Rochester's oldest and most beloved festivals heralds in another beautiful summer with 500+ lilac varieties and many other events. • lilacfestival.com, @ROCLilacFest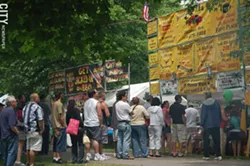 FILE PHOTO
The Roc City Ribfest | May 23-27, 2013.
Roc City Ribfest May 23-27 • Ontario Beach Park, Lake Avenue • This festival features an entire body of rib-related rituals: eating contests, cook-offs, grilling shows, and ribs from various vendors. • roccityribfest.com, @RocCityRibFest
Zoobrew May 24, June 21, July 19, August 9, September 6 • Seneca Park Zoo, 2222 St. Paul St. • Unleash your true animal at these Friday happy hours, with food and live music. Only open to people 21 and up. • senecaparkzoo.org/zoobrew, @SenecaParkZoo
Memorial Day Parade May 27 • Starts at East and Alexander, then west onto Main to Plymouth • Come out to commemorate the veterans of our armed forces, and those who gave their lives so that we could keep on celebrating. • cityofrochester.gov, @CityRochesterNY
Greek Festival May 30-June 2 • Annunciation Greek Orthodox Church, 962 East Ave. • Greek heritage will be on full display with dance performances, food vendors, cooking demonstrations, church tours and Agora boutiques. • rochestergreekfestival.org, 244-3377
OPA! At the #Rochester #Greek Festival. Its packed!! (@ Rochester Greek Festival w/ 8 others) [pic]: 4sq.com/LYpjvX

— Mike (@MSZWNY) June 2, 2012
Fairport Canal Days May 31-June 2 • Main Street, Fairport • A Friday-night barbecue and concert kicks off Fairport's weekend arts and crafts festival celebrating the Erie Canal. • fairportcanaldays.com
There's no point in living in Fairport when it's not Canal Days

— Joanna Langdon (@jobot81) February 11, 2013
JUNE
19th Ward Square Fair June 1 • Aberdeen Square Park • The largest event and fundraiser for the 19th Ward each year has music, a parade, and food and goods from 19th Ward vendors. • 19wca.org, 328-6571
Wegmans Rochester LPGA Championship June 3-9 • Locust Hill Country Club, 2000 Jefferson Road, Pittsford • The women's golf tournament, sponsored by Wegmans returns to the Locust Hill Country. • wegmanslpga.org, 427-7100, @lpga
Back at it with the sun and warm temps re-appearing at the @wegmanslpga as @stevetasker89 tees off at hole 15 say.ly/lcB3uc6

— Russ Brandon (@RussBrandon) June 6, 2012
16th Annual Adirondack Outdoor Expo June 8 • Mendon Ponds Park Beach Area • Demonstrations, discussions, workshops, and activities centered on kayaking, canoeing and other outdoor activities. • adk-gvc.org/expo
Festival on the Green June 14-16 • Fireman's Field and Harry Allen Park, Honeoye Falls • Get plenty of fresh air with three days of family events and live music around the Village of Honeoye Falls. • festivalonthegreen.us
Boughton Hill Band practice for Festival on the Green #celtic #folk #americana (@ Honeoye Falls) http://4sq.com/jC7Uf6

— Paul Gebel (@paulgebel) May 21, 2011
Rochester Real Beer Week June 14-23 • South Wedge and various area businesses • Imbibe and learn about craft beer, enjoy food/beer pairings, and more. The Real Beer Expo takes place June 15. • Rochesterrealbeer.com, @ROCRealBeer
Tips for todays Real Beer Expo in Rochester.... don't forget a chair, get a taxi, drink lots of water! eepurl.com/erPpc

— Jaime Barclay (@jaimebarclay) June 25, 2011
FILE PHOTO
The Maplewood Rose Celebration | June 15-16, 2013.
Maplewood Rose Celebration June 15-16 • Maplewood Park, Driving Park and Lake Avenue • Enjoy Rochester's roses while they're in full bloom with a weekend of guided tours, garden photography, and other horticultural festivities. • cityofrochester.gov/maplewoodrosefest, @CityRochesterNY
ROC Transit Day June 20 • Public bus stops throughout Rochester • Leave your cars behind for a day celebrating public transportation. Free bus rides through the city with events, prizes, and stops for beer. • roctransitday.com, @ROCTransitDay
@rochesterrhinos mascot Rex is getting ready to board the #7 bus to go Sahlen's Stadium on Roc Transit Day! ow.ly/i/Iecc

— Rochester Rhinos (@RochesterRhinos) June 21, 2012
Xerox Rochester International Jazz Festival June 21-29 • Many venues throughout downtown Rochester • Willie Nelson, Pink Martini, and David Byrne & St. Vincent headline a festival with almost 300 other local, national, and international acts. • rochesterjazz.com, @XRIJF
Pretty cool jazz festival downtown Rochester. Great music@ Rochester International Jazz Fest - Gibbs Stage instagr.am/p/McYDeTNTp8/

— Conor Chinn (@conorchinn) June 29, 2012
JULY
July 4 RPO Celebration and Fireworks July 4 • Main Street Bridge, Downtown • Add some fanciness to your fireworks with the RPO's annual Independence Day concert. More live music and events through the night. • rpo.org, @superRPO
Sterling Renaissance Festival Saturdays and Sunday, July 6-August 18 • Sterling, NY • Ye olde Renaissance Festival has feasts, artisan crafts, interactive performances, and more. Try not to hurt thyself whilst sparring. • sterlingfestival.com, 800-879-4446, @SterlRenFest
Spent Saturday with Tristan at the Sterling Renaissance Festival. Big fun, especially the jousting. We got serious sparring swords.

— Adam C. Engst (@adamengst) August 19, 2007
Big Rib BBQ and Blues Fest July 11-14 • Highland Park Festival Site, Highland and South Ave • Listen to the blues with your bibs on at this barbecue festival with more than 20 live blues artists and ribs from vendors across the US. • rochesterevents.com, @RocEvents
Blueberry Shortcake Supreme @ the Big Rib BBQ & Blues Fest in Rochester, NY! Super fat & happy right now. :D instagr.am/p/NCFQmsFwit/

— Samia (@samiamusic) July 13, 2012
Stuart Horse Trials July 11-14 • Townline Road and Murray Road, Victor • Giddy up for a four-day triathlon of equestrian sports, with more than 300 competing riders from across the United States and the world. • stuarthorsetrials.org, @StuartHorseTrls
Giddy-up. Beautiful horses, amazing athletes, 18,000 spectators... what's not to love about #StuartHorseTrials? http://bit.ly/n1DlYG

— Melody Burri (@TheVictorPost) July 17, 2011
Hill Cumorah Pageant July 12-13, 16-20 • Hill Cumorah, near Palmyra • Dramatic depictions of passages from the Bible and the Book of Mormon. An outdoor theater event of Biblical proportions. • hillcumorah.org/pageant, 315-597-5851
Learning more about LDS/Mormon religious tradition at the Hill Cumorah Pageant tonight. Anyone want to daven Ma'ariv? nyti.ms/NqkKvA

— David L. Reiner (@RabbiDReiner) July 17, 2012
Finger Lakes Wine Festival July 12-14 • Watkins Glen International Speedway, Watkins Glen • Try not to get carried away while sampling sweet sips from more than 90 wineries. Pace yourself by attending demos, seminars, and concerts. • flwinefest.com
Wine Fest!!! It's the most wonderful time of the year! #mwtoty12 (@ Finger Lakes Wine Festival w/ @mhaithaca) 4sq.com/PXwE2X

— Gray V. Train (@BobBlaBlog) July 14, 2012
Geneseo Air Show July 12-14 • 3489 Big Tree Lane, Geneseo • Join your fellow Allies for displays with dazzling tricks and stunts by antique fighter planes from World War Two. • 1941hag.org
WWII prop plane fighter the F4U Corsair warms up at the Geneseo air show. Just like the Baa Baa Blacksheep planes. twitpic.com/7bbvni

— James Hamilton (@jmhcet) November 6, 2011
FILE PHOTO
Corn Hill Arts Festival | July 13-14, 2013.
Corn Hill Arts Festival July 13-14 • Corn Hill neighborhood • Check out works from hundreds of artists and crafters, with live music and other activities through the weekend. • cornhillartsfestival.com, @cornhillartfest
Canandaigua Arts and Music Festival July 13-14 • Commons Park, Canandaigua • This year's festival is just a small part of Canandaigua's 100 Days of Entertainment, with free events every day from May to Memorial Day. • canandaiguaartfestival.com, 394-0787
Canandaigua Lake Music Festival July 14-21 • Finger Lakes Community College, Canandaigua • Pianists, harpists, cellists, string quartets, and other performers go for baroque in this week-long festival of classical music. • lakemusicfestival.org
Macedonian Ethnic Festival July 19-21 • St. Dimitria Macedonian Orthodox Church, Telephone Road, Henrietta • One of the oldest cultural heritages in the world comes to life through food, dances, games, and exhibits of Macedonian artifacts. • macedonianfest.com
Rochester Pride 2013 July 20-21 • Various locations around Rochester • Rochester's biggest celebration of the LGBT community with a parade, festival, picnic, and more. • gayalliance.org, 244-8640, @GAGVinfo
Team OUTlandish won the Rainbow Award for Best For Profit Business Float for today's Rochester PRIDE Parade!... fb.me/1dXeRySR1

— OUTlandishNY (@OUTlandishNY) July 14, 2012
Civil War Re-enactment July 20-21 • Genesee County Village and Museum, 1410 Flint Hill Road, Mumford • Whether you're with the Union or still rooting for the Confederates, revisit the battles at one of the Northeast's largest reenactments. • gvc.org, @GCVandM
Rochester Jewish Film Festival July 21-29 • Little Theatre, Dryden Theatre, Jewish Community Center • A cinematic mazel tov to Jewish filmmakers and films of Jewish interest, with more than 20 films from across the world. • rjff.org, 461-2000 x237
https://twitter.com/DrewKaplan/status/2660775717
10 Ugly Men Festival July 27 • Genesee Valley Park • This year's sports and music charity party features the Meat Grinder, a new three-mile obstacle course race with mud pits and tire traps. • tenuglymen.com
Ten ugly men festival got the best of me. No shoes, no shirt, no Deich. #oopps #HAM #DOLO http://instagr.am/p/NZVg5zsJAA/

— GingerDeich (@RyanDeichmiller) July 22, 2012
Spencerport Canal Days July 27-28 • Along the Erie Canal, Spencerport • Time for Spencerport folks to get their own canal celebration with arts and crafts, entertainment, food, and canoe races. • spencerportcanaldays.com
Love celebrating Canal Days in Spencerport, NY. Haven't been in years. Small town fun, then back to NYC with the wifey.

— Billy Hallowell (@BillyHallowell) July 31, 2011
Waterfront Art Festival • July 27-28 • Kershaw Park, Canandaigua • The 40th annual festival of arts, activities, and entertainment set against the scenic backdrop of Canandaigua Lake. • waterfrontartfestival.com, 671-9102
Native American Dance and Music Festival July 27-28 • Ganondagan Historic Site, Route 444, Victor • Reconnect with Ganondagan history through live music, dances, crafts, stories, and demonstrations of Native American traditions. • ganondagon.org, @Ganondagan
AUGUST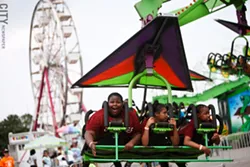 FILE PHOTO
The Monroe County Fair | August 1-4, 2013.
Monroe County Fair August 1-4 • Monroe County Fairgrounds, 2695 E. Henrietta Road • Rides, art festivals, food vendors, animal shows, agricultural exhibits, and everything else one could expect of a county fair. • mcfair.org, 334-4000, @MC_Fair
Polish Arts Festival August 2-3 • St. Stanislaus Church, 1150 Hudson Ave. • Oh yes, there will be polka. Celebrate Polish culture and heritage with dances, live music, traditional foods, games, and more. • polishartsfest.org
Lima Crossroads Festival August 3
Main Street, Lima • If you're at a crossroads about how to fill the time between one festival and the next, stop by this one in the little town of Lima. • crossroadscouncil.org
Park Ave Summer Art Fest August 3-4 • Park Avenue, between Alexander Street and Culver Road • The best food, fun, arts, shopping, and entertainment that Park Ave has to offer comes to the streets for this 35th annual celebration. • park-avenue.org, @RocEvents
Just added new pieces to 2 Chic Boutique, 151 Park Ave., Rochester, NY in time for the PARK AVE SUMMER ART FEST.... fb.me/1fFqk0sZM

— LeAnne Marquis (@MarquisJewelry) August 5, 2012
Rochester Teen Film Festival August 7 • The Little Theatre, 240 East Ave. • The kids are all right — they've been busy making their own movies. See the works of local high school filmmakers in this juried festival. • thelittle.org, @TheLittleRoch
Pageant of Steam August 7-10 • New York Steam Association, Gehan Road, Canandaigua • Travel back in time — albeit not very quickly — with these demonstrations and exhibits of steam-powered machines and vehicles. • pageantofsteam.org
Lots of photos from the Pageant of Steam hard to believe these 100 year old tractors still work! ...flickr.com/photos/kgregso…

— Kim Gregson (@kgregson) August 14, 2011
2013 PGA Championship August 8-11 • Oak Hill Country Club, 346 Kilbourn Road • One of the biggest golf championships in the world, and the last of the golf season, comes to Rochester. • pga.com, @PGAChampionship
Thank you to the PGA for allowing Rochester, NY to host the 2013 PGA Championship at Oak Hill CC. This is our Super Bowl!#PGAChampionship

— Golf Western NY (@GolfWesternNY) March 6, 2013
Palmyra Pirate Weekend August 9-10 • Village of Palmyra • Anchors away, mateys! Step onto the poop deck for a weekend with live music, a 5K race, pirate tales, and a free screening of "The Goonies." • eriecanalpirates.com
Puerto Rican Festival August 9-10 • VIP Parking lot, Frontier Field • Monroe County's longest-running ethnic festival celebrates Hispanic heritage with music, dance, food, and the Javier Ortiz Memorial 5K. • prfestival.com, @PRFest
National Silver Ball Tournament August 9-11 • Genesee Country Village and Museum, Mumford • No gloves, no protective equipment, but plenty of vintage uniforms in this three-day baseball tournament played with 1865 game rules. • gcv.org, @GVCandM
Carifest August 10 • Riverside Festival Site, between Court Street and Exchange Street • Spend your Rochester summer in the Caribbean, if only for a day. Caribbean heritage is honored with food, music, a parade, and other events. • rwifo.com
Carifest parade goin down in an hr in daROC Then following>>>THE ROCHESTER CARIFEST!!!! w585lite.podomatic.com/entry/2011-05-… Bacchanal Season in full effect

— W585 LITE (@W585LITE) August 13, 2011
Avon Rotary Corn Festival August 10 • Genesee Street, Village of Avon • Corn has been a staple of WNY agriculture for centuries. Keep the tradition alive at this festival with locally grown corn and other activities. • avonrotary.org
Brockport Summer Arts Fest August 10-11 • Main Street, Brockport • This year's festival, featuring the traditional Duck Derby and a vintage car cruise, moves to Brockport's recently reconstructed Main Street. • brockportartsfestival.com
Finger Lakes Riesling Festival August 10-11 • Lakeshore Drive, Canandaigua • A weekend wine festival for people who know what they like: fine Rieslings, all from wineries around the Finger Lakes region. • rieslingfestival.com, @RieslingFest
Rochester Ukrainian Festival August 15-18 • St. Josaphats Ukrainian Catholic Church, 940 E. Ridge Road • Try your first taste of varenyky or buy Ukrainian Easter eggs months in advance at this celebration of Ukrainian arts, food, and culture. • rochesterukrainianfestival.com, @UkrainianFest
Arts at the Gardens August 17-18 • Sonnenberg Gardens and Mansion, Canandaigua • A sale and juried fine arts and craft show with paintings, photos, jewelry, sculptures, and other works from more than 100 artists. • artsatthegardens.org, @SonnenbergGnM
Fairport Music and Food Festival August 24 • Liftbridge Lane, Village of Fairport • Several stages of live music and food from Brockport-area restaurants, with proceeds benefiting Golisano Children's Hospital. • fairportmusicfestival.com
New York State Festival of Balloons August 30-September 3 • Dansville Municipal Airport (Maple Street entrance), Dansville • It will be hard to not to get carried away at this Labor Day weekend festival of hot air balloon rides. • nysfob.com
New York State hot air #Balloons - took lots of photos - this was amazing! shar.es/7Tmj9 @sharethis

— Lois Gresh (@lois_gresh) September 4, 2012
SEPTEMBER
Labor Day Parade September 3 • Downtown Rochester, from Alexander Street and Plymouth Avenue • You've got to fight for your right to, uh, work, at the Labor Council's annual parade, featuring labor unions from across Rochester. • rochesterlabor.org
Antiquarian Book Fair • September 7 • Main Street Armory, 900 E. Main St. • Booksellers from New York State and beyond gather to sell new and old tomes. • 325-2050, franleef@aol.com
Clothesline Arts Festival September 7-8 • Memorial Art Gallery, 500 University Ave. • The city's largest, long-running art fest features more than 400 NY State artists. • mag.rochester.edu/clothesline, @magur
Tons of people at Clothesline Arts Festival Sat & Sun. Hope the #local artisans did well! Share a pic of what you bought! http://ow.ly/2tIdm

— Go Buy Rochester (@gobuyrochester) September 13, 2010
Mendon Station Festival September 7-8 • Mendon Station Park, 1371 Pittsford Mendon Road, Mendon • The Mendon railroad station might be long gone, but passengers of all ages can still board this weekend adventure of arts, food, and races. • mendonfoundation.com
#Historical Reenactments, Live Music, Sticky Lips BBQ, games and FUN at #Mendon Station Festival this weekend bit.ly/oQ1AWZ #NYS #Roc

— MJO Creative (@MJOCreative) September 8, 2011
Macedon Lumberjack Festival September 7-8 • Macedon Center Fireman's Field, Canandaigua Road • Be prepared for the old heave-ho at this burly weekend of crafts, demonstrations, and timber sports like log rolling and tree falling. • macedoncenterfire.org
Lumberjack Festival at Macedon Center this weekend…greased pole, log-rolling, chain sawing…fun, fun, fun... fb.me/26gXQjHBF

— Seaway Trail (@SeawayTrail) September 6, 2012
Greentopia Festival September 10-15 • High Falls District • One of Rochester's newest and fastest-growing festivals celebrates the environment with workshops, films, speakers, art, food, and more. • greentopiafest.com, @greentopiafest
Today's the day: all the cool people will be at Greentopia Festival at High Falls, including Greenovation!Join... fb.me/1A7gIhBO5

— Greenovation (@RocGreen) September 15, 2012
Irondequoit Oktoberfest September 12-14, 19-20 • Camp Eastman, Durand Eastman Park • Germany comes to Irondequoit in full force with two weekends of lotsa beers and lotsa yodeling. • irondequoit.org
Rochester Pagan Pride Day Festival September 14 • Ellison Park • After being canceled last year due to a severe storm warning, the Pagan Pride festival survived the overdose of irony and returns this year. • rochesterpaganpride.org
Palmyra Canaltown Days September 14-15 • Village of Palmyra • Boat tours, live music, arts shows, a parade, and other events make for a pumping weekend in Palmyra. • palmyracanaltowndays.org
Met Abe Lincoln today. No Big Deal. Check it out on my iSpy gallery from the Palmyra Canaltown Days. mpnnow.com/photos/x827639… #flx

— Scott Pukos (@MPN_SPukos) September 17, 2011
Purple Foot Festival September 15 • Casa Larga Vineyards, Fairport • Celebrate the harvest in foot-purple-ing style at this grape stomping festival, which also has hay rides, wine tastings, and live music. • casalarga.com/purplefoot
Festival of Food September 16 • Public Market, 280 N. Union St. • One ticket grants you access to samples from more than 100 local eateries at this gut-busting festival, formerly known as Savor Rochester. • foodlinkny.org, @foodlinkny
First Niagara Rochester Fringe Festival September 19-28 • Various locations downtown • After a wildly successful debut last year, Rochester's massive arts festival doubles its length from five to 10 days. • rochesterfringe.com, @RochesterFringe
Super fun evening geting ready for our show at the Rochester Fringe Festival!! @rochesterfringe #rocfringe twitter.com/PUSHtheatre/st…

— PUSH Theatre (@PUSHtheatre) September 21, 2012
Rochester Sci-Fi, Comic Book, and Anime Con September 20-22 • Main Street Armory, 900 E. Main St. • Whether you're a gamer, a comic collector, an adamant anime viewer, a sci-fi lover, or all of the above, you can get your geek on here. • rochesterscifianimecon.com
Rochester Sci-Fi and Anime Con or Roc-Con, my first ever Convention. Will be going with my younger Brother. is.gd/igI4Jg #GetGlue

— The Alchemist (@Alchemist_Who) September 22, 2012
Rochester Marathon September 22 • Downtown Rochester • This is what you've been training for all year: a 26.2-mile marathon and relay and a 13.1-mile half-marathon through the city. • rochestermarathon.com, @ROCMarathon
Naples Grape Festival September 28-29 • Naples Village, State Route 21, Naples • If you're not into smashing grapes, you can admire them more delicately at this festival with a pie contest, entertainment, and live music. • naplesgrapefest.org
AppleUmpkin Festival September 28-29 • Gaslight Village, Wyoming • Ca''t decide if you prefer apples or pumpkins? You won't have to choose between the fall favorites at this arts and craft festival. • appleumpkin.com
Baked sweet potato with butter, brown sugar and nutmeg!So, so tasty!Mmm....@ AppleUmpkin Festival instagr.am/p/QNPXkhv8sn/

— Cindy Scribani (@MyHairShop) September 30, 2012
OCTOBER
Neighborhood of the Arts Fest October 4-5 • Neighborhood of the Arts • Stroll through the best that the neighborhood has to offer in a weekend of arts, dance, and music. • notaba.org
Rochester River Romance Weekend October 4-6 • Genesee River corridor • Fall in love with the Genesee River all over again with cruises, walks, bike rides, and nature hikes celebrating the river. • cityofrochester.gov/riverromance, @CityRochesterNY
Autumn Festival of Ales October 5 • Honeoye Falls Fireman's Field • Toast to the autumn harvest by sampling more than 30 craft and custom beers from Custom Brewcrafters and other Western New York vendors. • cbsbrewing.com, @CBBrewery
Getting kettle corn for my lovely wife - and there's beer, too! (@ Autumn Festival of Ales) [pic]: 4sq.com/Q0VET5

— huxley75 (@huxley75) October 6, 2012
Cohoctan Fall Foliage Festival October 5-6 • Town of Cohoctan • There will be a lot of excitement in the small town of Cohoctan during this weekend: Fireworks, football game, art shows, parade, and more. • fallfoliagefestival.com
Fall Festival feat. Agricultural Society Fair October 5-6 • Genesee Country Village and Museum, Mumford • This harvest fest has competitions in everything from pies to crafts to the biggest pumpkin, as well as vintage farm exhibits. • gcv.org, @GVCandM
Hilton Apple Fest October 5-6 • Hilton • Forget about the pumpkins here — this festival is all about the apples, not to mention arts and crafts, a pie contest, and a car show. • hiltonapplefest.org
University of Rochester Meliora Weekend October 10-13 • University of Rochester River Campus • The University of Rochester's alumni weekend has guest lectures, performances, seminars, and more. • rochester.edu/melioraweekend, @UofR
Brick City Homecoming October 11-13 • Rochester Institute of Technology • Homecoming weekend for RIT alumni and families, with live music, entertainment, and reunion events. • rit.edu, @RITNEWS
Terrific photo wrap-up of Brick City Homecoming! Spotted a number of RIT/NTID folks here! fb.me/1X3WrxFHp

— RIT/NTID (@RITNTID) October 23, 2012
ImageOut Film Festival October 11-20 • Dryden Theatre, Little Theatre, and other venues • Upstate New York's longest-running gay and lesbian film festival returns with LGBT features, shorts, and documentaries. • imageout.org, @ImageOut
Had a fabulous time at @imageout tonight! Great films and good company (like Michael and Jessica! LOVE them!)! yfrog.com/kkhz9exj

— Robby Morris (@SerialBlonde) October 9, 2011
Rochester Fashion Week • October 16-20 • Various locations downtown • Strut your stuff, or admire the stuff of others, during a fabulous week of fashion shows, a boutique crawl, and a clothing switch and swap. • fashionweekofrochester.org, @Roc_FashionWeek
Thank you for all the support at my performance last night during the #Rochester #Fashion #Week - bit.ly/SU8tD7

— Lil Wes (@LilWesMusic) October 1, 2012
NOVEMBER
Rochester Jewish Book Festival November 3-17 • Jewish Community Center, 1200 Edgewood Ave. • Lectures, readings, and author visits illuminating books by Jewish writers and about Jewish culture. • rjbf.org
Polish Film Festival November 6-12 • Dryden Theatre; Little Theatre • Feast your eyes on classic and contemporary Polish films, along with music recitals, lectures, and panels with Polish filmmakers and actors. • rochester.edu/College/PSC/CPCES, @UofR