As a manager in training at the Irondequoit Wendy's, Kim Ramos makes $8 an hour, which is New York's minimum wage. When she advances to manager, she'll make around $9 or $10 an hour.
But even then she says she'll struggle to make ends meet. Ramos lives with her girlfriend, who has two children and is a manager at the same Wendy's. If fast food corporations paid their workers better, Ramos says, her family would face less stress.
"I'd be able to pay more than one bill at a time," she says.
Ramos, who works full time at the restaurant, was scheduled to work last Thursday. But instead, she and some of her coworkers went on a day-long strike. They also joined in a Metro Justice-organized protest in front of the Wendy's. Fast food workers in 150 cities across the country were striking that day as part of the Fight for $15 campaign.
The campaign, which is led by social justice organizations and union organizers, is an effort to convince large fast food corporations such as McDonald's, Burger King, and Wendy's to commit to a $15 hourly wage for their restaurant employees. Another goal: assurances that the companies won't retaliate if workers try to unionize.
Campaign organizers say that the restaurants reap big profits, but pay their employees — many with families — very low wages. In the Rochester metro, the average food service employee earned $9.89 an hour as of May 2013, according to the US Bureau of Labor Statistics. That's an annual wage of $20,580, which is just above the federal poverty line for a family of three.
While Ramos participated in the protest, a man leaned out of a passing car and yelled that minimum wage is good enough.
"Some people are just ignorant," Ramos said.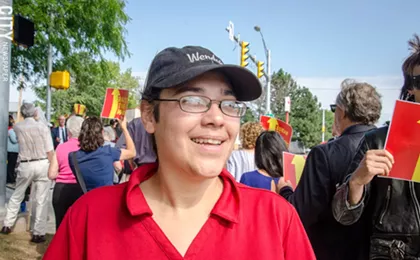 8 slides