Victor Cortez, a migrant farm laborer originally from Mexico, has worked dairy farms across New York for almost 15 years. He currently works on a farm in Wyoming County.
Right now, he said, the coronavirus has him and everyone else with whom he works worried.
"We're isolated from the population, and we continue working. We haven't stopped and we keep working," Cortez said in Spanish. "Our worry is, if we get infected what would happen to us? What plan is there for us?"
PHOTO PROVIDED BY VICTOR CORTEZ
Victor Cortez is a migrant farmworker on a Wyoming County dairy farm.
As essential workers, migrant farm laborers are continuing operations. They are also one of the most vulnerable populations if exposed to the virus, however, because many fear they won't have access to medical care.
<!———StartFragment———>"As people without status, we don't have access to hospitals. We don't have access to doctors," Cortez said.
<!———StartFragment———>If that happens, that could affect New York state's agricultural economy. <!———EndFragment———>
Cortez explained that it is up to farmers to establish a plan for their migrant workers if they get sick. He said he and other workers use gloves daily and have been given masks and that, so far, no one has fallen ill on his farm.
Steve Ammerman, of the New York Farm Bureau, said while the organization can't mandate farmers do anything, it is encouraging farms to have a plan for workers, and looking to expedite on-site testing.
"The only thing we can do is to try and prepare as much as possible and be as safe as possible with our practices in order to try and keep the spread as low as we can," Ammerman said.
The potential lack of access to care is something that's also concerning to Emma Kreychee with Worker Justice Center of New York, an organization that works directly with migrant workers.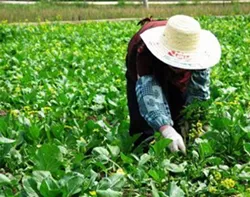 PHOTO PROVIDED BY WAMC.ORG
A migrant farmworker.
She said that as recently as January farmworkers were granted rights to collectively bargain and access certain benefits, like family leave and emergency paid sick leave. Yet many farmworkers aren't aware of the rights, she said.
Additionally, she said, fears of encountering Immigration and Customs Enforcement have kept migrant workers and undocumented immigrants from visiting food pantries or seeking help.
"People are afraid that if they go to the emergency room or if they seek out assistance that they will be deported, that they will be reported to immigration officials," Kreyche said
Apart from that, immigrants who aren't citizens, including those who have paid taxes, will not be receiving a stimulus check. Kreyche said coronavirus is exacerbating the vulnerabilities of migrant farmworkers under normal conditions. She cast it as a humanitarian issue that can affect food security and the economy if not addressed.
"This pandemic is really showing us how fragile our food system is insofar as it relies so heavily on the labor of people who are exploited and marginalized and vulnerable," she said.
"If farmworkers are affected in any kind of widespread way by this virus I think we will see real interruptions in our food supply," she added.
Worker Justice Center of New York is coordinating support for affected workers, and Kreyche said she hopes that efforts to work with Governor Andrew Cuomo's office will lead to solutions.
Cortez said that a little help would make a difference.
Noelle E. C. Evans is a reporter for WXXI News, a media partner of CITY. She can be reached at nevans@wxxi.org.