From Java's to Kilbourn Hall to Kodak Hall in just 10 years. Cello-rock band Break of Reality emerged from Eastman School of Music as a student start-up and has grown into a modern instrumental ensemble with a list of accomplishments practically the length of Gibbs Street. That's particularly impressive when you consider that this young group has succeeded at a time when established orchestras have filed for bankruptcy, and the ones that have persevered still struggle to fill seats.
In 2010, when I interviewed percussionist and Break of Reality founder Ivan Trevino for City Newspaper, I asked him how it was that the group was finding success in such difficult economic times for the country in general, and classical music in particular. He responded that he "wasn't sure."
I spoke to Trevino again about the Break of Reality's upcoming 10th anniversary concert at Eastman Theatre, reminded him of his 2010 answer, and asked if he had figured out the elements of success. This time, the answer was packed with more than 30 minutes of details. Break of Reality plays concerts, sells records, sells scores for original compositions, accepts commissions, teaches, has 11 YouTube videos (one with more than 2 million views), has more than 27,000 Facebook fans, and is engaged in its first Kickstarter campaign to facilitate public-school performances.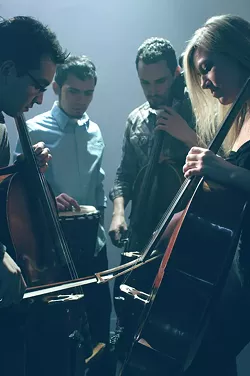 PHOTO BY MIKE TURZANSKI
Break of Reality performs Friday, January 17 at Kodak Hall at the Eastman Theatre.
So what is the secret to Break of Reality's success? "I think one of the reasons is the fact that we're still a group and we're still playing out a lot. We're active," says Trevino. "And Pandora radio has been a big help for us — 20 million plays a year or something crazy," he says about the music-streaming service.
Trevino's point is simple, yet arguably brilliant coming from a classically trained musician. Trevino graduated from the Eastman School of Music with a master's degree in percussion performance. He is now on faculty at ESM, where he teaches a course in the business of music. Trevino is also a faculty member at the Hochstein School of Music & Dance, where he teaches composition, chamber music, and the popular summer School of Rock Camp.
Break of Reality formed at the Eastman School of Music in 2003. It currently features founding members Trevino and cellist Patrick Laird, as well as cellists Laura Metcalf and Adrian Daurov. (Philip Borter, one of the former members of the group, is also scheduled to perform in the anniversary concert.)
"Sometimes classical musicians and the classical industry in general are really late adopting these new technology things," says Trevino. "I've spoken to classical musicians about Pandora and they'll say, 'Tell me about it.' Even orchestras and musicians have to accept that we have to adapt and accept these technological advances to help us."
For Break of Reality, Trevino says that services like Pandora are a perfect fit. "When people ask me, 'How do you categorize Break of Reality?' I say I don't know," says Trevino. "Most people in the music industry would think that's a terrible answer. But Pandora will group us with heavy metal and with Yo-Yo Ma. That's why we get played so much. We don't fit any one category."
Trevino points out that this issue of "classifying" Break of Reality is one reason why the group chooses to independently produce its own albums. With more than 50,000 records sold, you would think that Trevino must have an MBA. But he says that "basically everything we did, we learned by doing."
"We would play a concert and somebody would say, 'Do you have a CD?' and we'd say no, let's figure out how to do that," says Trevino. "Then somebody else would say, 'Do you have a website?' and we'd say, let's do that."
The group's fourth album, "Ten," will be released March 2014, joining "The Sound Between" (2006), "Spectrum of the Sky" (2009), and "Covers" (2012). The Kodak Hall concert will include selections from all 10 years of Break of Reality's existence, including some tracks from the upcoming album that will make their debut at the Rochester concert. Also performing that evening will be 12-year-old Hochstein student Jackie Hager, a student string quartet from ESM, and percussionists Aaron Staebell and Mark Boseman.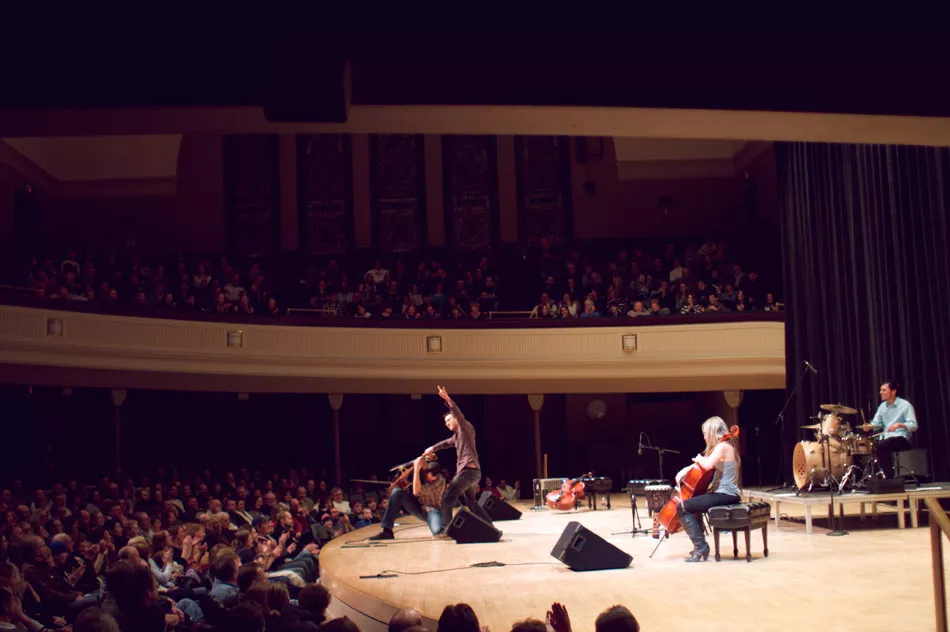 Trevino also credits group co-founder Patrick Laird as having a head for the numbers, finances, and taxes. "I wouldn't want to do that, and he wouldn't want me doing that," says Trevino. "We each have our skill sets and we try to play on our strengths."
How to run a band is another lesson that Trevino says he's pulled from his exposure to rock, including time spent on the road with his musician father's band. Break of Reality is for-profit, and does not have a board of directors. While that means that the group has to sell product — namely itself and its music — in order to survive, it is able to respond to ideas and opportunities without any delay or politics.
"I can call Patrick and say, 'Let's record the "Game of Thrones" theme song.' He'll say, 'OK, I'll book a space.' And the next day we do just that," says Trevino. (The quartet's rendition of the HBO series' theme song went viral, with more than 2.3 million views on YouTube.) "Sometimes it's nice to survive on your own two feet, even though it's hard being an independent artist."
Indie groups like Break of Reality can benefit from being technologically responsive in a variety of ways. "Technology has allowed us to reach people who we otherwise wouldn't be able to reach, especially as an independent band that doesn't have a record label and doesn't have mass distribution," says Trevino. "We can release a video and it can go viral in Turkey. Now we have an audience base in Turkey, so that if we play a concert there, hopefully people will come."
There is also a nuance that comes out when listening to Trevino. It's not just that he understands modern multi-platform advertising and distribution; it's that he understands the tendencies of the business side of music to want to use labels. "If we're talking to a promoter or a concert presenter who runs a more classical music series, we put on our classical hat and we have that background, and we say, OK, we're going to play some Bach," says Trevino. "If we're talking to rock, we'll play Tool. It's a unique thing about our band."
If you think Trevino is literally playing both sides of the fence, you probably haven't yet been to a Break of Reality concert. "When we get in front of people, we're brutally honest," says Trevino. "If there's a particular piece we're playing, we let them know why. Communicating with an audience is one thing we've learned from rock musicians. We're communicating with our audience all the time. No program notes. We talk to people to share a story about the music and the concert, and we hope to leave them with a good personal connection."
While the group's approach may be influenced by popular music, it still remains committed to its classical roots. "We want to continue to raise awareness for instrumental music," says Trevino. "We feel like instrumental music is left out of more mainstream kinds of things. It can be powerful, and we don't have to spoon feed listeners the same old stuff. I feel like we can trust the listeners enough to make a decision, and we trust them to be challenged and not just accept whatever is out there. Instrumental music has the potential to move a lot of people, and can sometimes be more powerful than music with lyrics."
By the end of our interview, we were back to the upcoming concert. "It's our 10-year anniversary concert," says Trevino. "Our very first gig was 2004 at Java's. It's a really special concert for us. I think a lot of groups don't make it to this landmark, and for Eastman to have us headline our own concert..."
Over the past 10 years, Break of Reality has played everywhere from Water Street Music Hall, to the Knitting Factory and Stage 48 in New York City, to Ohio University and Georgia Tech, to the Alaska Center for the Performing Arts and Centennial Hall, to Worldfest Music Festival and the Five Seasons Chamber Music Festival. The list of venues is as far-flung and diversified as the band's music, and the billing is everything from "classical" to "cello" to "cello rock" to "fusion." The concert schedule and set lists are anything but the well-worn path to Carnegie Hall.
Playing Kodak Hall for the upcoming concert prompts Trevino to reminisce about a now-humorous moment from Break of Reality's past. "When we were students, we played Kilbourn Hall and, if I remember correctly, there was a concert or a rehearsal going on at Eastman Theatre," he says. "At that particular time, we were playing mostly metal transcriptions, and one of the ushers had to ask us to turn it down because our sound was bleeding through the walls into Eastman Theatre."
So, as they say in business, it was time to bring it down to a bottom line for our readers — especially the hundreds (thousands?) of classical musicians in Rochester: how do you succeed as a classical musician of any variety?
Trevino says that 10 years with Break of Reality has taught him quite a bit. "We just wanted to play a lot because we had fun doing it and everything slowly and steadily grew," he says. "There has never been a point at which we suddenly grew. Even things that seemed like a big step had been slow, steady growth."
I can't resist a spontaneous final question. "So when I interview you for your 25-year anniversary concert, where will it be held? Madison Square Garden?"
Trevino laughs, and adds, "Wouldn't that be great?"
---
Breaking into public schools
"Music education is a priority for Break of Reality." So starts a recent e-mail from Ivan Trevino, percussionist, as part of the outreach for the band's Kickstarter campaign to raise funds for a national music-education tour.
Intended to fund a month-long bus tour from school-to-school, the Kickstarter campaign was created so that fans of the group can donate toward the tour costs — and get donor perks in return. Toss in a $20, get a digital download of the upcoming album. Donate $90 or more and get a signed copy of all four Break of Reality Albums plus a limited-edition tour t-shirt. $250 gets you a cello lesson with one of the group members. More than 100 backers have already donated nearly $9,000. The campaign has a target goal of $48,000 to carry the group from Chicago to Fort Worth.
Don't know Kickstarter? Since 2009, the Kickstarter platform has hosted more than 54,000 creative projects, pulling in 5.5 million donors, pledging $942 million in funding. The projects are independently created by the artist, who then uses the platform to social media their supporters for their contributions to make ideas into reality.
For more information on the project visit kickstarter.com and search "break of reality."