As unimaginable as it seems, the state of Rochester's schools is worsening. Only 5 percent of city students in grades 3 through 8 were proficient in English on recent state exams. Academic performance of black and Latino males is the lowest of any major urban district in the US except Detroit's, according to a report released earlier this year. And only a few of Rochester's 60 schools are not on the state's list of failing institutions.
Chronic instability, a result of multiple changes in superintendents, senior staff, and direction, has caused confusion among an already vulnerable population. It's often not until late summer when some students know what programs are available to them and some teachers know where they'll be teaching. Some parents aren't even sure about which school their children will attend.
Against this all-too-familiar backdrop, three school board incumbents – Cynthia Elliott, Van White, and Jose Cruz – will try to hold on to their seats in the September 10 Democratic primary. Understandably, they have a lot of challengers, some more qualified than others: Candice Lucas, Howard Eagle, Ronald Hall, Tim McCauley, Liz Hallmark, Ernest Flagler, and Donald Hardaway.
(The winners of the Democratic primary will face Green Party candidate Lori Thomas and Republican Mia Hodgins in the November general election.)
Many of the district's most entrenched problems existed long before the incumbents took office. And each incumbent speaks about the plight of city families and students with compassion and urgency. The district has many hard-working teachers and students, and they don't get the attention and credit they deserve. But the overall picture is as dire as it can get.
Challengers argue that the incumbents have approved budgets and policies, hired superintendents, and agreed to generous labor agreements nearly absent of accountability. In recent interviews with City, challengers said most of the current board has been ineffectual. And they ask why voters would support the status quo. It's a fair question, and one that we at City asked ourselves.
Is it fair to blame the incumbents for all of the district's ills? No; the district's problems are complex, and they're exacerbated by the effects of the extreme poverty in which many Rochester students live. During the last school year, nearly 30 percent of elementary students were absent on any given day. And many teachers have complained for years about the high level of students' emotional and behavioral problems.
But recommending whom voters should send to the board to confront these problems is not made any easier by a board that lacks strong leadership and focus, has a record of infighting, and is frequently at odds with its superintendents. The current board brought in Superintendent Bolgen Vargas to replace Jean-Claude Brizard with a great deal of enthusiasm, but tensions soon developed.
Since then, fortunately, board members have taken some steps to improve that relationship. And while they wrestled with Vargas over school closings, they've supported his strategy of expanding the school day. In addition, a more constructive relationship with the mayor and City Council has emerged.
In the future, however, the work of the school board is going to get a lot tougher. The ground under the district has shifted, and anyone from custodian to board member who doesn't see this probably shouldn't be there. Any new board member will quickly discover that Vargas is caught in a whirlpool of state-driven initiatives — guiding a sluggish $1.2 billion schools modernization project, introducing a more rigorous statewide curriculum, and implementing controversial teacher evaluations.
The next board can only expect more pressure from charter schools and an interventionist state education commissioner, John King, who won't flinch at removing failing schools from the board's control. The next board will also face an even more skeptical community of parents, teachers, residents, and civic leaders.
For these reasons, City struggled with its endorsements for school board. While we agree that the current board needs to improve, few of the challengers seem to up to the job. Most of them lack the skills and understanding to oversee a district the size of Rochester's and address the serious problems it faces.
Nor is there time to spare for newcomers to learn how to work effectively with other board members and guide Superintendent Vargas. The wrong mix of personalities could result in board members wasting time fighting with each other when the situation desperately calls for synergy between the board and superintendent.
It's with some reluctance that City endorses incumbents Van White and Jose Cruz, as well as challenger Candice Lucas. The three have also received the Democratic Party's endorsement.
The decision to endorse those three over incumbent Cynthia Elliott and challenger Liz Hallmark wasn't easy. Both have many strengths. But overall, White, Cruz, and Lucas seem the better choices.
The endorsed candidates
Van White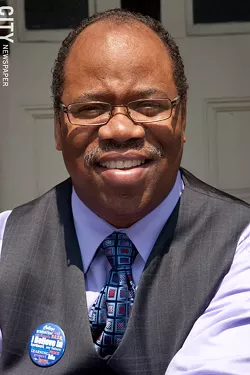 FILE PHOTO
Van White
There are many sides to White. There's the civil rights attorney, the former Monroe County assistant district attorney, the city's crime czar under Mayor William Johnson, the WDKX talk-radio personality, and the politician serving on the school board since 2007.
While White is a long-time Democrat, he's never been a party favorite. His natural independent streak makes him likeable to some people and off-putting to others.
During his time on the board, he has been ambitious, proposing far more policies and initiatives than most of his colleagues. For instance, he proposed creating a School of the Arts on the west side of the city and hiring reading teachers, and he has continually focused on the need to improve graduation rates. He pushed successfully for better tracking of students nearing graduation and helping those needing extra support.
For the most part, White's been able to work amicably with his colleagues, parents, and community leaders. But White has plenty of detractors. His critics say he's a tireless self-promoter, and they sometimes question his sincerity. And he's been one of Superintendent Bolgen Vargas's most ardent opponents, which has at times created tension.
In his defense, White says that he fights for principles that he believes in, and not for his personal advancement. And while Vargas was not his first choice to replace former Superintendent Jean-Claude Brizard, White says he respects the superintendent and wants him to succeed.
We're endorsing White because he has arguably been the strongest member of the current board. He is not afraid to challenge or question the administration, but his approach is usually constructive and thoughtful. And he is deeply concerned about the educational needs of minority children, particularly black and Latino males.
Jose Cruz
PHOTO BY MARK CHAMBERLIN
Jose Cruz
In some ways, Cruz is the quintessential politician: personable and committed. He understands government, and he often talks eloquently about the importance of participation and civic responsibility. He is vice president of the board and chairs the policy development and review committee.
Critics say Cruz is not a fan of long or challenging meetings, often more interested in the mechanics than the substance. And he is often seen in board meetings with his head down checking emails and texting, leaving some people with the impression that he's not listening or is uninterested.
But Cruz can be an effective diplomat, something that he showed last year when the board discussed making condoms available to students, one of the district's most heavily debated issues in years. During multiple public meetings, Cruz nimbly fielded questions and comments from dozens of students, parents, health-care workers, and teachers.
He has rarely been publicly critical of his colleagues, and he's been one of Superintendent Vargas's strongest supporters.
Cruz is smart, steady, and competent. He also fills an important role: he is a well-recognized leader of Rochester's large Latino community. It's not unusual to hear Cruz translating at board meetings for parents and family members where language and culture are often obstacles to understanding and full participation. And he makes time to mentor and support younger Latinos about their careers or political ambitions.
Candice Lucas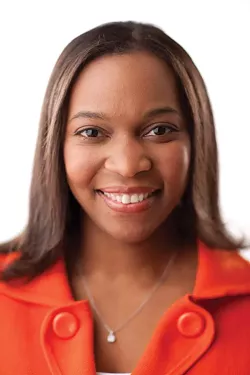 PROVIDED PHOTO
Candice Lucas
Director of the Cancer Services Program at the University of Rochester's Community Health Center, Lucas has a history of working with diverse groups of people and would bring important management experience to the board.
She has two children in city schools, and most recently, she served as president of the district's parent council, an advisory group of parents and legal guardians of children in the district. The group meets regularly with the superintendent and board members on a wide range of issues affecting students, families, and academic achievement. That has given Lucas a first-hand knowledge of the district's operations, finances, and problems.
Throughout much of Lucas's campaign, she has stressed that increased parent engagement is one of the keys to improving student outcomes. She is not the first person to make this point. But in her work on the council, she has been able to elevate the conversation, helping to establish stronger lines of communication between parents, teachers, and administrators.
If she can reach out to the community and help parents become more engaged in their children's education while holding the administration accountable for its responsibilities to parents, she could be a valuable addition to the board.
The other candidates
Cynthia Elliott
In her two terms on the board, Elliott pushed for greater diversification of the district's teaching staff and fought for new teaching materials that were less Eurocentric in their images and messages. And it would be hard to find a Rochesterian with more passion and a stronger commitment to its poorest children. She provides a strong voice to a community that is too often underrepresented.
During much of her tenure, however, Elliott has often been harsh and combative with some of her colleagues and superintendents. She had a testy relationship with former Superintendent Manny Rivera and a worse one with Jean-Claude Brizard.
But in the last year and half, a different, more engaging Elliott emerged. She communicates in a more constructive manner, and she is respectful even when she hasn't agreed with others. For example, Elliott and board vice president Jose Cruz worked together on the district's condom availability program. Elliott opposed the program, but she expressed her opposition in a way that was considerate, and she encouraged parents and community members on both sides of the controversial issue to do the same.
Elliott says she is concerned with stabilizing the district, pulling it back from the constant changes in leadership and management styles.
Liz Hallmark
A graduate of the University of Rochester Warner School of Education, Hallmark is an adjunct professor at the UR and Nazareth College, where she trains new teachers. And providing more support and better training for district teachers is one of Hallmark's main concerns.
Hallmark, who has worked as an artist teaching in city schools, says there is no one on the board with direct classroom experience. This encourages a disconnection between board policies and what is happening on the ground, she says.
While she doesn't oppose assessments for students, she's extremely concerned about the state and national obsession with high stakes testing, which she says is corrupting education. She says the district could better use the arts to keep students interested in core subjects such as reading.
But Hallmark can appear a bit academic and cerebral, and we question whether as a board member she would be assertive enough to build coalitions and push her ideas successfully.
Howard Eagle
As a Rochester teacher and a leader of the education activist group Community Education Task Force, Eagle knows about a lot about education and the city school district. He has run unsuccessfully for the school board several times and is campaigning with candidate Ronald Hall as a slate in this primary.
Eagle wants the district to shift its priorities toward rebuilding the foundation of education — reading, writing, and math. And he has spoken out repeatedly against the district's policy of social promotion.
Though Eagle understands many of the problems the district faces and is passionate about city students, he is also at times vitriolic and hurtful. It's often not what Eagle says but how unconstructively he delivers his message that makes it difficult to see how he could contribute to the board's work.
The remaining candidates are obviously concerned about Rochester's children and the state of the school district. But they lack the depth of knowledge and understanding of the school district's challenges that Rochester needs.
Ernest Flagler
A longtime Rochester firefighter, this is Flagler's second run for school board. Among his concerns are school safety, improving communication between parents and school officials, and building a better pathway for students who are not college-bound to pursue a trade or entrepreneurial ambitions.
Though Flagler is personable and extremely likeable, his lack of operational and budget management experience is a drawback.
Ronald Hall
A manager for marketing and special events with a major retailer (he requested that we not name the company), Hall is a former board member of Genesee Community Charter School, which his children attend.
Much of the thrust of his campaign consists of an attack on the current board and school district. For instance, he says students and teachers aren't being prepared for success, that many of the district's problems stem from a lack of leadership and accountability, and that the board is largely to blame due its passive management and oversight. But he offers few workable alternatives.
Donald Hardaway
Bright and ambitious, Hardaway teaches health and physical education at Monroe Community College. Few candidates speak with as much frustration and disgust about the city school board and Superintendent Bolgen Vargas as Hardaway, or with as much concern about students who graduate poorly prepared. But other than advocating for charter schools and calling for the resignation of the board and Vargas, he has offered few ideas for improving the district.
Tim McCauley
McCauley is a marketing specialist, past president of the Black Business Association, and has volunteered as a Scoutmaster, fundraiser, and choir director.
McCauley says he would like to use his experience working in the community to help mobilize stronger community involvement with the city school district. Like the other candidates, he is concerned about the district's low graduation rate, and he is particularly concerned about the high number of children classified as needing special-education services.
Essays by each of the candidates for school board – with the exception of Van White and Donald Hardaway, who failed to submit one – are on our website, rochestercitynewspaper.com.