Each year, City Newspaper highlights four young Rochester-based artists who are beginning to come into their own. The following emerging artists — Chara Dow, Evyn Morgan, Johnnie Smith, and Kurstie Grimble — come from diverse origins and work in a range of media, but all share the drive to generate and sustain artful lives.
Those who want to be professional artists can't follow a pre-mapped course, so some of our conversations touched on the process of clarifying why they do what they do. And the artists expanded on their thoughts about Rochester's imperfect support of its artists, long-term goals and making moves to achieve them, and how to keep art from languishing on the back burner, so that it doesn't become something that they used to do.
PHOTO BY MARK CHAMBERLIN
Chara Dow.
Chara Dow: The forage for the trees
At 28 years old, Chara Dow has already established her own woodworking business. She's enabling herself to explore a love of travel, and has purchased her own home in East Rochester with an attached studio space. The 720-square-foot, two-story, three-car garage (now a workshop) was actually the reason she bought that particular house.
"The house itself needed a lot more work than I initially thought," she says, so fixing it up before the winter sets in has been her priority.
Before breaking out on her own, Dow shared a workshop that she helped build with her father, and assisted him on rustic furniture projects.
Dow's own imaginative furniture is created from twisting, wending branches, and exploiting the natural strength of the wood.
"Right angles don't appeal to me that much," she says. "You can argue that working with the natural forms is a better way of building. If you're using a branch, that's the way the grain has grown. You're not altering it at all, or asking it to be anything that it isn't already. You're just using the shapes the way they grew, which are going to have the most strength."
Dow sees her process as connected to the freedom she experienced growing up in a family that home schooled its children. "We all kinda got to think outside of the box, and play a lot, and be in the woods a lot," around her family's home near Linear Park, she says. "I think that was a big advantage."
Because of the way Dow works, each piece of furniture is unique, and she's also known for her beautiful, hand-carved, freeform spoons. It's easy to envision each thing she creates becoming a treasured heirloom.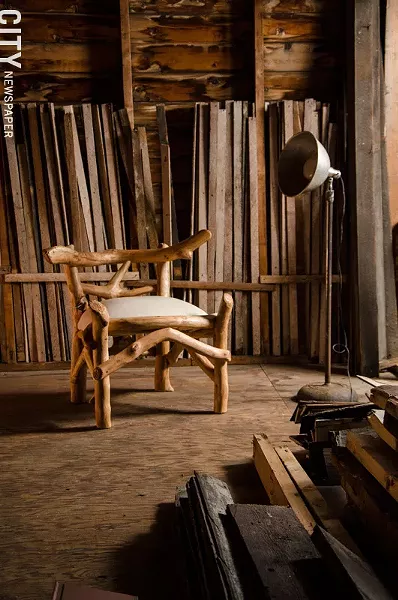 PHOTO BY MARK CHAMBERLIN
Dow creates rustic furniture from scavenged wood.
Dow sources her materials sustainably and locally: she uses branches scavenged from fallen or pruned trees, driftwood from Lake Ontario, and Oriental bittersweet, an invasive vine that she has permission to take out of the parks. "It'll kill 100-year-old oak trees," she says.
For outdoor furniture, she uses rot- and decay-resistant woods like black walnut, cedar, or black locust. Dow has nicknames for identifying species, based on qualities and appearances. "I'm not a pro, I didn't go to college for forestry," she says. "There's a type I call salmon wood, because of its salmon-y color flesh and silvery exterior. It's great for interior pieces, it's really beautiful."
Dow attended Monroe Community College for a few years off and on, before dropping out for the last time in 2009. "I wasn't really happy, and have too many interests to pick a direct path," she says, "which I think is very normal."
In 2014, she quit her last part-time job, though she still occasionally works for Root Catering during the summers and about once a week.
"To me, success means being able to maintain a place to live and work here, and the ability to travel," Dow says.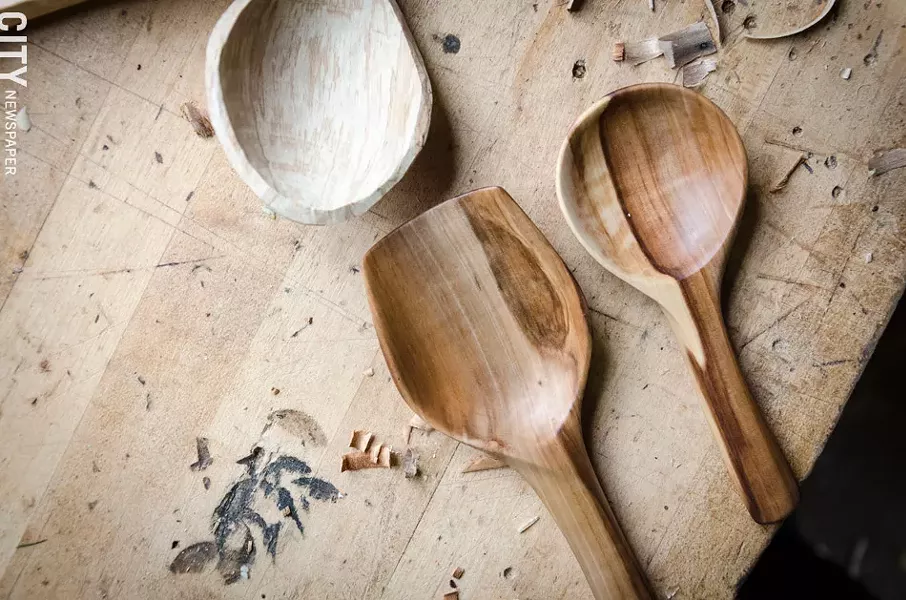 PHOTO BY MARK CHAMBERLIN
Dow creates utensils from scavenged wood.
Her recent trip to Iceland was her first experience "outside of the Western, US mentality, and that was really refreshing," she says. "I'm also really drawn to places in the world that have stark, dramatic natural elements."
The trip has influenced the furniture she's made in the last six months, such as a chair made with driftwood and Icelandic sheepskin for the seat upholstery.
Dow would like to tackle more installation work, such as custom railings, and create sculptural, larger-scale pieces that could be placed in public spaces and restaurants. She also aims to participate in shows on a national level, such as the Western Design Conference, and develop more stylized, conceptual furniture.
PHOTO BY MARK CHAMBERLIN
Chara Dow.
"I have a lot of designs that I think the materials lend themselves to," she says. "And I think that will come, down the road, once I have myself and my business more organized. I have confidence that I could do these things."
See Dow's work at charadowrusticworks.com, charadow.bigcartel.com, at RIT's ShopOne in the Global Village, and at The Yards' Holiday Art Bazaar on December 19.
PHOTO BY MARK CHAMBERLIN
Evyn Morgan.
Evyn Morgan: The book as window and mirror
Though 24-year-old artist Evyn Morgan has four part-time jobs, she's selected ones that employ her creativity and put her in contact with other creators who keep her inspired. She works as an exhibition preparator at George Eastman Museum, is a staff photographer at POST Magazine, models for Lives Styled, and makes sandwiches at Java's Cafe.
"Even though Java's, it's a food service job, everybody who works there is creative in one shape or form," Morgan says. "You can always bounce ideas off of them, or collaborate with others."
She's currently working with artists St. Monci and Justyn Iannucci on a mini collaborative book, and with Iannucci on art for Moses Rockwell's upcoming EP (to be released in February by Cherish Records). She's also worked on a web series with Werewolf House, the production company behind "The Dead Deads" that was founded by Iannucci, Patrick Montanaro, and Eric Maira.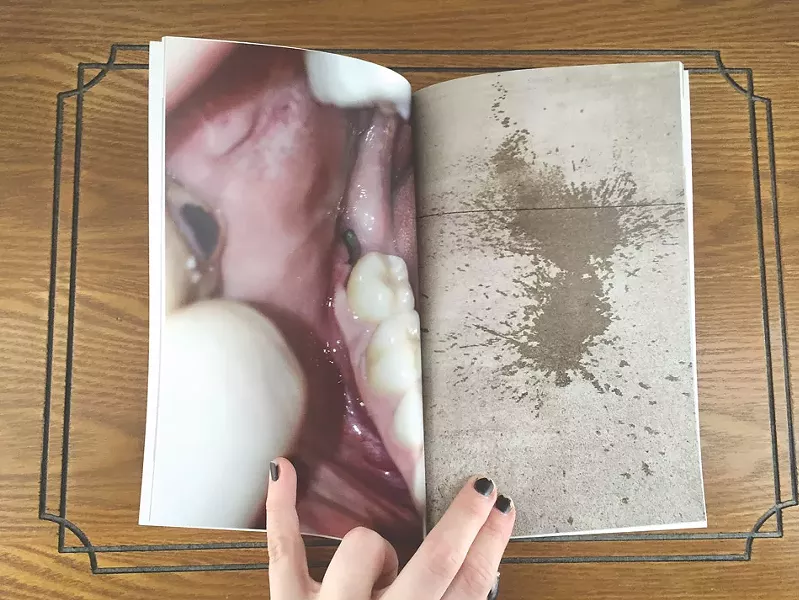 PHOTO PROVIDED
Pages from Morgan's artist books, which include her photography and some text.
Originally from the Batavia area, Morgan graduated from RIT in 2014 with a BFA in Fine Art Photography. Her personal work takes the form of books of seemingly disparate but engaging images, with moody and ephemeral tones.
"I mostly make personal work based on my own experiences," she says. "Whatever I root from the inside, I then make images that connect to that mood. I'm always trying to psychoanalyze myself, and I feel that a lot of people are always dealing with things they don't want to come right out and talk about. So I try to make work that's enterable by other people who have similar things going on, and they might want to think about their positions in life."
Morgan uses her work to connect herself, and others, to ways of approaching intangible subjects like loss and grief, when talking about it doesn't necessarily do the trick. For her senior thesis project, "Happenstance," she did this for her family.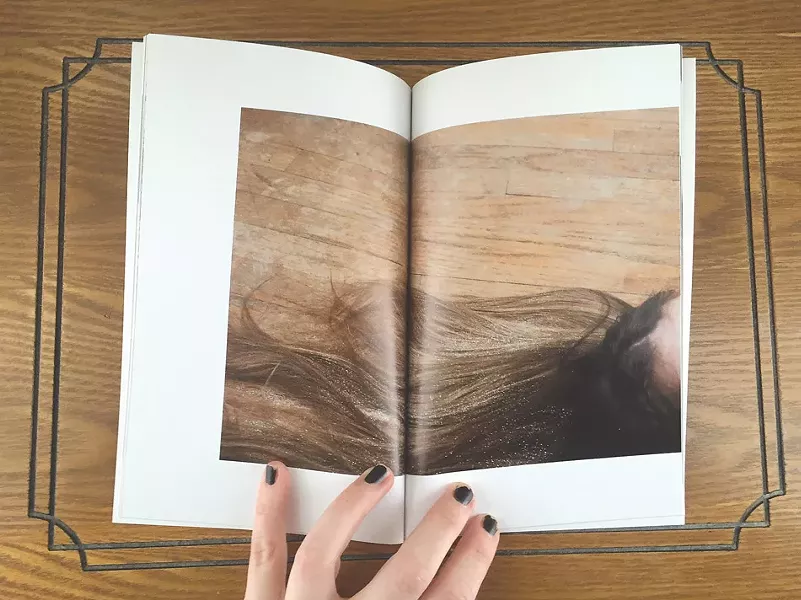 PHOTO PROVIDED
Pages from Morgan's artist books, which include her photography and some text.
"There was this string, following down my dad's bloodline, of people getting in freak accidents and dying," she says. First, her father's oldest brother, at age 28. Then, her cousin, the daughter of her dad's middle brother, at age 21.
"It was a subject that was pretty suppressed in my family," Morgan says. "I didn't know either of these people existed until I was 21 years old."
She made two books, each her own interpretation of who her uncle and cousin were as people. "They visually represented them either physically, or through story, or metaphors for how they died," Morgan says. "Traci" is filled with images of water, and shores, and a tense nostalgia is conveyed through hot light causing dreamcatcher silhouettes to appear through a curtain, and a hand presenting a thin ring. In "Ron," a dollar lay crumpled and forgotten on a couch cushion, downy cloud cover sits heavily atop a post-harvest field, and the world whips by as though seen from a fast-moving vehicle.
She says when her family came to the show and saw the work, "there was almost this giant sigh of relief that they were finally able to acknowledge this together."
"I just finished a little project called 'I don't know what to tell you,' that taps into the idea of emotional dependence and 'perpetual okayness,'" she says. The latter term is an idea Morgan conceived from witnessing how people won't commit to saying they feel either good or bad, just "okay."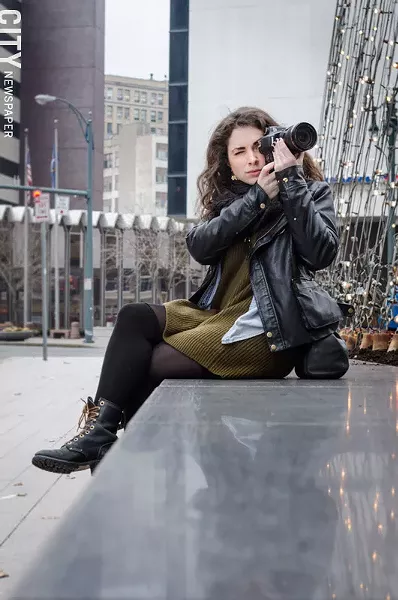 PHOTO BY MARK CHAMBERLIN
Evyn Morgan.
Like many young artists, Morgan feels the tug to travel outside of Rochester for opportunities. She echoes the common lament about the arts scene in Rochester: Our city is talent rich and prospect poor.
"Everybody is so supportive of each other, but the opportunities just aren't there," she says. "I've been in a few situations where I've had photo editing work offered to me, but when you get to the point where you're discussing price, they're like, 'Oh...'"
Morgan is considering graduate school, and says her dream job "would definitely be working in NASA's Photography Archive. More realistically, I'd really love to teach. I was a teaching assistant in college for some photography classes and I really enjoyed it," she says. "Or ya know, make a living off my work? That'd be cool right?"
See her work at evynmorgan.com.
PHOTO BY MARK CHAMBERLIN
Johnnie Smith with some of his paintings.
Johnnie Smith: Heroic portraiture
Though he had dabbled in making T-shirts and drawing from a young age, 26-year-old painter and clothing designer Johnnie Smith cites his move to the suburbs from Rochester's west side as the opportunity that set him on the art path. When he was in high school, he and his mother moved to Pittsford and in with his elderly uncle. Pittsford Sutherland High School not only offered art and music in its curriculum, but participation in one or the other was mandatory.
After seeing the self-portrait Smith made at school, his mother asked if he would paint a portrait of her uncle, who had Alzheimer's and was dying of prostate cancer. Seeing his family's reaction to the painting gave Smith an interest and purpose to pursue art, he says. Since then, he's received a lot of commissions to memorialize people. "It feels good to be able to use my skills to help someone else cope with the feeling of someone passing away," he says.
Today, Smith is mostly known for his powerful portraits of past and present black leaders, which have been presented to speakers at a variety of RIT's annual events and printed on T-shirts and sweatshirts.
A supportive art teacher encouraged Smith to go to art school, and he attended Pratt MWP for two years. He describes this experience as humbling, "because now I'm in an environment where everybody's an artist, and I'm no longer the great artist in the school," he says. He briefly pursued commercial photography at Fashion Institute of Technology, but ultimately found it was not a good fit and dropped out.
Smith returned home to family and portraiture, trying to relocate his own reasons for creating. He created his own clothing brand, J Smith, featuring artwork from his ever-growing Black Leadership series: paintings of such heroes as Malcom X, Angela Davis, and Sojourner Truth. "It's cool to be able to drive around downtown and see someone wearing my shirt," he says.
His most recent sweatshirt features Frederick Douglass, which were popular with members of the Frederick Douglass Leadership House at the University of Rochester. They've since asked him to design the house hoodie.
In 2013, Smith was invited by Stephanie Paredes, who works at RIT's Office of Diversity, to paint portraits of that year's Expressions of King's Legacy speakers, which featured Cornel West, Garth Fagan, and poet Joshua Bennett. The following year, Smith planned to sell his leadership sweatshirts at RIT's Black History Month kickoff, and offered to paint the portrait of featured guest Maya Angelou. Though illness prevented her visit to Rochester, the portrait became part of a care package sent to Angelou.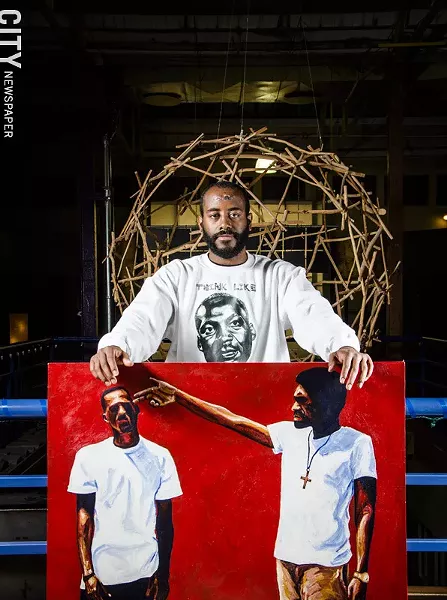 PHOTO BY MARK CHAMBERLIN
Johnnie Smith with some of his paintings.
Smith was also commissioned to paint King Speech speaker Soledad O'Brien, and will paint this year's Expressions of King's Legacy speaker, Andrew Young. "To be able to say I'm going to be able to meet someone who walked with Martin Luther King is amazing," Smith says.
He says he treats his personal work "like a diary" that he uses to reflect on his progress on his path. "The Struggle" is an ongoing series of large pieces with a personal narrative of overcoming obstacles. He's also working on a "Good Hair" series.
"I have two young nieces," he says. "My oldest niece would watch 'Hannah Montana' — which is terrible, I don't think she should have ever watched that — and she suddenly wanted her hair to be straight. I want to depict the beauty of natural hair and help improve self-image."
Smith works as an art instructor at the Memorial Art Gallery's Creative Workshop, and has also mentored youth through Rochester Works' Summer Youth Employment Program.
"I was able to learn a lot and see the mindset of the youth in the city," he says. "And it's kind of bad. So many kids want to be basketball players or rappers, but they don't really have any goals. Kids I talked with want to be in the NBA, but they don't even play for their high school basketball team."
Smith sees a need for mentors who can impart realistic goals and strategies for success. Before he went to college, Smith himself was connected by a cousin with Rochester artist David Haygood, and learned about his life and experiences as an artist.
"I someday plan to have my own art program," he says. "Art in the city is limited, and not too many youth have an opportunity to explore or pursue art. If I never came from the city to Pittsford, where there was a better art program, I might not have seriously considered it. So to have a program, and to give back some day, is something I want to do."
Check out Smith's work at everythingjls.com.
PHOTO BY MARK CHAMBERLIN
Kurstie Grimble.
Kurstie Grimble: Edgy Couture
Kurstie Grimble is a self-made seamstress, and under the title Khaos by Design, a smith of sexy, unique adornments. She has no formal training, but her can-do attitude is unsurprising, considering the 32-year-old grew up on a school bus.
"My mother was a gypsy-esque sort of a person who liked the woods and didn't conform to a conventional society," she says. "She decided to pack us all up and we bought a 42-foot school bus, and moved into it."
The family gutted and repurposed the bus, heated it with a wood-burning stove, and moved around the Southern Tier and rural areas west of Rochester. "We didn't go anywhere glamorous," Grimble says. "It was pretty much every craphole town you can think of, or wherever people let us park and stay."
Grimble changed schools often, dropped out, and developed an individual spirit. "School really isn't for me," she says. "I'm a hands-on learner, I need to figure it out myself, make mistakes, pretty much take the hard way around to perfect anything I'm trying to do."
PHOTO BY MARK CHAMBERLIN
A necklace using bullet casings made by Grimble.
The use of animal bones in her jewelry stems from a youth spent collecting in the woods. Grimble mixes natural elements with found, forged, or cast metal objects, resulting in an elegantly dark, earthy-yet-industrial look. She's in the process of learning more metalsmithing techniques, and sort of accidentally started a clothing line.
"I'm very particular about what I like," she says. "I started making my own clothes, and people said, 'Oh, I would totally wear that." So I started making clothes for friends, and people said, 'Oh, I would totally buy that,'" she says with a laugh. "So I started making little ready-to-wear things, little dresses. One night a few years ago, I just decided to make a gown."
Grimble spent the next four months making a couture, fitted frock with a high-neck, mermaid hemline, and corseted back, using material sourced from sheer curtains with velvet filigree details. She made her second dress, featuring a very low-plunging neckline, for drag queen Wednesday Westwood to wear in Grimble's Anti-Fashion Week show during fashion week a few years ago.
The show "wasn't a jab against anybody," she says, "but to bring light to underground artists who aren't in boutiques."
Grimble favors working with textured fabric like brocade, garment leather, and lace. She's made a few custom wedding gowns, as well as custom jewelry for entire wedding parties.
Grimble bartends at Dicky's one night a week to socialize, but can mostly be found in her Hungerford studio she shares with Alyssa Radwick of Gruntwerk.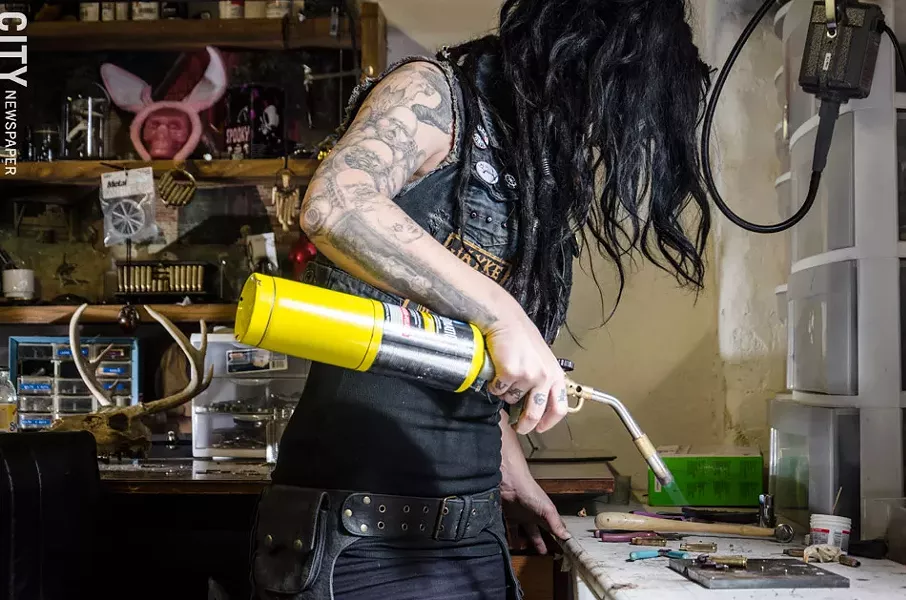 PHOTO BY MARK CHAMBERLIN
Kurstie Grimble at work in her Hungerford studio.
This winter, she'll spend time planning and sewing a new clothing line, to be ready for the fall 2016 season. Grimble also plans on partnering up with another artist and opening a storefront after the New Year. In the long term, she's toying with the idea of moving to New Orleans and establishing an oddities shop in the French Quarter, stocked with her creations as well as her collection of "weird, macabre, taxidermy, and medical specimens."
See Grimble's work at etsy.com/shop/KhaosByDesign and instagram.com/khaosbydesign.