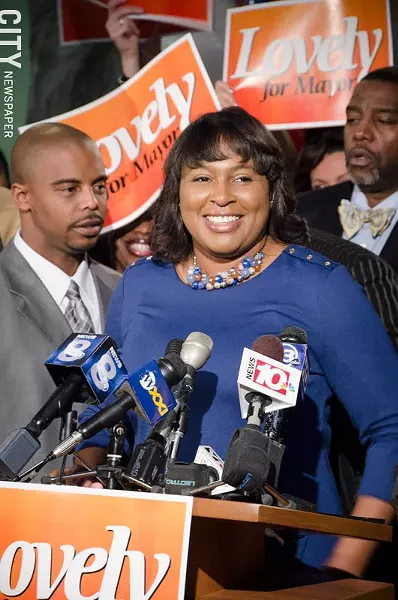 FILE PHOTO
Lovely Warren.
With all but a handful of districts reporting, it's now clear that Lovely Warren is the next mayor of the City of Rochester. Warren, who is currently City Council president, will be the first woman to lead the city. She's also one of the youngest people to ever win the office -- a historic victory on multiple fronts.
According to unofficial results from the Board of Elections, Warren took home 55 percent of the vote to Tom Richards' 40 percent. Green Party candidate Alex White earned about 5 percent.
Warren's victory would seem to put to rest speculation that she only won the Democratic primary because Tom Richards' backers -- Richards is the incumbent mayor -- thought he had it in the bag and didn't show up at the polls in the primary.
A rogue pro-Richards campaign sprung up after his primary loss, but it was too little, too late. And the campaign did not benefit from the support of its candidate. Richards refused to campaign and left people wondering what he would do if he won the general election.
Richards' statement:
"I want to congratulate Lovely Warren on her victory tonight. We have already begun work on the transition and I have instructed Senior staff -- and I'm asking all City employees to do whatever it takes to ensure a smooth and cooperative transition process. The job of mayor goes far beyond a single individual. It's now time for the entire community to come together and support the new Mayor and continue working to make our City great."
SHERIFF
9:38 p.m. While it is still early, the results in the sheriff's race have been pretty consistent. Sitting Sheriff Patrick O'Flynn, a Republican, has pulled about 90 percent of the vote. Green Party candidate Emily Good has received about 10 percent.
The upside for Good and the Greens: less than 1 percent of the county's voters are registered in the party. With approximately one-quarter of the voting districts reporting, Good is outperforming that ratio.
That said, O'Flynn is the probable winner of the race.


CITY COUNCIL
9:55 p.m.: Though only about half the districts are in, it's safe to say that Rochester has returned the five incumbents to City Council. Jackie Ortiz, Dana Miller, Loretta Scott, Matt Haag, and Carolee Conklin far outpaced their opponents.
The five vets were challenged by the Rev. Marlowe Washington on the Working Families line, and three Green Party candidates: David Atias, Drew Langdon, and Dorothy Paige. Of those, only Paige has cleared 3 percent of the vote so far.
If Lovely Warren hangs on to win the mayor's race, it'll be interesting to see how Council responds to her agenda. Support for Warren's candidacy was split early on among board members.


HENRIETTA AND IRONDEQUOIT
Voters tossed out the incumbent supervisors in Henrietta and Irondequoit.
The Henrietta race was close, with Town Board member Jack Moore, a Republican, receiving approximately 51.3 percent of the vote and sitting Supervisor Michael Yudelson receiving approximately 48.6 percent. Moore and Yudelson already squared off once this election season in a Republican primary. Yudelson lost that race and has since registered as a Democrat.
In Irondequoit, Democratic challenger Adam Bello defeated sitting Republican Supervisor Mary Joyce D'Aurizio. Bello pulled in approximately 55 percent of the vote while D'Aurizio received approximately 45 percent, with four voting districts yet to report.
That result isn't a shocker; town residents are frustrated with the lack of progress at Medley Centre and many were dissatisfied with the town's handling of the I-Square project.
It's a good night for Dems in Irondequoit. The Democratic candidates for Irondequoit Town Board, Dave Seeley and Lorie Barnum, beat out Republicans Paul Marasco -- a sitting Town Board member -- and Bill Brongo. The Seeley and Barnum wins mean that, come January, Irondequoit's Town Board will be entirely Democratic.


MONROE COUNTY LEGISLATURE
The two Monroe County Legislature races on today's ballot weren't going to shift the balance of power in that body – which favors the GOP -- regardless of the outcome. But the actual results aren't going to change the balance at all.
County Legislator Joe Morelle Jr., a Democrat, will keep his Irondequoit-based 17th District seat, prevailing over attorney Ed McClenathan, a Republican. Morelle received approximately 68 percent of the vote, while McClenathan received approximately 32 percent.
In the 19th District, which covers parts of Greece and Parma, Republican Kathleen Taylor received approximately 63 percent of the vote, defeating Democrat Michael Bertolone, who received approximately 37 percent.
Taylor will replace Republican Jeff McCann, who has to leave at the end of the year due to term limits.


GREECE
Greece Democrats thought they had a decent chance at winning some town offices this year. But tonight, town voters have kept the GOP in control.
In the supervisor race, State Assembly member and Monroe County Republican Party chair Bill Reilich received approximately 59 percent of the vote, beating Democrat Dick Beebe, a former Monroe County legislator. Reilich will replace sitting Republican Supervisor John Auberger, who couldn't run for re-election due to town term limits.
Voters also re-elected the four incumbent Republican Town Board members: Mike Barry, Brett Granville, Andrew Conlon, and Kirk Morris. Barry defeated Democrat Timothy Holler Jr., in the 1st Ward race; Granville defeated Democrat Wendy Wright in the 2nd Ward race; Conlon defeated Rita Garretson in the 3rd Ward race; and Morris defeated Norma Cummings in the 4th Ward race.
Republican Rick Antelli won the town receiver of taxes race, defeating Democrat Ellen Oberton. Antelli is a county legislator and will have to resign to take the tax receiver job. When he vacates the seat, legislators will have to appoint another Republican to the office.
The town's current receiver of taxes, Kathleen Taylor, won her race for County Legislature seat.


ROCHESTER SCHOOL BOARD
Despite the Rochester City School District's abysmal academic performance -- something that has dragged on for years, marked by a declining enrollment and increasingly disengaged parents -- voters tonight returned the three school board incumbents for another term.
Board members Jose Cruz, Cynthia Elliott, and Van White, all Democrats, have beaten their challengers in the general election, and they've done so with fairly wide margins.
Led by White, the incumbents grabbed the lion's share of votes -- well more than 60 percent. And even though candidate Candice Lucas came extremely close to overtaking Cruz in the Democratic primary, she was no threat to him tonight.
What this means for the school district is hard to say except that a strong majority of the voters who turned out tonight passed at the opportunity to remove nearly half of the school board.
And while voters also showed their support for Lovely Warren as the city's next mayor, who incidentally campaigned heavily on an education platform, they weren't necessarily giving her a green light to make big changes.


CASINOS
11:17 p.m.: It looks like a proposal to allow casino gambling in New York State may pass. According to the New York Times, it's about 57 percent to 44 percent for approval with 60 percent of the vote counted.
The proposal is backed by Governor Andrew Cuomo and would permit up to seven casinos in the state -- the first four would be located upstate.
The casino proposition appears to have failed in Monroe County, however, by the narrowest of margins, 50.18 percent against to 49.81 percent in favor, say unofficial results from the county Board of Elections.
The Seneca Nation has exclusive rights to operate a casino in our area, so the ballot proposition does not impact Rochester.
Governor Andrew Cuomo released this statement after it was clear that the measure was going to pass:
"The passage of Proposal One is a big win for local governments, school districts, and taxpayers across New York State. This vote will keep hundreds of millions of dollars spent each year in neighboring states right here in New York, while increasing revenue for local schools, lowering property tax taxes, and bringing proper regulation to the industry. This vote builds on the landmark agreements we reached with Native American tribes this year, ending expensive court battles and unnecessary discord and restoring hundreds of millions of dollars to local governments. Since taking office, my administration has focused on reviving the state's economy, and today's vote will further pave the way for the creation of new jobs, construction, and increased tourism in communities across the state."