If anything is going to make Rochester a "City of the Arts," with acknowledgement from the wider world for our home-grown offerings, it's going to be the efforts of the artists and arts organizations themselves, not just building a new theater. Those who are paying attention know these organizing efforts are already underway, and are showing promise.
Now celebrating its 86th year, the Print Club of Rochester has been on a recent fast track to relevance outside of the region — in no small part due to the leadership of artist and educator Adam Werth these last few years. The club has been gaining members on a national and international level while still bearing Rochester's name. Its second annual "Under Pressure" exhibition, hosted again at Rochester Contemporary, features four artists whose work challenges and redefines the concept of contemporary printmaking.
The goal of the series is to bring new artists into Rochester who are making interesting and challenging work, says RoCo Director Bleu Cease. In particular, Michael DeLucia's work in this year's installation severely blurs the boundaries between printmaking and sculpture.
Some of the New York City-based artist's work reads as bas-relief graphic design. Two tall panels of plywood, one covered in a faux marble veneer, the other raw, have been carved into by a router attached to a CNC machine. The resulting design — lines that form mechanical elements such as gears — strike a roughly elegant balance and can be considered either the plate to be printed from, like a woodcut, or "prints" in that they can be repeated by the machine. Two cork, fishbowl-like "vessels" set on wood stands, the surfaces carved into or printed with lines by the same machine, are more overtly sculptural.
PHOTO BY REBECCA RAFFERTY
Michael DeLucia carved into plywood panels using a router attached to a CNC machine; the panels are at once low-relief sculptures, potential printing plates, and prints.
DeLucia again employed the CNC machine, this time with a writing tool attached, to create drawings of vessels, some of which he made into negative-object, photographic prints through the use of printed transparencies placed over light-sensitive cyanotype paper.
The work of Sean Caulfield, an Alberta, Canada-based artist, reflects the environmental concerns particular to his region. The province is heavily reliant on the oil industry, and Caulfield grew up around the industry, with men in his family who worked in the oil patches. "But at the same time it's an open, free, rural kind of place," he says.
His art is a fusion of environmental, industrial, biological, and mechanical elements, resulting in paste-up installations of graphic, traditional wood block prints on thin, Japanese paper. With a ton of wall space left blank around the activity, some of the actual blocks are incorporated into the installation as sculptural elements. The pasted-up vignettes are of hybrid natural and industrial environments: A truncated forest emitting smoke looks eerily like a factory's stacks, and what might be a bomb shell or a plane's fuselage rests emits flames that might also be foliage. The forms are effectively deceptive.
Caulfield's installation at RoCo is a variation on a previous installation called "FireDamp" — a term that refers to when gas is released in a mine and explodes. The tone of the work is both ominous and slightly whimsical.
"I'm interested in creating a language in my work that fluctuates between kind of absurd and whimsical, maybe even cartoon-like, but at the same time anxious and serious," he says. "To my mind that's an interesting device, because a lot of these issues — say around climate and the environment — are polarizing, so having a language that fluctuates is useful."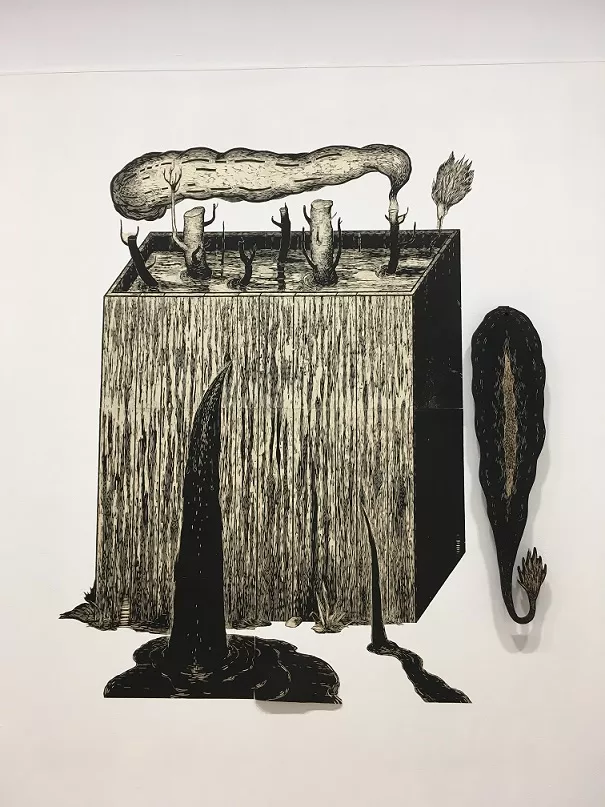 PHOTO BY REBECCA RAFFERTY
Detail of Sean Caulfield's installation, which uses a Seuss-like visual language to speak on environmental and industrial matters.
Rochester-based Nick Ruth's gorgeous, color-block monoprints of groupings of billboards are a familiar favorite. He's warmed up the sharp contrast by adding strokes of colored pencil that give texture and depth to a relatively flattened world. There's something in the big vibrant skies, and exuberantly lonely terrain that bring Ed Ruscha to mind, while Ruth's prints that feature groupings of disconnected walls seem to allude to Richard Serra's sculpture work.
PHOTO BY REBECCA RAFFERTY
Nick Ruth's adds depth to his flat, colorful prints of billboards and signs with painterly strokes of colored pencil.
San Marcos, Texas-based artist Jeffrey Dell's luminous screenprints are just astoundingly perfect examples of trompe l'oeil. In one particular series, he's made the print look as though the rainbow-spectrum paper has little windows cut into it, with the paper flaps poking out into 3D space, and overlapping shadows of the flaps cast on the page. But each highly technical, mesmerizing print is just seamlessly layered ink on synthetic Yupo paper.
Buffalo-based artist Mizin Shin has completely transformed RoCo's LAB Space into a graphic exploration of the interdependency of our various energy and food systems. The entire room — walls, ceiling, and floor — has been wall-papered with simple, black and white designs depicting our mechanized modes of extracting resources from livestock and the land. The carefully randomized placement of the paper tiles avoids a strict pattern, and so an elaborate sort of circuit board of systems connects terrain, animals, and machines. And stacked in two corners of the space are paper boxes printed to look like city buildings. The overall impression is of standing, Gulliver-like, on a cartoonish Lilliput.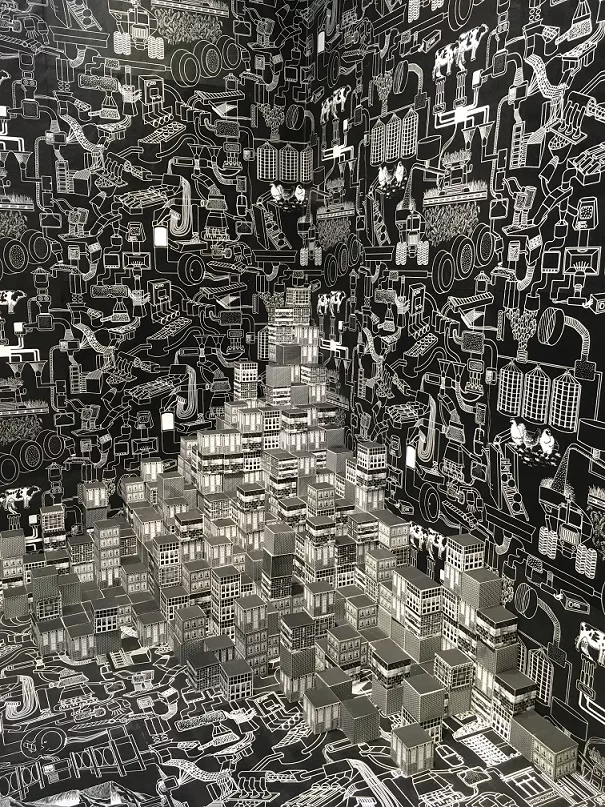 PHOTO BY REBECCA RAFFERTY
Filling the LAB Space is Mizin Shin's installation of a tiny, interconnected world.