The East End garage needs millions of dollars in repairs or it will have to be shut down within two to three years, said Laura Miller, the City of Rochester's new parking director, at a City Council work session yesterday.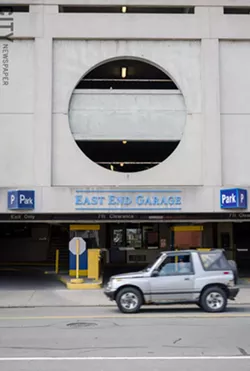 PHOTO BY MARK CHAMBERLAIN
The East End garage needs repairs, or will have to close, says the city's parking chief.
FILE PHOTO
Rochester Mayor Tom Richards.
The garage needs approximately $5 million in high-priority maintenance, Miller said, including repairs to the concrete deck and repair or replacement of the garage's drainage system.
"This is major, not just aesthetics," she said.
Miller also outlined $2 million in non-emergency repairs to the garage, including repair or replacement of the elevators, and sign and lighting work.
The East End is a thriving area of the city and the garage gets a lot of use. The garage, which can hold 1,300 vehicles, opened in 1981. An addition was put on in the early 1990's.
The garage came up in discussions about the future of the Cultural Center Commission. The commission, which is funded jointly by the City of Rochester and Monroe County, was founded in 1979 to help revitalize the area around the Eastman School of Music and Gibbs Street.
Mayor Tom Richards noted that, decades ago, Eastman officials were concerned about the deterioration in the immediate area and talked about moving the school to the University of Rochester's River Campus.
The commission created a cultural district plan to help control and encourage development in the area. The East End garage was part of the plan, and since then, the Sagamore on East, Metro YMCA, and other projects have been built.
But the commission sold its last property -- 1.5 acres across from the Eastman School known as Block F -- in 2011, and is probably no longer needed, officials say.
The city would take ownership of the East End garage, and the commission's remaining assets would be split between the city and the county. The city would get $3.3 million, with the county's share being $248,000.
City officials say their share of the money would be used for garage repairs. And a public hearing will be scheduled on the dissolution of the commission.