For those that might only go downtown at night for concerts or other events, it can be easy to forget that there is life in the area during the day, before it empties out after all the nine-to-fivers go home. Drifters L.B. is a new restaurant located inside the recently opened Hilton Garden Inn (155 East Main Street), which is in the historic building once occupied by the National Clothing Company.
The restaurant was opened on March 26 by DHD Ventures — which also owns Victoire Belgian Beer Bar and is currently developing the Button Lofts. Executive Chef Mark Crandall and Food and Beverage Director, Joshua Santay, along with the owners, have developed a menu that they hope will give travelers and Rochester residents a taste of home. Crandall recently relocated to Rochester from Alabama and brought some southern influence to the menu in the form of Chicken and Waffles ($10), which is fried chicken and smoked chili butter on top of a Belgian waffle.
PHOTO BY MARK CHAMBERLIN
Belgian waffles with maple syrup, fried chicken, and smoked chili butter.
The Americana-influenced menu will evolve and change to incorporate seasonal and local ingredients. You don't get much more American than Grilled Cheese and Tomato Bisque ($9), a dish that is customizable from an assortment of cheese options like gruyere, pepper jack, and cheddar. The Wedge Salad ($11) — which is definitely enough for two people to share — included two large wedges of iceberg lettuce, topped with bacon, crumbled blue cheese, blue cheese dressing, and a balsamic reduction. If you're feeling a bit fancy, the Lobster and Crab Fondue ($11) is available as an appetizer and features a blend of cheeses combined with lobster meat and lump crab.
Santay says the restaurant hopes to soon start a Sunday brunch and will most likely offer a Mother's Day brunch as well.
Drifters L.B. is located inside the new Hilton Garden Inn at 155 East Main Street, and is open seven days a week for lunch and dinner from 11 a.m. to 9 p.m. 454-3999. Visit its Facebook page at facebook.com/DriftersLB, or its website, drifterslb.com, for more information.
Quick bites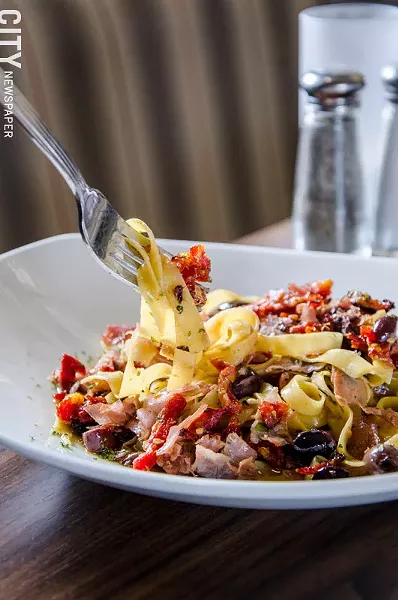 PHOTO BY MARK CHAMBERLIN
Mediterranean pasta.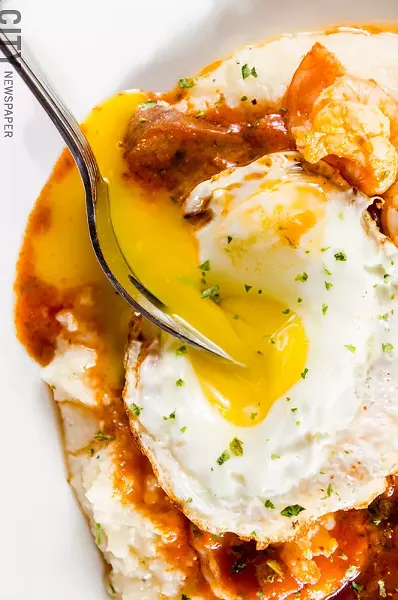 PHOTO BY MARK CHAMBERLIN
Shrimp and grits: andouille sausage and seasoned shrimp over stone ground grits.
Just in time for the Lilac Festival, Black Button Distilling has released a limited-edition Lilac Gin. Only 600 bottles have been made and they can be purchased at the Black Button Tasting Room at 85 Railroad Street. Visit Black Button's website at blackbuttondistilling.com for more information.
The Tap and Mallet (381 Gregory Street) and ROC Brewing are hosting a pairing dinner on Wednesday, May 20, at 7 p.m. at the Tap and Mallet. Tickets are $45 and can be purchased at the bar at the Tap and Mallet. Call 473-0503 or visit tapandmallet.com for more information.
Openings
The Beer Market (1401 Mount Hope Avenue) has opened in College Town.
Bella Pasta has moved to a larger location at 2500 Ridgeway Avenue.
The Cannonball Café (4437 Lake Avenue) has opened in Charlotte at the corner of Lake Avenue and Latta Road. The café is part of The Coffee Connection which provides employment training and job creation for women in recovery. The café serves light fare like pastries, salads, and panini, in addition to fair trade coffee. More information can be found at ourcoffeeconnection.net.
Closings
The Rochester Tap Room (284 Exchange Boulevard) has closed.
Chow Hound is a food and restaurant news column. Do you have a tip? Send it to food@rochester-citynews.com.