My first glimpse of Caitlin Yarsky's talent was at the 2008 Artist's Row at the Rochester Public Market, when I spied a tall, epic painting of a girl adventurer visible quite a distance from Yarsky's booth. The subject was leaning out from her grasp on the mast of a ship and studying the horizon, oblivious to the gales whipping her garments around her.
Since then, the 29-year old artist's skills have blossomed further and grown deep roots — finding muses in many folk musicians in town, including the late accordion-player Andy Hammond, who was the subject of her 2014 WALL\THERAPY mural.
Although she has, for the most part, abandoned her oil paints and brushes for slick digital work, Yarsky's subject matter of strong female characters, rag-tag musicians, and corner-of-your-eye oddities has remained more or less the same — though the creatures and worlds she urges from the screen seem even more mysterious, monstrous, and dangerous.
In late 2014, Yarsky struck out on her own as a freelance illustrator, and has since been building a base of local, national, and international clients. But she's also developing a portfolio of interesting independent projects, including a comic book that she's both written and illustrated. City Newspaper caught up with Yarsky shortly after the release of her newest fantastical print, "Eye of the Storm," to discuss her origins and how she's boldly forging a path into the shadowy future.
Yarsky grew up on Long Island, and came to Rochester in 2005 after a year of studying illustration at Bennington College in Vermont. She received a BFA in illustration from RIT in 2008, and her evident talent led her to an internship at Jim Henson Studios in Hollywood, California, while she was still an undergrad.
Yarksy stayed in Rochester to become a game designer and illustrator for Workinman, a local game development studio that hired her right out of college. "I learned a lot on the job, and grew with the company, which was about six people at the time," she says.
After a bit, Yarsky became an art director for Workinman, helping to design games and creating concept art for clients like Nickelodeon, Disney, Shockwave, Scholastic, and American Girl, among others.
Since going freelance, Yarsky has created animation for apps, and illustrations and concept art for games and films. But she says her favorite work is still illustration, especially book illustration work. On her own, she's created doodles and digital paintings rife with richly ornate, sly, and hugely imaginative details. Sinister imps swirl around a glowy-eyed mistress, a bored cook sprouts extra arms, and an inquisitive child is mid-discovery of some possibility for adventure overlooked by older eyes.
Yarsky is also currently shopping her first comic book to publishers: "The Changeable Harper Finn," which is a dark tale about a shape-shifter who becomes a bounty hunter. "It's sort of Irish folktales mixed with steampunk elements," Yarsky says. You can read the first few pages of the instantly engaging story on her website.
In terms of art influences, Yarsky is enthusiastic about Fiona Staples, the illustrator of the wildly popular "Saga" comic book. "Every panel is just so beautiful," Yarksy says. She also admires the work of comic book artist and kids' book illustrator, Skottie Young; classical illustrator, Arthur Rackham; and fantasy illustrator and puppet maker extraordinaire, Brian Froud, whose work made so many beloved Jim Henson films, such as "Labyrinth" and "The Dark Crystal," come to life.
"Brian Froud actually made me want to be an illustrator when I was little kid," Yarksy says. "My step-mother gave me his "Fairies" book he did in the 70's. I met him at the San Diego Comic Con one year, and I was so star-struck."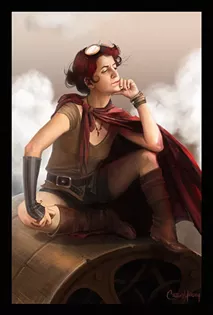 15 slides
Yarsky's flesh-and-bones muses include many local musicians, in particular, her own friend Shannon Scally, siren of the dark, folk-flavored gypsy bands, The Pickpockets and The Shandeliers. Yarsky also plays violin with the latter band, and sings and plays violin with Rochester folk band, "Auld Lang Syne."
"I'm kind of a big nerd, and I love sci-fi and fantasy books and movies," Yarsky says. She pulls inspiration from old myths and timeless stories — such as Ursula K. Le Guin's "EarthSea Trilogy," Frank Herbert's "Dune," and Tolkien's works — as well as her own imagination and personal experience. Yarsky traveled to Japan after she quit her job, and created digital paintings based on her experiences of food and landscape. She also has a well of thousands of photographs from which she can draw future inspiration.
In addition to her degree in illustration, Yarsky has a minor in Japanese. "I got into anime when I was in high school," she says. "I quickly learned that most of it is terrible, so I didn't keep watching it. But I developed an interest in Japan."
Yarsky says her ultimate dream scenario would be to really break into comics, in which she's really just starting to find a path. While her storyline in "Harper Finn" comic is as engaging as the odd and moody world she paints, she says she'd prefer to stick to illustrating. "In terms of other work, I think ideally it'd be someone else writing," she says. "I'm not really a writer, so it would be good to have somebody else's capable hands doing the story part."