ILLUSTRATION BY MATT DETURCK
The way you watch movies has changed, and you probably haven't even noticed. For more than 100 years film — actual, physical film, much of it produced by Rochester's own Kodak — has been synonymous with motion pictures. But if you see a new movie in a big-screen chain theater today, what you're seeing is likely being projected digitally, the information embedded in a hard drive and played on to the screen by a very expensive, very complicated piece of equipment. It has more in common with a song on your iPod than it does with the reels and canisters that captured the films of the 20th century.
The shift to digital has its perks. The picture is arguably cleaner and crisper; the film can be shown hundreds of times and never look any different (whereas film can easily become scratched, dulled, or damaged over time). But the major reason why movie theaters are switching — being forced, some say — to digital projection comes down to money. A digital copy of a film costs approximately 10 percent what it costs to print and ship a physical film, and when you're talking about hundreds, even thousands of copies of a major Hollywood production, those percentages add up fast. That's why studios like 20th Century Fox — which puts out the "X-Men" and "Star Wars" movies, and even the recent "Lincoln" and "Life of Pi" — announced to exhibitors that it would stop distributing 35mm film prints in the near future. IHS Screen Digest Cinema Intelligence reports that all major studios are looking to stop using conventional 35mm prints in the United States by the end of 2013, and globally by the end of 2015.
Most of the major theater chains have already embraced the switch to digital projectors. But given that the formats require totally new machines, which can cost anywhere from $60,000 to $150,000 per screen, that leaves smaller independent cinemas with a real financial burden. If they don't make the technological jump, there will be no new movies for them to show in the foreseeable future. And coming up with five figures for equipment that will only marginally impact the customer experience is hard to swallow. Earlier this year the National Association of Theater Owners estimated that 20 percent of the cinemas in the United States, which account for up to 10,000 screens, would not be able to convert to digital, and would likely close.
But here's the good news: in Rochester, our local independent cinemas are ready for the challenge. Art-house cinema The Little, the George Eastman House's archival Dryden Theatre, and neighborhood film house The Cinema are all in the process of making the leap to digital, and one local indie filmmaker has even taken the industry shift as an opportunity for a savvy business move he hopes will benefit both indie theaters and filmmakers. But even as they prepare for this major shift, area film professionals debate digital's impact on artistry, archiving, and business.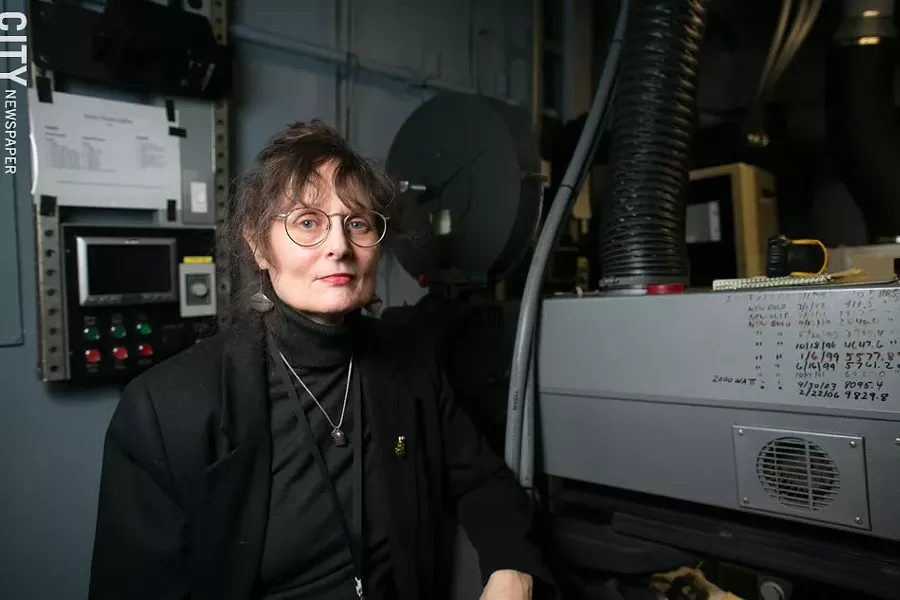 Caroline Yeager is the assistant curator of motion pictures at the George Eastman House. Digital, she says, "is changing the way we even talk about films. Is it even film anymore?"
It borders on ironic, but the local independent theater that's furthest along in the digital conversion is the archival Dryden Theatre, which specializes in showing films from the art form's storied past. On January 2, following a New Year's Day screening of "Cinema Paradiso," the Dryden will close for two months as it undergoes the third phase in a decade-long renovation project. When it reopens on March 2, the theater will be totally overhauled with new, larger seats, more legroom in the balcony, a darker color scheme for the walls and carpets, new accessibility functions for the deaf and hard-of-hearing, and a new Barco digital projector. (Also, brace yourself, cineasts: there will be no Eastman House Oscar Party this year.)
Caroline Yeager, assistant curator of motion pictures, said in a press release: "A key component of this project is the museum's commitment to honor the aesthetic choices of filmmakers by projecting moving images — analog and digital — as they were meant to be seen. Acknowledging the ascendency of digital formats while continuing to showcase historic film prints is crucial for sustaining the Dryden's role as one of the oldest leading archival screening venues."
The digital projector will share the Dryden projection booth with reel-to-reel Kinoton 16mm/35mm projectors and 35mm Century nitrate-rated projectors dating from when the Dryden was constructed in 1951. The Dryden is one of only five theaters in the country still equipped to project nitrate films, which are potentially combustible.
Yeager says that the staff at the Eastman House saw the need for digital projection capability coming several years ago, and had been working to secure funding for the project from state grants and individual donors as part of the ongoing Dryden renovation plans. Digital Cinema Package — the official term for the new digital film format — is simply what's happening with the industry, Yeager says.
There are elements of the digital shift that Yeager embraces as a film fan. In March she attended screenings as part of the Film Forum in New York City's "This Is DCP" series that helped to demystify digital projection. One of the films she saw was a digitally remastered and projected version of the 1953 classic "From Here to Eternity." She was almost rapturous in describing how the black-and-white movie shimmered in digital, noting that it never looked that good in any film print that she saw.
But there are also elements of the forced shift to digital that she finds problematic. It dictates to artists the format used to deliver their work. She notes that visual artists aren't told that they can only work in pastels or watercolors, but the move to DCP means that even if a filmmaker shoots in 35mm film — which some, including director Christopher Nolan of the recent "Dark Knight" trilogy, strongly prefer — it will have to be transferred to digital if the film has any hope of serious distribution. Even the process of making a movie can change with digital, as new cameras can keep shooting for longer takes without the issue of running out of film, she notes.
"For some filmmakers, it's a joy," Yeager says of digital. "But it is changing the way we even talk about films. Is it even film anymore? It's really just moving images. Some are just calling it 'cinema.' It's a brave new world."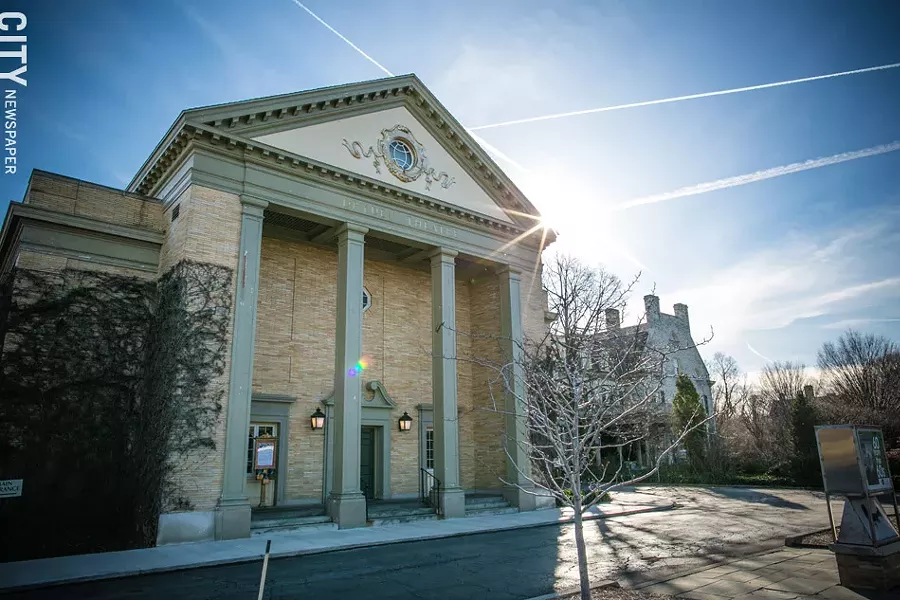 The museum's Dryden Theatre will close in January and February for a major renovation, including the installation of a digital projector.
One element of the digital conversion that Yeager and other archivists find especially troubling is what it means for preserving cinematic works. Physical film could last for 800 to 900 years if stored properly, she says. (Incidentally, the oldest film in the Eastman House collection dates back to 1893.) Storing digital files is already proving tricky for archivists, and then there's the issue of whether equipment that can play current formats will even be around in a decade or so. When's the last time you saw an 8-track player or a Betamax?
"It's a bad idea to switch altogether," Yeager says.
To underline the importance of something more permanent than a series of zeros and ones saved to a disc, Yeager mentions how MGM approached the George Eastman House to use the original negatives of both "Gone With the Wind" and "The Wizard of Oz" when creating the 70th anniversary Blu-ray versions of both films, so that they could get the best possible picture.
"Always go back to the negatives. There's always more information there," Yeager says. (In a weird intersection of film and digital, the visual information in the negatives was perhaps too good, as modern imaging capabilities now allow some of the films' formerly hidden flaws to show up, such as wig lines on the Munchkins.)
Chris Hogan-Roy is the lead projectionist at The Little. "There are still a lot of theaters running 35mm," he says. "That's a beautiful format that should never be ruined. Digital will be great for a lot of reasons, but I don't think digital will ever match film."
With five screens to its name, The Little is arguably the independent cinema in Rochester most challenged by the digital conversion. DCP projectors range from $60,000 to $100,000 per screen, meaning that the Little could be looking at up to $500,000 in new equipment, depending on brands, how far the screen is from the projection booth, and a host of other technical questions. The DCP setup also involves computer servers, satellite links, and other equipment that probably hadn't even been conceived of when the projectors currently serving the theater were built more than two decades ago.
As of now, the Little has only 35mm projectors, says Chris Hogan-Roy, who has been lead projectionist at the theater for three years. But plans call for the Little to start transitioning to DCP projectors — in this case NEC models, with Dolby sound systems — slowly, theater by theater, with the hopes of the first being installed by May or June. The timeline depends on money, which hinges on the fundraising efforts of WXXI, which entered into a long-term affiliation with The Little nearly a year ago.
Norm Silverstein, president of WXXI, says so far the partnership with The Little has gone "even better than we expected," citing increased box-office sales and the ability for the station to host special events and screenings at the East End theater. Looking ahead to 2013, Silverstein says that a major campaign is being launched with the goal to raise $1 million for improvements to the Little. Part of that is $80,000 to $100,000 per theater for digital conversion.
"We've already had some issues with prints; it's already hard to get a good print for certain films," Silverstein says. "Going forward this will become more apparent."
"The biggest thing we want to do is retain film," says Hogan-Roy. "The digital age is coming, but we're a small art-house theater, and a lot of the films we get are only available in 35mm. We want to be able to provide the whole experience: digital cinema, 35mm, and other formats."
For The Little, with its multiple screens, slow and steady may be key financially, especially given how quickly technology tends to become outmoded in an iEverything world. "The digital age is constantly changing," Hogan-Roy says. "Putting these projectors in all at once, and then a year later there are upgrades... that's a very hard concept to spend all this money and then I need to upgrade my equipment. When we start theater by theater, it'll be better to see the new things."
He is encouraged by the fact that indie theaters across the country have been flexing their collective muscle in this process, and getting some concessions from distributors and equipment manufacturers. "Indie theaters have a lot of pull. In the end distributors need us," he says. So, for instance, he says that NEC has already made sure that its equipment is upgradable, which he says should make it more affordable.
"There are still a lot of theaters running 35mm," he says. "That's a beautiful format that should never be ruined. Digital will be great for a lot of reasons. A lot of filmmakers shoot on digital and had to transfer it before. But I don't think digital will ever match film. It's a beautiful, beautiful format right when you see it. Digital will show you that, but it will also change the game, too. People are playing with frame rates. People are looking at it digitally instead of artistically." (For example, Peter Jackson's "The Hobbit: An Unexpected Journey," which opens this weekend, is screening in select theaters at 48 frames per second instead of the standard 24.)
"Overall, I think digital or 35mm, it's the film," says Hogan-Roy. "If the film is not good, it doesn't matter if it's 35mm or digital. That's one strong point The Little has: We play great films. Maybe our audience will notice [the shift to digital projection], but if they don't, that's good. They're noticing the films and stories."
Silverstein says that a request has been made to the Finger Lakes Regional Economic Development Council for $250,000, which would "go a long way toward getting this project started," he says. The results of those grant proposals have not yet been released, but Silverstein says he is optimistic.
While the Dryden and The Little are planning to keep their existing film projectors to use alongside the new digital ones, that won't be an option for neighborhood theater The Cinema. Local real-estate owner John Trickey took over ownership of the Clinton Avenue film house in May. He calls himself a longtime supporter of the Cinema, having been a patron since he was a college student in the 1980's. Trickey says he was charmed by the fact that "it's different from other theaters; other theaters are kind of sterile, and the Cinema had a more homey feel."
The Cinema currently uses a 35mm platter projector, but "we're on limited time," Trickey says. "We have about a year before we need to be switched over to digital." The problem is that, due to the size of its current projector, "we're going to have to remove our 35mm equipment so that they come in and install digital equipment."
Trickey says that the quote he's been given for the new set up will be $62,000 to $65,000, and that he accepts that he'll just have to find a way to pay for it.
The interesting wrinkle is that, since he's taken over the theater, Trickey has been working to show more archival or specialty films, instead of solely focusing on the quasi-second-run titles that have made up the majority of the double features for the Cinema's recent history. So, for instance, he's done two successful midnight screenings of "The Rocky Horror Picture Show," a John Waters double feature, and also recently showed "Cinema Paradiso." And he wants to do more of that in the future.
"That's what I wanted to reintroduce to the Cinema, Trickey says. "When I used to go back in the 1980's, that was the big reason I went there — the programming was all over the board." There are times of the year when Hollywood's output is not the strongest, Trickey says, and he wants to be able to show "older classics that maybe some of the younger generation was never able to see, or even the older generation would like to see in a theater."
But, as Trickey notes, some of those movies you can only get on 35mm. And since he'll have to get rid of his platter projector to make room for digital, that means he'll have to either find another film projector that might work in the same space as his impending digital equipment, or resort to showing films via DVD — although he notes that not every film has made even that technological jump. "There are a couple of films out there that I like that never made it onto DVD," Trickey says.
If theaters are forced to show movies via DVD, it also raises the question of why people should go to the cinemas at all. "A lot of people wonder why they don't just watch on their screens at home," says The Little's Chris Hogan-Roy. That's part of why he thinks it's important to continue to preserve the physical film format. "I think 35mm will have a renaissance, too. That's what happens in the art world, and that's what films are. We're moving forward, because that's how the industry is going. But we're clinging on because that's who we are. The movies aren't going to change; it's just the way they're projected."
---
The Keep Indie Visible campaign
Theaters aren't the only part of the film industry affected by the shift to digital. Independent filmmakers are watching the move carefully, and some are wary of how the changes in distribution could further reduce already limited screening opportunities for their movies. But one local production company is taking the challenge and turning it into an opportunity that it hopes will benefit independent theaters, filmmakers, and filmgoers.
Rochester-based filmmaker Rich Angell ("Sophomore," "After," "Drivers Wanted") and his business partner, John Maggio, have started the Keep Indie Visible campaign. The plan is to identify 50 independent cinemas across the country that are at risk due to the costs associated with the switch to digital projection, create partnerships with them, and in exchange for financial assistance with the theaters' digital conversion, bring them in as part of what would emerge as essentially a direct indie-film distribution network.
Angell says that the changes going on in the industry make one-off indie film projections less financially viable. His solution was to create a film fund to produce a slate of 12 to 15 films over five years. Some will be produced right here in Rochester, Angell says, while others will be picked up from film festivals and other sources. Theaters that become part of the Keep Indie Visible project will get digital-projection equipment through KIV's digital installer Sonic Equipment Company, with the caveat that they must screen a certain number of the project's related films for a certain period of time — the rest of the screening decisions are left to the individual theaters' discretion. At the end of the five-year agreement, the digital equipment stays with the participating theaters.
There's also a crowd-sourcing component involved with Keep Indie Visible through fundraising website indiegogo.com, although the campaign was still in draft form at press time.
While the branding on Keep Indie Visible's website is all about saving independent theaters, "Ultimately this is a business venture," Angell says. "It's not just altruistic; we don't have deep pockets. We can't just go around saving theaters. We'd love to do that, but at the end of the day it is a business."
"It's win-win-win," says Maggio. "For filmmakers, for us as distributors, for the theaters. The theaters not only get equipment, but they can show modern studio films, alternative content, and we give them a healthy cut — it's 50/50. And filmmakers get a chance to show movies in these theaters they wouldn't be able to otherwise."
Angell says that Keep Indie Visible is "really trying to diversify the theaters we're talking to," he says. "Ideally we'd love to be in 50 states, one theater in each state, and build off that to two or three." In November Angell said that Keep Indie Visible was in the process of working with 25 theaters, specifically naming The Screen in Santa Fe, New Mexico; the ART Theater in Hobart, Indiana; and The Castro Theatre in San Francisco. Locally Angell says KIV has approached the Dryden about some kind of a partnership.
Angell says, "The big thing locally is our heart is here, and our goal in Upstate New York and Rochester specifically is to foster independent filmmaking and the little industry we've been able to build here. Lots of people are excited about filming here. Hopefully this not only allows us to convert independent theaters, but with our network of theaters across the country, to continue to push filmmaking locally. Keep Indie Visible was originated out of necessity for us as film producers to better make our movies."