UPDATED 5/15/13 to correct addresses for The Distillery and Elmwood Inn.
We've all been there. It's almost midnight — or maybe around 1 a.m., or after 3 a.m. — and you've got a craving that can't be kicked at home. Maybe you want a place where your friends, roommates, or co-workers can go grab an off-hours bite. Maybe you've worked up quite the appetite after having a little too much of your preferred, uh, substances. Or maybe you're just seeking something a little more substantial than a bowl of Lucky Charms with milk that's two days past the expiration date. You're hankering for better options than whatever your fridge and cupboards can provide, but your favorite places have already closed, and you can't even think of any not-so-favorite places that might still be open. Where are discerning Rochesterians supposed to drag themselves when hunger strikes after midnight?
Every day of the week, and at every hour of the day, there's somewhere in Rochester that can satisfy your post-midnight munchies. Whether you desire pizza and wings or burgers and fries, sandwiches from a pub or sushi from a hospital (yes, a hospital), your dream dish is waiting for you somewhere in the night in Rochester. Here's a round-up of the places that can accommodate your after-hours appetite. Did we miss your favorite late-night haunt? Post it in the comments section of this article, below.
If you're not willing to venture outside, there's always the easiest option: delivery. For Chinese food, you can count on the Yummy Garden location on 345 Meigs St. (288-2888, yummygardenrestaurant.com), which will plant all your stir-fried and sweet-and-sour favorites at your doorstep until 2:30 a.m. on Fridays and Saturdays. For pizza — and wings, and mozzarella sticks, and all the other wonderful things that go with it — you've got your pick of places. The Mark's Pizzeria location at 619 Monroe Ave. (256-1040, markspizzeria.com) delivers until 2 a.m. on Fridays and Saturdays. The 19th Ward's Menezes Pizza (445 Chili Ave., 256-1040, rochesterpizza.com) will provide pies until 12:30 a.m. Fridays and Saturdays, as will the South Wedge's Little Venice Pizza (742 South Ave., 473-6710, littlevenicepizza.net), which specializes in NYC-style thin crust pizza.
FILE PHOTO
Grab a slice at Acme Bar and Pizza until 2 a.m. seven days a week.
But Rochester has two reigning champions of late-night delivery. The first is the deceptively named Hong Kong House (985 S. Clinton Ave., 244-5569), which offers and delivers a baffling mix of Chinese food, pizza, subs, wings, tacos, and even Italian and Greek dinners until 3 a.m., seven days a week. "Don't let the name throw you off," says owner Ricky Lei, who chose it "on impulse" when he opened the restaurant in 2008. "When people think [Hong Kong House], they think Chinese foods. That's our specialty, but there's much more than that."
The latest of the late is Big Deal Pizzeria (475 Monroe Ave., 544-2144, bigdealpizzeria.com), which delivers all the pizza-place basics until 4 a.m. Thursdays through Saturdays. (It's open for sit-down service until 2 a.m. on those days, too.) Pat Marrapese, the manager of Big Deal, says that the Wratni family — which opened the business in 2009 — "loves Monroe Avenue and [its] nightlife scene," and wanted to "give something back" to the area by delivering so late into the night. When it gets close to 4 a.m., Marrapese says, Big Deal gets "crazy" with orders from college students, graveyard shift workers, and the weekend bar crowd: "a mix of drunk people, and sober people who are surprisingly still out and about," he says.
FILE PHOTO
Local wing king Jeremiah's serves until 1 a.m. Fri & Sat.
But the drinking crowd doesn't have to rely solely on delivery. And, thankfully, it doesn't need to drive for food, either. Throughout the week, there are several bars that can fill your empty stomach with something more substantial than beer. Jeremiah's Tavern (jeremiahstavern.com) has a location in Rochester (1104 Monroe Ave., 461-1313) and Gates (2200 Buffalo Road, 247-0022), both of which serve appetizers, sandwiches, and some of the Rochester's most beloved wings until 1 a.m. Fridays and Saturdays. The delightfully dive-tastic Acme Bar and Pizza (499 Monroe Ave., 271-2263) has a full bar menu with pizza, wings, calzones, and more until 2 a.m. seven days a week, while Dragonfly Tavern (725 Park Ave., 563-6333, dragonflytavern.com) offers a limited menu of pizzas and fried foods from midnight to 2 a.m. every day.
If you've got a game to watch — and want to stick around for a few hours afterward — The Distillery (thedistillery.com) sports bars in Rochester (1142 Mt. Hope Ave., 271-4105), Greece (300 Paddy Creek Circle, 621-1620), and Henrietta (3010 S. Winton Road, 339-3010) go into extra innings with a line-up of burgers, wings, sandwiches, pizza, and more until 1 a.m. Mondays through Saturdays.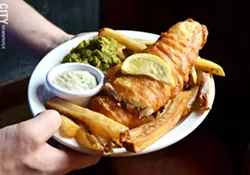 PHOTO BY MATT DETURCK
Anglophiles and food fans are fond of the fish and chips at The Old Toad; the restaurant's kitchen is open until 1 a.m. Fridays and Saturdays.
Or you can take a trip across the pond — actually, just to Alexander Street — to The Old Toad (277 Alexander St., 232-2626, theoldtoad.com), an authentic British pub, where you can get stuffed until 1 a.m. Fridays and Saturdays. In this decidedly un-American atmosphere — there are no TVs, no games to watch — you can opt for bangers and mash or fish and chips instead of a burger and fries, or get shepherd's pie to go with your ale of choice. "You can get street meat or deep-fried stuff or pizza everywhere [else]," says general manager Jules Suplicki. "This is a place where you can just come in and sit with your mates and have a home-cooked meal."
So far, you may have noticed a pattern: lots of greasy, gluttonous selections that are likely to keep you up even later than you want as they refuse to settle down. And we didn't even mention that the good ol' Dinosaur Bar-B-Que (99 Court St., 325-7090, dinosaurbarbque.com) keeps slinging its deep-fried delights until 1 a.m. Fridays and Saturdays. A few places, though, can serve you up the things you might not expect to find in the odd hours.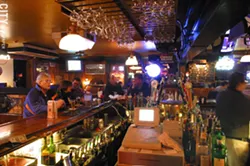 FILE PHOTO
For a broader selection of late-night eats, The Elmwood Inn serves until 1 a.m. daily.
The Elmwood Inn (1256 Mt. Hope Ave., 271-5195, elmwoodinn.net), right next to The Distillery in Rochester, has burgers and steaks and such until 1 a.m. daily, but it can also keep you cozy with lighter comfort foods like chicken dishes, salads, and soups. Banzai Sushi and Cocktail Bar (682 South Ave., 473-0345, banzairochester.com) rolls out sushi platters and dim sum until 1 a.m. Thursdays through Saturdays (plus homemade sake, if you want to have one of those nights).
For true variety, however, there is no option more surprising — or more offbeat — than Cafe 601, the recently renamed and renovated cafeteria in Strong Memorial Hospital (601 Elmwood Ave., urmc.rochester.edu, 275-8762), which opens daily for a 1:30-3:30 a.m. We know, a hospital isn't exactly the liveliest — or the most ideal — place to kill some time indulging with your friends. But Cafe 601 offers a variety of food that is almost unparalleled during these hours. There are stations for pasta, paninis, self-serve pizza, and home-style meals, a deli, a fresh fruit and salad bar, and a selection of grab-and-go snacks, from yogurt to sushi to Pellegrino's cold-cuts subs.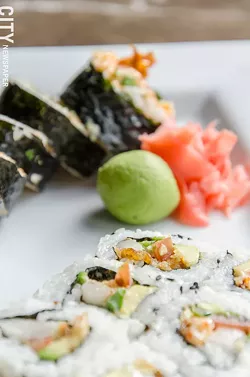 PHOTO BY MARK CHAMBERLIN
Banzai Sushi rolls out rolls and more until 1 a.m. Thursdays through Saturdays.
Al Caldiero, director of food and nutrition services for Strong, says that the variety and the late hours are intended to accommodate the hospital's overnight staff, but all of the food services are available to the general public. (The cafeteria is a popular hangout for students at the nearby University of Rochester.) "Vending machines just weren't cutting it," he says.
If your sleepless food dreams still haven't been fulfilled — if you need pancakes at midnight, or want dinner at 5 a.m. — there are several 24-hour diners that have got you covered for any and all occasions. Mark's Texas Hots (487 Monroe Ave., 473-1563) is a staple of the Monroe Avenue area, catching the bar crowd, the party crowd, the stray stragglers, and anyone else who happens to hang around there at who-knows-when. The diner will whip up breakfast, lunch, dinner, and desserts at all times, as well as its own variations on that quintessential late-night delicacy, the garbage plate. (Note that Monroe Avenue's other 24-hour diner, Gitsis, was closed for renovations and rebranding at press time, and was scheduled to re-open as the The Avenue Diner in May.)
At Jay's Diner (2612 W. Henrietta Road, 424-3710), you can travel back in time with a retro boxcar atmosphere, booth jukeboxes, and an assortment of old-fashioned milkshakes to go with the full-service, all-day menu. Those are all exemplary features of a place that's been a standard of late-night dining in Rochester since 1966. "I talk to people who are 30 years older than me," says Michael Mihalitsas, late-night manager at Jay's and son of the owners, "and they say, 'Oh, I used to go to Jay's after a night of drinking 30 years ago."
Note: All operating hours indicate the day that the hours begin. For example, any restaurant that is open "until 2.a.m Friday and Saturday" is technically open until 2 a.m. Saturday and Sunday; but if you're there on a Friday or Saturday, you will be served until 2 a.m.