Whether you've just had a rough day at the office, need a quick bite before dinner, or want to avoid the late-night crowds at the bar, happy hours are a great way to enjoy local food and drink at a discount. They are the perfect chance to try something new, or get that second drink. Because why not? It's only $5.
We've been keeping an eye on some of Rochester's old standbys, as well as some brand new happy-hour offers. If you know a killer deal we missed (and don't mind letting others in on it), give us the details in the comments section of this article on rochestercitynewspaper.com. All of these deals were still happening as of March 2014, but make sure to check ahead with each establishment before you go.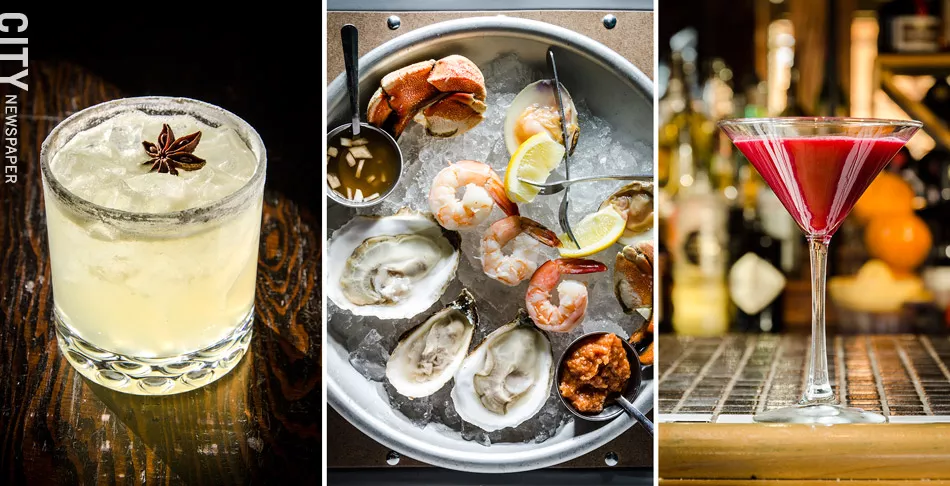 PHOTO BY MARK CHAMBERLIN
Among the offerings at Lento: the Le Tigre, selections from the raw bar, and the Perfectenschlag.
PHOTO BY MARK CHAMBERLIN
(middle) An Herbs & Gin cocktail with shrimp, clams, oysters, and lobster claws from Lento.
Land yourself a table at Lento or find a seat at its oyster bar from 4 p.m. to 6 p.m. Monday through Friday to enjoy its happy-hour deals. Each night boasts oysters on the half shell for just $1 each, but depending on the day you can also find delicious mussels and frites ($5 on Wednesdays), steamed wild littleneck clams ($6/dozen on Thursdays), or shrimp cocktail ($1/shrimp on Fridays). In addition to food, Lento always serves a featured beer for $3, wine for $4, and cocktail for $5. Can't make it during those early jovial hours? Go on a Tuesday for $1 oysters all night, Wednesday for a no corkage fee, and $5 cocktails any time on Thursdays. (274 N. Goodman St., 271-3470, lentorestaurant.com)
PHOTO BY MARK CHAMBERLIN
The bar area at Good Luck.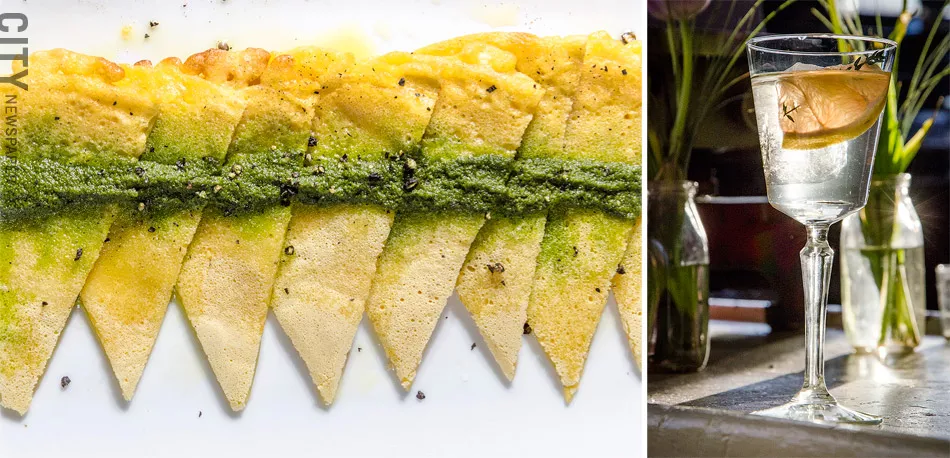 PHOTO BY MARK CHAMBERLIN
From Good Luck: chickpea fritters with kale pesto (left) and a White Negroni (right).
The New Deal happy hour at Good Luck debuted in February with a menu of bar snacks, chilled amari for $5 (as a shot or with soda and a twist), $3 drafts or $2 Gennys, $5 featured wines, and a selected cocktail for $6. During the first week in action the snack menu included caramel corn and bacon ($5), fried buffalo mozzarella ($7), and chickpea fritters with kale pesto ($6). During my visit I enjoyed some Hanky Panky, a cocktail (what were you thinking?) featuring gin, sweet vermouth, and fernet branca. The chickpea fritters won my vote for best food dish that day, with five pesto-smothered fritters containing whole chickpeas and plenty of fried fluffy goodness. Snag these offers Wednesday through Saturday from 4:30 p.m. to 7 p.m. at the bar only. (50 Anderson Ave., 340-6161, restaurantgoodluck.com)
PHOTO BY MARK CHAMBERLIN
A basket of tater tots with a PBR from Acme Bar and Pizza.
PHOTO BY MARK CHAMBERLIN
The interior at Acme Bar and Pizza.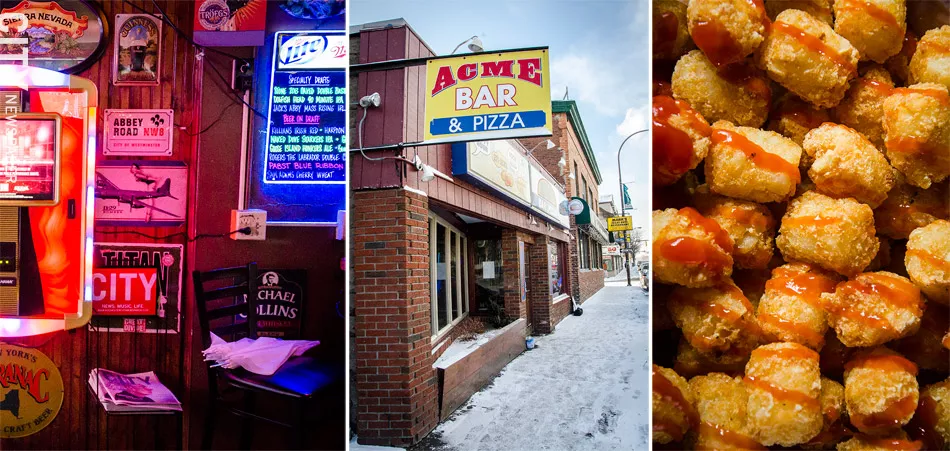 PHOTO BY MARK CHAMBERLIN
Acme Bar and Pizza on Monroe Ave.
While much later than most happy hours, Acme Bar and Pizza's deals are worth noting and enjoying. Every night from 8 p.m. to 1 a.m. it features a different drink special, listed below, and during any business hours Acme offers an expansive draft and bottle selection, $2.50 pizza slices as big as most heads, and delicious fried tater tots for $3.35 (try the Cajun style for $4). Write down these deals and thank me later over a beer and tots. Mondays: 2 for 1 (most drafts and bottles, all well drinks); Tuesdays: $2 select cans, $2.75 wells and pints; Wednesdays: $2.75 pints and wells; Thursdays: $8 pitchers; Fridays: $2.75 Mickeys and staff chosen bottles; Saturdays: $2.75 Labatt Blue & Blue Light; Sundays: $2.75 select microbrews. (495 Monroe Ave., 271-2263, facebook.com/pages/Acme-Bar-and-Pizza/75337812193)
The Owl House is often raved about for its vegetarian- and vegan-friendly food offerings, but its drinks (and drink specials) are not to be overlooked. Its happy hour runs from 5 p.m. to 7 p.m. Tuesday through Friday. If you're feeling like a craft cocktail, head in on a Wednesday for $6 menu cocktails. More of a wine connoisseur? Stop in on Thursdays for $5 select glasses of wine. If your drink of choice is beer, you are in for a treat. You can get 25 percent off bottled beers on Tuesday, come back on Friday for $5 (and under) draught beers, and even return on Sunday for select cellared, aged, and rare beers, which run 25 percent off all day. Deals are valid at the bar and throughout the restaurant. (75 Marshall St., 360-2920, owlhouserochester.com)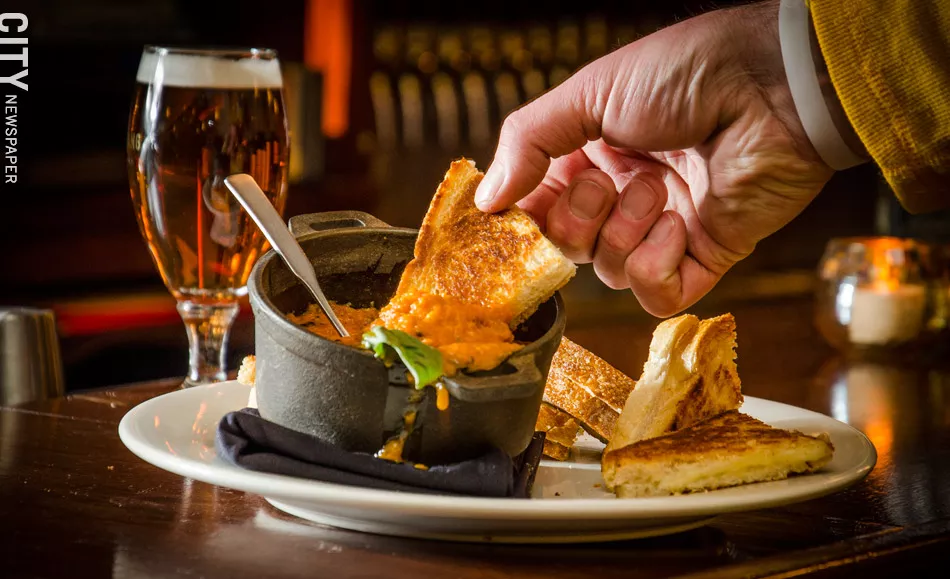 PHOTO BY MARK CHAMBERLIN
At Victoire: a Belgian beer with assorted Belgian grilled-cheese sandwiches, served with tomato-basil soup.

PHOTO BY MARK CHAMBERLIN
Inside Victoire.
There is a lot going on at Belgian beer bar Victoire, where happy hour runs from 4 p.m. to 6 p.m. every day, and each night you'll find a different special. No matter which day, you can get small plates for half off. Try out their Dubbel-braised wings or assorted Belgian grilled cheese for just $5.50 (normally $11). There are also all-day deals, which include $10 mussels on Mondays, $1 off beer flights on Tuesdays, wild-game dinner specials on Wednesdays (think venison and kangaroo), and ladies night on Thursdays (female groups of four or more get half-off entrees). If you're stopping in late, between the hours of 10 p.m. and midnight, Guinness and Stella are half off, just $2.50 each. (120 East Ave., 325-3663, victoirebar.com)
In Pittsford, you'll find Wegmans-owned Next Door Bar & Grill, which offers happy-hour deals both at the bar and tableside twice each night from 4 p.m. to 7 p.m. and again from 9 p.m. to 10 p.m. Monday-Thursday. The menu highlights eight classic and seasonal cocktails for half price ($4.75), Rohrbach's Next Door Ale for just $3, and select wines for $5. If you want some grub to go along with your libations, you can choose between pizzas (margherita or apple and brie) or a selection of sushi rolls, all for $6. I opted for the Bourbon Café cocktail featuring bourbon, coffee liquor, cherry bitters, and a flamed orange, which was like a sweeter take on a Manhattan. To go along with that, I snacked on the thin-crust margherita pizza topped with chunks of tomatoes, fresh mozzarella, and slivers of fresh basil. That's happy hour done right. (3220 Monroe Ave., 249-4575, wegmansnextdoor.com)