If you're looking for gifts that are out of the ordinary and will fill the stomachs of your friends and family, City Newspaper's dining team has gathered a selection of its favorite food and food-related items to help you shop for all the names on your gift list. The editorial team stands behind each of these products as those we know and love. Plus, the items here are all locally made or sourced, and you won't have to set foot in the mall. So get shopping, and have a delicious holiday season.
Do you have a favorite food-related item you like to give as a gift? Let us know about it in the comment section of this story at rochestercitynewspaper.com.


A one-two punch with F. Oliver's Oils and Vinegars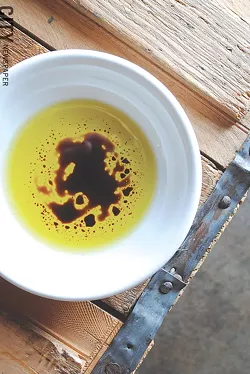 FILE PHOTO
Oil and vinegar from F. Oliver's makes as a handy gift.
Felix Oliver's 18-year-old Special Reserve balsamic vinegar ($17.95 for a 375ml bottle) from F. Oliver's is my go-to hostess gift. It's not so esoteric that your gift recipient won't open it, but its flavor and quality set it apart from the rest. Smooth and just shy of syrupy, the vinegar balances its acid with a mellow sweetness for a full-bodied flavor. This vinegar is as versatile as it is delicious, working with a simple salad, wedges of parmesan cheese, a chicken breast, or pork loin.
I like to pair the special reserve balsamic vinegar with a bottle of the Tuscan Garden extra virgin olive oil ($15.95 for a 375ml bottle). This oil is infused with the flavors familiar in Tuscan cooking: rosemary, sage, garlic and oregano. It's especially good drizzled over roasted Brussel sprouts or Yukon Gold potatoes just before serving.
As a bonus, F. Oliver's will package your oils and vinegars so they're ready to give. Your bottles will be swaddled in chartreuse tissue paper, tucked into a skinny, brown handled shopping bag, and finished with an understated ribbon. Slip in a few recipe ideas printed from the F. Oliver's website, and your gift is ready for giving.
F. Olivers is located in Rochester at 747 Park Avenue (244 -2585), and in Canandaigua at 129 South Main Street (396-2585). folivers.com.
— BY LAURA REBECCA KENYON


Add a kick with Woodstead Hot Anything & Everything Sauce
Food sometimes needs a little extra oomph. Woodstead Hot Anything & Everything Sauce ($5.25 for a 9-ounce jar) is just the thing to give it some kick. A ketchup-based sauce, Woodstead mixes in spicy cayenne and red peppers, orange juice, brown sugar, mustard and vinegar for a mostly sweet but a little spicy condiment. Use it as a glaze for meats and vegetables before roasting or grilling; squirt it on scrambled eggs and homefries; or slather it on a burger.
Made in Naples by Steve Trude, the story goes that the sauce got its start as an accompaniment for Trude's annual pig roasts. His guests added the sauce not only to the pork, but everything else at the cook-out, too. When the annual parties became too big and popular to manage, Trude stopped the roasts but, at his wife's request, kept making the sauce. Thanks to them, holiday shopping is a little easier and everyday cooking a lot tastier.
Woodstead Hot Anything & Everything sauce is available at area retailers, including Simply New York (4364 Culver Road, Irondequoit, 413-0895), Balsam Bagels (288 North Winton Rd, 482-2080), and online at GoBuyRochester.com. For more information, visit woodstead.com, but the sauce is not available through this website.
— BY LAURA REBECCA KENYON


More better, more brittle
PHOTO BY MARK CHAMBERLIN
Better Brittle's coconut brittle is easy on the teeth and offers a crispy, crunchy texture.
I'd never been a fan of peanut brittle — primarily because I valued my teeth. Its corn syrupy rock-candy hardness, sweetness, and stickiness kept me away. Better Brittle, handmade by Christiana Kaiser at her Syracuse business, changed everything for me. Inspired by a West African-influenced confection known as nkati cake in Ghana, where Kaiser spent time as a student in 1994, Better Brittle is simultaneously chewy, crunchy, and crispy, using only finely ground peanuts from Virginia and California, fair-trade evaporated cane juice, and salt from Seneca Salt in Watkins Glen.
Better Brittle's texture is easy on the teeth, while its flavor is a perfect balance of earthy peanut, sweet, and salty. If you know anyone who loves peanuts, along with the yin and yang of sugar and salt, it'd be hard to imagine not loving this treat. For coconut lovers, it's essential that you check out Better Brittle's Coconut Brittle (inspired by Ghanian kube cake), which replaces peanuts with coconut to resounding effect. Even lighter, airier, and crispier than the peanut variety, this is quite possibly the best coconut confection to have ever passed the threshold of my lips. Better Brittle also makes a dark chocolate-covered peanut brittle that I have yet to see in Rochester-area stores.
Better Brittle products are available locally at Abundance Cooperative Market (62 Marshall Street, 454-2667), Lori's Natural Foods (900 Jefferson Road, 424-2323), Red Bird Market (130 Fairport Village Landing, Fairport, 377-5050), and Simply New York (4364 Culver Road, 413-0895), and online at betterbrittle.com.
— BY DAVE BUDGAR


The good, the bad, and the butternut
The hot sauce market has grown at a dizzying rate in recent years, with many makers claiming ridiculous rates of Scoville Units — and often sacrificing flavor for flame. Pittsford's Karma Sauce Company takes a different appetizing, unique, and all-natural (though certainly not tame, nor lame) route with its line of Karma Sauces, all of which use chile peppers grown on the Karma farm, and start with a tantalizing base of red pepper, butternut squash, apple cider vinegar, onion, sweet potato, honey, and garlic. There's mild Good Karma; fiery Bad Karma; tamarind, ginger, and curry spice-enhanced Curry Karma; and chipotle-infused Smokey Karma.
Karma has expanded its line of sauces to feature a Chilehead Series, which includes Cherry Bomb, a hot and fruity blast of (among other things) habañeros, sour cherries, and ground coffee; Green Envy, a tangy concoction whose ingredients include habañero, apple, and lime; and Ghost Island, which uses insanely hot bhut jolokia chilies to bring this sauce to a 13 on the 10-point Karma Heat Index.
An extensive selection of Karma Sauce products (including its punchy mustards and "Kats'up") can be found locally at Abundance Cooperative Market (62 Marshall Street, 454-2667); Red Bird Market (130 Fairport Village Landing, Fairport, 377-5050); Simply New York (4364 Culver Road, 413-0895); and Via Girasole (3 Schoen Place, Pittsford, 641-0340). Other local retailers include Hegedorn's (964 Ridge Road, 671-4450); Little Bleu Cheese Shop (684 South Avenue, 730-8296); Mooseberry Soap (2555 Baird Road, 348-9022); and Niblack Foods (900 Jefferson Road #6, 292-0790); and online at karmasauce.com.
Karma's stunning sinus-clearing Cold Process Mustard (not available for online ordering) can be found only in the cooler at Swan Market (231 Parsells Avenue, 288-5320).
— BY DAVE BUDGAR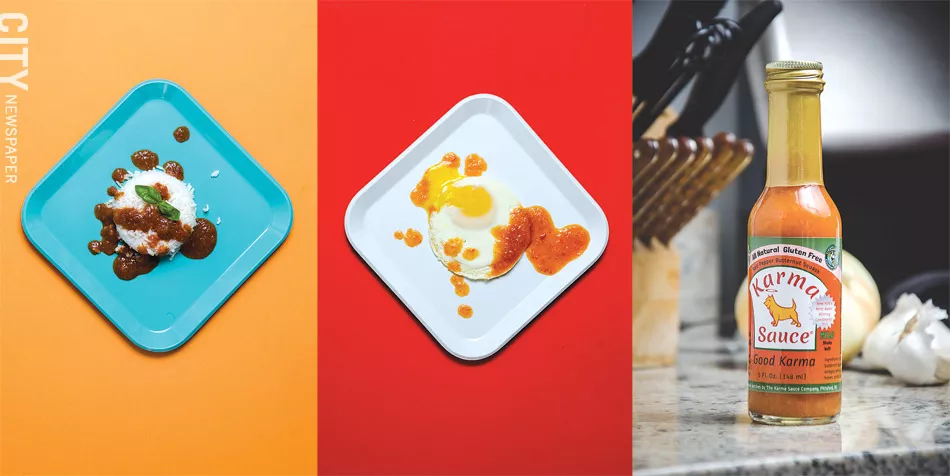 PHOTO BY MARK CHAMBERLIN
For the friend who loves a little kick to their food, check out Karma Hot Sauces, available at several market locations around Rochester. The company produces a diverse line, and uses chilies grown locally.
Beautifully brewed beans
If you're trying to find a gift for the coffee lover in your life, manual brewing at home isn't too difficult but does involve some equipment beyond just a typical coffee maker. Joe Bean has my favorite coffee in town and a solid selection of hardware to choose from.
For the budget conscious, the Hario Ceramic Slim ($40) hand grinder and the full immersion Clever Dripper ($19) is the way to go. You get high end burr grinding — ceramic cones that crush the beans to a consistent level — and an easy to use plastic brew system that lets you add your coffee and water and just wait until the process is done. The ProScale XC scale ($35) and a small Bonavita Travel Kettle ($30) could round out this budget rig nicely and offer a solution great for travel, home, or work. Upgrades could include a powered grinder, a glass Chemex, or a gooseneck kettle.
As for coffee itself, keep an eye out for both the Roaster's Choice Gift box (around $25), with two bags of whole beans, and the Natural Reserve series (around $30) that will feature naturally processed coffee from three different regions. These beans come from a more labor intensive process that imparts some sugars and a smoother flavor profile. I've enjoyed two of these unique coffees (the Don Roger and Ethiopian Yirgacheffe) recently and they're well worth seeking out.
Joe Bean Roasters is located at 1344 University Avenue, 319-5279, and online at joebeanroasters.com.
— BY CHRIS LINDSTROM


Do it yourself cocktails
FILE PHOTO
Every bar should be stocked with Fee Brothers bitters.
The citrus forward gin ($20 for 375ml; $35 for 750ml) is Black Button's most popular liquor and can be the base of a number of different drinks. For a gin and tonic, add Jack Rudy small batch tonic concentrate ($19 for 503ml) along with some soda water for an artisanal take on the classic. Another simple and modifiable drink would be the gimlet with lime juice and simple syrup.
Fee Brothers bitters have been made in Rochester since prohibition and can be used to add some pop to that gimlet. Flavors include fruity cherry or orange bitters ($9 for 5 ounces), less traditional options like cardamom and celery (same price) and even barrel aged versions ($18 for 5 ounces).
A nice starter cocktail hardware kit could include a couple rocks glasses ($4.50 each) and a shaker ($15) along with a giant sphere or cube mold ($14 for 2). Using a larger ice cube is a great way to cool a drink without excessively watering it down plus they just look damn cool in a glass. A four bottle gift set with vodka, gin, moonshine, and barrel aged maple syrup ($80 for 375ml bottles) also can make for a solid introduction to the Black Button product line.
Black Button Distilling is located at 85 Railroad Street, 730-4512, and online at blackbuttondistilling.com.
— BY CHRIS LINDSTROM


Food and Drink 101
There are many good reasons for gifting a cooking class or workshop to your loved ones this holiday season. Besides being a fun activity to do with your friends and family, presenting a significant other with a cooking class gift can be a sly way of telling them that their kitchen skills could use some improvement without actually telling them that — especially if you take the class together. Whatever the scenario, the best reason for gifting a cooking class or workshop is that you get to reap the benefits in the form of delicious food or drink the recipient will eventually be able to make. Here are some ideas to get started:
The Sandvoss brothers are a common sight at the Rochester Public Market — they are the owners of First Light Farm & Creamery in East Bethany. Their home cheese making workshop is a great gift idea if you have an artisanal cheese lover in your life. Participants in the day-long workshop ($100) receive a cheese making kit, hands-on training, as well as instruction on how to make cheese at home. A farm to table lunch and tour of the dairy is also included. Visit their website to view upcoming workshops and purchase tickets at first-light-farm.com.
With the explosion of the craft beer movement over the last few years, you probably know at least one or two friends who are now home-brewing their own beers (and they can't wait to tell you all about it). Why not make your own wine as well? Wineworx (120 Mushroom Boulevard Suite 102, 719-6563) and Wines By Design (1424 Buffalo Road, 235-1090) both offer resources to do just that.
At Wineworx they will accompany you to the vineyard to help pick grapes, provide the necessary materials for making your own blend at their location and even keep it in their wine "cellar" until bottling time. The whole experience costs $225 and the typical yield is 25 bottles of wine. More information can be found at wineworx.net.
Wines By Design offers not only wine-making classes on premises but also kits that you can buy to make it at home. Their wine making kit and process costs around $184 and should yield 30 bottles of wine. More information can be found at winesbydesigninc.com.
Also worth checking out are mushroom-identifying and foraging classes at Smugtown Mushrooms (127 Railroad Street, 690-1926, smugtownmushrooms.com), and artisan food cooking classes at Rosario Pino's (349 West Commercial Street #1620, 267-7405, rosariopinos.net) and Rochester Culinary at Vella (421-9362, rochesterculinary.com). If you've taken a great class that's not mentioned here; please leave it in the comments.
— BY KATIE LIBBY