Tap & Table, the 14-month-old restaurant in Corn Hill Landing, hums with activity on a Saturday night. It's one of the most talked about, written about, and Yelp-ped about players on the local food scene in the past year. In 2012 it won City Newspaper's readers' poll for best new restaurant. It's got a great view of the Rochester skyline and the Genesee River. Its bar selection is expansive, and it prides itself on a commitment to "fresh, farm to table" dining. There's even valet parking on Friday and Saturday nights.
All of the above points to an enjoyable dining experience. There are enough misfires, on not-inexpensive items, however, to suggest that Tap & Table's buzz isn't matching its execution — at least, not yet.
Equally emphasizing bar and kitchen offerings, the Tap & Table menu suggests pairings. Though some might be obvious, such as Magners Irish Cider ($5.25) with the hard-cider-brined chicken in the chicken-salad sandwich ($9, lunch only), others clearly benefit from advice, as in the coupling of Captain Lawrence Golden Delicious beer ($7.25) with chili-vodka shrimp ($13), sautéed with fresh herbs and house-infused chili vodka.
I didn't observe any cocktail and food pairings on my visits (this may change), so I followed my own tastes. The raspberry mojito ($9), made with light and smooth Angostura Reserva Rum, muddled raspberries, and the requisite lime, mint, and club soda, sparkles on the palate. The Slynx ($8), however, lost all its apricot liqueur and apple-brandy fruit flavors to the mescal's smokiness. While it reminded me of a watered-down Islay scotch, Tap & Table's co-owner Joe McBane notes that the drink's agave flavors are meant dominate.
PHOTO BY MARK CHAMBERLIN
The raspberry mojito.
The small plates at Tap & Table are also a mixed bag: the corn and crab chowder ($7) came out lukewarm and the color of chicken gravy. Crisp kernels of fresh corn burst on the tongue but chunks of crabmeat, or any crabmeat at all, were nowhere to be found in my bowl. The soup had a hint of the ocean, but if I didn't know I was eating crab chowder, I don't know that I would have picked up on it.
The pork flatbread ($11, dinner special), with its Thai flavors — ginger, peanut sauce, cilantro, vinegary carrots and peppers — had its deliciousness undercut by being too salty. The first few bites were fine, but each subsequent taste introduced more sodium, until I found myself reaching for the ice water (served in a carafe with cucumber slices — a nice touch). It's a shame, not only because the Thai flavors were so in balance, but because the bread itself was nicely grilled: crisp at the edges and tender in the middle.
The best of the small plates was the ricotta gnocchi ($9). Gnocchi frequently earns its potato-bullet nickname, but at Tap & Table they have a cloud-like lightness, and are happily enrobed in a white-wine-butter sauce topped with parmesan. Al dente fava beans perk up the dish with their early-spring greenness, as do sunny corn kernels. A larger portion would be a welcome addition to the large-plate selection.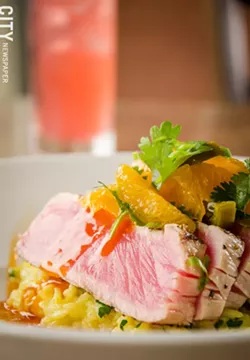 PHOTO BY MARK CHAMBERLIN
The Sweet Chili Tuna.
PHOTO BY MARK CHAMBERLIN
The French Dip sandwich.
The French Dip sandwich ($13, lunch) with prime rib, horseradish mayo, and melted provolone hugged by a sesame- and poppy-seed roll, would be good on its own, but dipping it in the accompanying jus adds beefy flavor and an acidity that balances the sandwich's fat. The beef burger ($12), made with beef from Lima's Seven Bridges Farm, is served on a brioche-like roll and topped with roasted garlic aioli and arugula. More restaurants should take advantage of arugula's sharp pepperiness for their burgers; it's a winning pairing. Add-ons for the burger abound, like the sweetly complex tomato-bacon jam ($1.50), though it would be nice if at least one of them were included in the $12 price tag. Both beef sandwiches are served with thin-cut French fries, dusted with truffle seasoning.
Beef continues to fare well with the bone-in Kansas City strip steak ($30, dinner) and a classic pairing of roasted potatoes. The sweet-chili tuna ($24, dinner), however, is not as successful. The sashimi-grade tuna is done no favors by a glaze that's the sophisticated cousin to packets of Chinese take-out duck sauce. Also undermining the entrée is the saffron coconut rice, which suffers the same fate as the flatbread — too salty.
PHOTO BY MARK CHAMBERLIN
The Brownie Cake with peanut butter frosting
The Brownie Cake ($6) resembles a dark block: two thick brownies held together by a thin layer of peanut-butter frosting. This is a death-by-chocolate kind of dessert — you either like them, or you don't. If you do, you'll enjoy this cake's moist richness, pocketed with melted chocolate, but you may wish that the peanut butter was more robust in the face of all that cocoa.
For a sweet and light end to the meal, the Catalonian Cream ($6) is a fine choice. Fans of crème brulee will appreciate the crunchy, caramelized sugar shell, but the custard underneath is lighter and looser than a French crème. Here, the cream envelops fresh fruit — one night the dessert featured strawberries and pineapple chunks; on another it was peaches and plums.
Tap & Table does a fine job, but I don't think it's living up to its potential. It doesn't do enough to set itself apart from the rest of the fresh-and-local restaurant pack, nor does it fully reflect Rochester and its surroundings' unique food bounty. There are some unfortunate errors in the food, and I'd hoped for more innovation, electricity, and excitement.
That said, the fall menu I previewed — featuring blue cheese-and-walnut-stuffed baked apples with a port wine reduction, Flour City pasta carbonara and hanger steak with a Brussels sprout hash among other seasonal and local treats — does look promising. As Tap & Table continues to establish itself, I hope we'll see a more distinct point of view, more dishes that strive to reinvent and reimagine the familiar, and more of the joie de vivre that transforms eating out into a dining experience.