During the winter, one way I sustain myself is with steaming, head-clearing bowls of Vietnamese pho — which for me, serve the same purpose as a Swedish sweat lodge. As my friend and I arrived at the Sai Gon Restaurant in West Brighton, I decided that my tenure at the altar of soup should be suspended, and that tonight I'd venture beyond pho.
It truly is difficult for me to sit down in a Vietnamese restaurant and not order pho, and there are several in the area that prepare it well, including Sai Gon. Five or six years ago, I didn't even know what pho was. Now, restaurants serving Vietnamese cuisine have proliferated across the city. Opening in fall 2013, Sai Gon is one of the newer entries in this assemblage.
PHOTO BY MARK CHAMBERLIN
Spice Noodle Soup
Sai Gon occupies a converted home on West Henrietta Road, in what used to be Thai Time and, before that, Portobello. Near the entrance is a small bar, which like the floor, tables, and chairs, is done in soothing dark wood. Similarly, most of the wall hangings are in muted colors, contributing to a sense of calm. The one exception, a large backlit photograph of a waterfall scene with a superimposed rainbow, which seemed incongruous with the vibe — kind of like "My Little Pony" meets Zen.
Our server, although extremely affable, was not consistently able to answer questions about menu items. Still, another staffer, who seemed to do a bit of everything, was able to thoroughly and patiently answer all our questions and provide recommendations. For an appetizer, he suggested the Turnip Cake with eggs as both delicious and unique to the Rochester restaurant scene, so I took his advice.
It was a good decision. Served promptly and courteously, the Turnip Cake consisted of chunks of the root veggie, nicely charred and smoky (think home fries), slightly caramelized, piled in a ceramic "boat," tossed with chopped scallions and bits of scrambled egg. The back of the "boat" used as a basin for soy sauce. This was a fabulous combination of both textures and flavors, and I especially liked the turnips dipped in a bit of Sriracha.
PHOTO BY MARK CHAMBERLIN
Turnip Cake with eggs
My friend chose the Charbroiled Meatballs. The plate arrived with two skewers, each with five pork meatballs about the size of cherry tomatoes, sprinkled with crushed peanuts, and accompanied by hoisin sauce for dipping. The lean meatballs had a pleasingly firm texture and an earthy sweetness.
I gravitate toward food that shouts at me, so it didn't take a lot of convincing to fall off the wagon and revert to my soup-slurping ways for the Spice Noodle Soup. My friend ordered the Shaken Beef, so named for the way it's tossed in the wok during cooking, which happened to be the most expensive entree on the menu at $14.95. Most of the entrees at Sai Gon fall in the reasonable $7 to $8 range.
The giant bowl of soup contained rice vermicelli, thinly sliced beef, and sliced semicircles of somewhat bland Vietnamese sausage that had the look of pâté but firmer. The soup was accompanied by a plate of basil, sliced jalapeños, bean sprouts, shredded red cabbage, and a wedge of lemon for individual customization. While not as spicy as advertised, the broth was rich and beefy with hints of lemongrass. The Shaken Beef, plated with rice, and combined with tomatoes, cucumber, onions, and cilantro, was meltingly tender and pleasingly redolent of garlic and fish sauce.
Dessert consisted of Flan Cake and Sweet Pudding. Surprised to find flan on something other than a Mexican menu, I learned that the French introduced crème caramel to the Vietnamese, who put their own unique spin on it by incorporating coffee into the mix, giving the flan a greater depth of tone and distinctive flavor.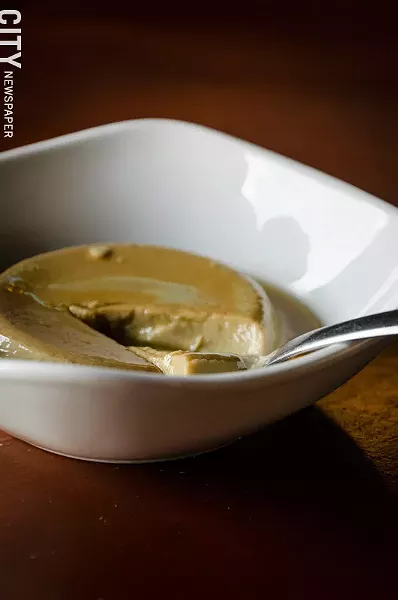 PHOTO BY MARK CHAMBERLIN
Flan from Sai Gon.
The Sweet Pudding was the most interesting dish we tried. Sometimes called Three-Color Dessert, it's served in a tall glass and consists of layers of red beans and sugar, shards of green Jell-O, mashed mung beans and sugar, and shaved ice. All of this is drizzled with a coconut cream. The dish had a beautiful contrast of colors, textures, and flavors, but it was difficult for either of my friend or I to assimilate beans – with their texture and familiarity having more of a main-dish personality – into our cultural dessert milieu.
On the way out, I asked about the green waffles sitting on the bar. They're called Pandan Waffles, I learned, the green coloring coming from pandan leaf flavoring. When I learned they were flavored with coconut, and only cost $3 for two, I was sold. The next morning, I heated them in a toaster oven and ate them plain (no syrup necessary). It was a great accompaniment to my morning coffee — and another reason to return to Sai Gon.