Located in Henrietta's Marketplace Mall, Papaya Asian Kitchen & Bar does an impressive job of creating a relaxed and modern atmosphere in the midst of a shopping frenzy.
The restaurant is in a large space, with vaulted ceilings and exposed ductwork. Its ambient music wouldn't be out of place at an upscale spa or a session of gentle yoga, and its color scheme is dominated by sage greens, muted oranges and natural wood tones. A basket-weave wall separates the dining area from the bar, which is flashier but still keeps with the rest of Papaya's design aesthetic.
On the opposite side of the space, large windows line one wall, letting in natural light and spring breezes. But if you are facing the windows, the contrast of outdoor and indoor lighting can make it difficult to see dining companions. The windows also offer views of the parking lot, which is not as Zen as the rest of the restaurant's design.
The Henrietta Papaya is the restaurant's second location — both are owned and operated by Manh Le, Tai Truong, and Tri Lam. The first opened in Buffalo almost a decade ago, and the Rochester location has been open less than five months.
PHOTO BY MARK CHAMBERLIN
Miso-marinated butterfish with sweet soy and wasabi drizzles from Papaya.
Both locations focus on southeast Asian and Asian-inspired cuisine. There is a limited selection of sushi and sashimi, with traditional and non-traditional offerings. Other menu items range from the expected, including pad Thai and spring rolls, to fusion offerings, like NY strip steaks with Thai basil vegetables and French-cut pork chops served with umeboshi plum sauce.
There's also a small and surprising bar menu — featuring cocktails, beers, and wine — where you can order a $495 bottle of Armand De Brignac Champagne. Should you not want to drop that kind of cash, there are other options. Papaya's martini menu is kitted out with cocktails that lean toward the sweet, rich, and colorful. The Vietnamese Kiss ($9) is served in a purple martini glass with a wedge of pineapple and a small, foam head. You'd be hard pressed to detect its mango vodka, Chambord or champagne ingredients; it's amorphously sweet with a bitter finish. The mango martini ($9) is disappointing, though. Tequila, mango puree, and soda water could add up to a refreshing summer drink, but this was unfortunately cloying with an artificial fruit taste.
On the whole, entrees and appetizers are solidly satisfying. Takrai shrimp ($13 lunch; $17 dinner) are sizable — just under the circumference of a silver dollar — and yielding yet firm. They're bathed in a spicy lemongrass sauce that starts sweet and finishes with heat, and there's enough to blend with a side of rice and soak up every drop. The shrimp comes with tender and lush Japanese eggplant tossed in the same lemongrass sauce.
PHOTO BY MARK CHAMBERLIN
Takrai shrimp with Japanese eggplant, and spicy lemon grass sauce from Papaya.
The pork belly buns appetizer ($7) is good but not my favorite — that title goes to the ones made at Bistro Han and Han Noodle Bar. The pork belly, the same part of the pig that gives us bacon, isn't very fatty, so it lacks some flavor and unctuousness. Its dusting of Chinese five spice powder, however, adds an appealing warmth and sweetness, and provides a counterpoint to the coolness of the cucumber and cilantro topping.
Pineapple fried rice ($9-$13 depending on protein choice and lunch or dinner option) has a touch of the pineapple's tropical sweetness and a hint of toastiness from sesame oil. More than anything, it's rich and meaty from the cashews; even more so if you choose to eat it with beef that's cut thin and presented in one and a half-inch strips. The dish grows on you with each bite; before you know it, you're faced with an empty bowl or a full, carbed-out stomach — or both.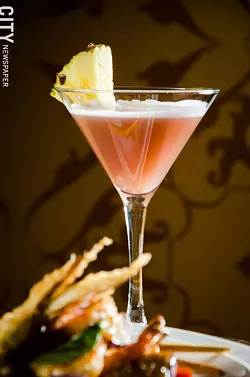 PHOTO BY MARK CHAMBERLIN
A Vietnamese Kiss cocktail made with mango vodka, pineapple juice, Chambord and champagne at Papaya.
The Butterfish ($15) is plated attractively with a soy glaze, dots of spring green wasabi sauce, and a side of stir-fried snap peas and shiitake mushrooms. The fish is white, moist, flaky, and like its name implies, has a buttery richness. The pea-and-mushroom side is excellent: snappy peas; meaty, chewy mushrooms; and umami fullness.
The dish as a whole is delicious and worth trying, with one caveat. Butterfish, also known as escolar, contains a high amount of wax esters, specifically gempylotoxin, which are similar to castor or mineral oil. The same wax esters that give escolar its rich texture can also cause a laxative effect when consumed. Colloquially, escolar is called "ex-lax fish."
This doesn't mean that you will be affected by the escolar, not everyone is, and it's thought that smaller portions are less likely to result in unwanted side-effects. Still, it's something to keep in mind. Papaya's butterfish portions are six ounces; the wait staff should notify you of the potential impact when you order this dish.
Butterfish aside, the best reason to make a trip to Papaya is to enjoy its pad Thai ($9 to $19 depending on protein choice and lunch or dinner option). It is excellent, and may be the most delicious preparation I've eaten locally. It hits all the notes that pad Thai should: tamarind's sweet and tart flavors; an underlying smoky char; just enough fishy-funkiness from nam pla (fish sauce); fresh and slightly bitter bean sprouts; springy rice noodles; and citrus' sour brightness (my order came with a wedge of lemon, not lime, to squirt over the top).
If I lived closer to the Marketplace Mall, I would order it all the time. I'll just have to make the drive.