Two eggs, home fries with green and red peppers, and pork sausage links, served with a side of kimchi and doused with Korean barbecue sauce. Something very interesting is going on at The Brooks Landing Diner on Genesee Street in the 19th Ward — and it's been happening slowly and quietly at other diners in the area for a while now. The addition of Asian and Asian-inspired dishes to the American diner canon was in some ways inevitable, a function of the changing ownership patterns in the restaurant business. A few generations back, when immigrant and second-generation Greek families started to move into the restaurant business, Greek-ish food started to appear on diner menus. At the time, I'm sure that gyros and moussaka, Greek salads, and spinach and feta omelets must have seemed exotic and new. Today, it's hard to find a diner — Greek or not — that doesn't at least have the ubiquitous Greek omelet on its menu. In recent years, enterprising Chinese, Vietnamese, and Korean restaurant owners have taken over or opened diners in challenging retail locations like the 19th Ward and started putting their version of comfort food on the menu in addition to standard diner fare.
PHOTO BY MARK CHAMBERLIN
A beef bulgogi sandwich.
At The Brooks Landing Diner, that comfort food is Korean as interpreted by owner and cook Jung Choi, or "Sue" as she prefers to be called — a name she picked up from customers at a restaurant she owned some 20 years ago. Most recently the owner of Mitch's on East Main Street, Sue is no stranger to a colorful and rough and tumble clientele, but this is the first time that she has put Korean food on the menu. That was done in part to attract students from the University of Rochester taking the footbridge across the river to snag a cup of joe at Boulder Coffee. While she admits she sells very little Korean during the week, when the vast majority of her clientele are interested in breakfast food and the solid if unexciting lunch fare that Brooks Landing Diner offers, the weekends are a different story. On Saturdays and Sundays, the diner does a brisk business in bi bim bap, pork bulgogi, and sometimes dishes that don't appear on the menu at all.
PHOTO BY MARK CHAMBERLIN
Pork bi bim bap with a fried egg.
In all, I visited Brooks Landing Diner three times, and I was glad that I did. The first time I visited the service was erratic, the atmosphere more than a little boisterous, and the bowl of bi bim bap ($11.99) I had tasty but not terribly exciting. All of the ingredients were fresh, the greens had a pretty emerald color, the beef was juicy and nicely seasoned, and the rice well-cooked. But I had to ask for kimchi and barbecue sauce, and my waiter — on that occasion Sue was behind the counter cooking for what quickly became a standing-room-only lunch crowd — seemed perplexed when I asked for them.
On my second visit, Sue greeted me like an old friend and suggested that I try her "special" chicken bulgogi ($12.99) — she chops pungent kimchi into it to give the dish a spicy and pleasantly sour kick that nicely rounds out its intrinsic smoky goodness. She also told me about the occasional special menus that she rolls out for the big groups of students that visit her on weekends. Apparently there's a sort of informal and very occasional Korean brunch buffet that I long to try someday.
PHOTO BY MARK CHAMBERLIN
Breakfast French toast, scrambled eggs, and sausage.
On visit No. 3 I stopped in for some breakfast — a couple of eggs over easy, home fries, and sausage links with a cup of coffee ($4.99, plus $1.25 for coffee). I'll admit that I was just being thorough; with Korean food on the menu a traditional diner breakfast didn't have a huge amount of immediate appeal. But when Sue herself brought it to the table with a side of kimchi and the squeeze bottle full of barbecue sauce things started to look up. The home fries were some of the best I've seen in a while, the cubes of potato small enough to crisp on the outside without leaving the interior crunchy and raw, the onion and peppers sauteed just long enough to soften them rather than cooking them down into goo. The eggs were a tad overcooked, but it's hard not to slightly overcook an over-easy egg, and there was still some runny yolk to redeem them. The sausage links were tasty but unremarkable.
In short, each of the individual elements of my breakfast was a bit ho-hum. However, hack the eggs and sausage up, squirt on the barbecue sauce, mix in the kimchi, and stir, stir, stir them together with the potatoes — the way you would with the rice, veg, and meat in a bowl of bi bim bap — and a normal diner breakfast is transformed into something new and wonderful. It's a fusion of cuisines akin to the discovery of how good peanut butter and chocolate are together.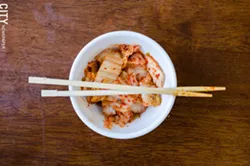 PHOTO BY MARK CHAMBERLIN
A bowl of kimchi.
I was just tucking into my well-doctored breakfast when Sue appeared at the table with the coffee pot — the coffee at Brooks Landing Diner is pretty good for diner coffee, but will probably still disappoint those who like their joe with a pedigree. She also brought a small plate with two pancake-shaped items on it. At first glance, they looked like some sort of hash browns or a potato pancake studded with scallions. But when I cut into them I discovered that they were actually kimchi pancakes — onion, spicy and pungent pickled cabbage, and scallion mixed with just enough flour and egg to hold them together in a creamy-textured pancake. Good by themselves, they were even better to use in place of the toast that came with my breakfast to mop stray bits of egg yolk and barbecue sauce. Sue told me that she doesn't make kimchi pancakes all the time, and they aren't on the menu, but that's part of the appeal, and just one more reason why a trip into the 19th Ward is worth your while on a Saturday morning.