There are many ways the concept of the devil has been depicted throughout time and within popular culture: the cloven-hoofed, goat-faced Baphomet; the seductive, fallen angel; the serpent; the feminine temptress; or with an indirect presence, through possession. Erich Lehman, who is celebrating the sixth anniversary of his 1975 Gallery with a devil-themed group art show, links both Halloween and art by the imagination and creativity involved in each.
"My favorite time of year is Halloween," says Lehman, who has a well-known penchant for celebrating the gallery's anniversaries with dark themes. Previous anni shows have included "By the Pale Moonlight" and "Volo Calvariam," which translates from Latin to "I want your skull." The former was ghost- and monster-themed, and the latter came with the requirement that all submitted artworks must contain a skull within the imagery.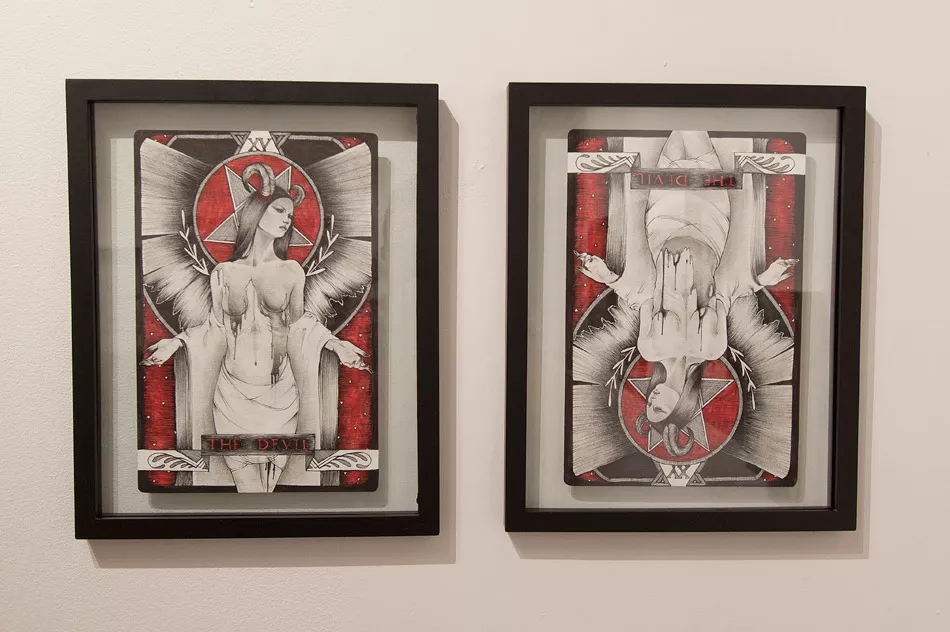 PHOTO PROVIDED
Shawnee Hill's devil-themed diptych for 1975 Gallery's "Devil's in the Details" anniversary group show.
For these anniversary invitational exhibitions, Lehman says he tries to encourage the artists to have fun. "This is not necessarily a show to be serious about," he says. "We're serious all the time, because our lives are serious and stressful. With the Halloween show, I just always want it to be fun. About breaking out of your boundaries, doing work you don't normally do, but in your style." Constraints can make artists flex, and that's exactly the point.
With more than 50 artists involved, there is plenty of diversity in interpretation of the theme. Though there are plenty of satanic figures, not all works are exclusively devil oriented — some artists went with culturally-associated subject matter, such as witchy women, "satanic" animals, pentagrams, and all manner of shadowy accouterments.
In addition to some mainstays, "Devil's in the Details," includes a few new-to-1975 artists. Todd Stahl, who is known for focusing on musicians in his work, created an assemblage portrait piece featuring Robert Johnson, who learned to play guitar from the devil himself, as the story goes. This is the first show for young illustrator Jordyn Carias, whose mixed-media work, "Swallow," has the world balanced on the tongue of a red-faced space devil.
Two members of FUA Krew are also new to 1975 Gallery. Bones created "O Brother," a horned and booted beastie in his typical gory-glory style, and Nova's "Pentagram 1" is all abstracted colorful geometry and a classic triple-six. Lehman says he's been a fan of their work, and interested in sharing what they do with other audiences.
"One thing that's near and dear to my heart is the "Dearly Beloved" piece by Josh Gomby," says Lehman. "He's a Washington, D.C.-based designer, and he's the guy who dared me to start 1975." Not only is this the first time Gomby has been able to put a piece into any of the shows, it's the first time he was able to see 1975 in person (he was in town for the opening).
Kari Roberts Petsche's watercolor, "Gold Digger," is a stunning and vibrant work featuring a ghostly woman presiding over an Illuminati-esque, reptilian eye, and a serpentine, shrouded woman curled around a pile of bones and decay. Scot LeFavor's vintage sign-inspired piece, "You vs Yourself," is a hilarious advertisement for the show, featuring an epic fight to the death between your shoulder-dwelling devil and angel.
Lehman says that in the beginning, he would have been surprised to know the gallery endeavor would last even a year. "It always is still a bit of a shock that I've made it this far," he says. 1975 Gallery has come a long way from its humble beginnings as a gallery-in-residence in Surface Salon on South Avenue, in which Lehman promoted a handful of local, emerging artists.
Through the years, Lehman has worked with more than 160 artists, with many returning to show in multiple group exhibitions. And this number doesn't count art shows that the gallery has hosted for other organizations — which brings the number of artists to around 200. Roughly three-fourths to two-thirds of this total has been local artists, depending on whether or not you count students and working artists who have since moved away from Rochester. 1975 has shown high school students' first exhibitions, and hosted young artists who have made their first professional sales through the gallery.
Lehman says he's always had two goals: to build a young collectors scene in Rochester by lessening trepidation regarding original collecting art, and fostering the fledgling professional artists as they start navigating this world. Lehman wants to help artists set a bar for how they should be treated, and how they should interact with people as professionals.
The future is looking bright for this labor of love: 1975's schedule is booked through July, and will feature solo shows for the original players, Sarah C. Rutherford, Lea Rizzo, and Adam Francey, as well as a School of American Crafts all-glass show, featuring work from everyone in the program, including professors. After that, some plans are in the works for national and international collaboration, with shows co-curated by artists and organizers in multiple cities, Lehman says.