Medley Centre is no more. Now the idle, empty, former mall on East Ridge Road will be known as Skyview on the Ridge, and developers plan to convert it into ultra-flexible mixed-use space.
The name change is an obvious marketing tactic, but it's a necessary one. Angelo Ingrassia, Frank Perticone, and Robert Morgan — the developers who plan to put $11.4 million into the campus during the first phase of its rebirth — want to get away from the taint of failure and decay, a legacy left by its previous owner. So do Irondequoit officials and business leaders. Speakers during a press conference this morning, which the developers organized to present their phase one plans for Skyview, made as much clear. (Conceptual drawings are attached at the bottom of this post.)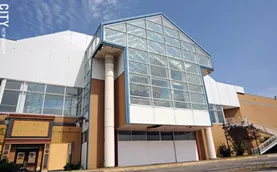 PHOTO BY JEREMY MOULE
The facade of the former Medley Centre — the side facing the Route 104 expressway is shown here — will be overhauled as part of the property's conversion into Skyview on the Ridge.
"We have to move past the negativity and everything that surrounded that name and property," said Rebecca Leclair, who recently left her job as a news anchor for WHEC channel 10 and started her own communications firm.
Not a single Medley Centre sign or badge remained on the property as of Tuesday morning. And representatives for the developers say, its days as a mall are done; the general consensus in recent years has been that rebooting the mall is an impossible task.
Architects John Bartolotti and Anthony Rojas, from DALPOS Architects & Integrators, laid out how the developers plan to modernize the building's exterior and overhaul its airy interior as flex space for atypical offices, restaurants, distribution centers, day care facilities, medical clinics, or pretty much whatever someone wants to put in there.
They touted features like shared meeting and presentation areas, complete with large screens. And they raised the possibility of offices with nap pods, game lounges, or fitness centers with climbing walls.
Ingrassia offered the Town of Irondequoit 50,000 square feet inside the property to use as they see fit. Supervisor David Seeley told the audience that town officials plan to pursue a community center for that space, since the town currently doesn't have one.
Former Irondequoit Dodge co-owner Ingrassia bought Medley Centre and some adjacent property — including the building that housed his old dealership — at a Monroe County Sheriff's Office auction in January 2016. He's worked with Morgan and Perticone in the past and brought them on for their expertise and input, he said. The developers are working together as 1733 Ridge Road, LLC.
"Phase one will give us a platform to move forward," Ingrassia said toward the end of his brief remarks.
Developers won't initially pursue tax breaks through the county's industrial development agency, but may do so once they complete phase one and tenants begin moving in. They are seeking grants from two state agencies and will likely find out in December whether they'll get them; that's when the state announces funding for its 10 regional economic development councils.
Medley Centre was previously owned by Bersin Properties, a company headed up by Scott Congel. He earned the scorn of Irondequoit and county leaders for his failure to invest much of anything into the property and letting it sit vacant and idle. He even neglected basic maintenance of the property; the grass was often overgrown and one winter, water pipes inside the building burst.
The new developers concluded their announcement with a grand gesture of sorts. The crowd was led out toward Ridge, where it got to watch crews rip down the walls of Irondequoit Dodge. The previous owner applied for and received permits to tear the building down, but never did the work. The dealership closed in 2006.
Skyview Renderings for Packet by jmouleatcity on Scribd