At a glance, Norman Ives's artwork is both straightforward and enigmatic. That balance is key to good design — it should command your attention without making you hate its effort. It should tug seductively at your focus more than hit you over the head. A new retrospective of Ives's oeuvre, concurrently hosted in the Bevier and University Galleries at RIT, delves into his lifelong love of and experimentation with letterforms, amounting to nothing less than form porn for painters, printmakers, and sculptors.
Ives graduated in 1952 from Yale's first graduate graphic design program, having studied with Josef Albers, Alvin Lustig, Alexey Brodovitch, and Herbert Matter. Through the 50's, he taught graphic design at Yale and Rhode Island School of Design, before opening his own studio in New Haven and entering into a successful partnership with Sewell Sillman. Aside from blending design and fine art into their own work, Ives and Sillman together published silkscreen portfolios for several greats, including Romare Bearden, Willem de Kooning, and Walker Evans.
At Yale, Ives benefited from the mentorship of Albers, who had, from his time teaching at the Bauhaus, brought "exercises which examined letters as formal elements devoid of their literal function," says John T. Hill, the exhibition's curator, in a provided statement.
Ives also liberated the alphabet from its context of ideas, proclamations, and decrees. His collages, posters, silkscreens, paintings, murals, and bas-reliefs present fields of disrupted letters, truncated or inverted, hiding familiar forms within new hybrid shapes.
Because our brains pursue order and sense, and latch onto insinuations of the familiar, viewers may feel engaged in a fruitless game of deciphering some alchemic meaning — there's no hidden message, but Ives was aware that you've been set up to search for one.
Where he uses color, his palette is rife with saturated brights and muddy tertiaries, communicating nuances of mood. The work is trippy — more overtly so in pieces such as an untitled mural study in which the sharply defined nexus between the sliced-and-diced, black-on-white text creates a buzzy optical illusion. Ives also toyed with lower contrast, fuzzier versions of this energy. The muddied grays and yellows of an untitled work are similar in tone and slightly blended where the characters meet, forming an impressionistic version of his other, more graphic work.
The Bevier Gallery, an open off-shoot of the entry corridor of Booth hall, is a stumble-upon, wander-in-on-the-way-to-elsewhere kind of space. And the show is so nonchalantly well-hung in that it's certain to cause some rubbernecking among art student traffic.
The solar tangerine and contusion blue hues of the massive 1971 "Mural for Orange Cinema Complex" snag your periphery along the busy route to the building's hive of studios. Off to the side and in front of that electric piece is a blocky, untitled letter fragment sculpture. Resting on a low pedestal, the sizable cube sculpture's perfect geometry is interrupted by the clusters of truncated letters that make up its surfaces. The curving hollow of an S might bisect the diagonal of a V — or N or M or Z.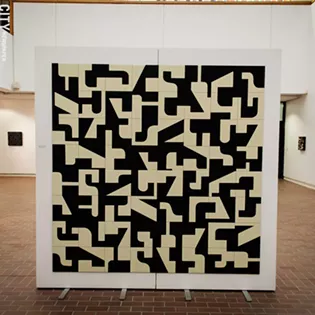 6 slides
Further into the space, Ives's collages from the late-1950's are displayed. He initially made these works from triangles, "meticulously cut from the letters and words of posters and broadsides," provided information states. The geometric patterns abstract the semi-legible words. Ives's work underwent an evolution into paintings and prints of abstracted shapes reminiscent of letterforms.
He manipulated the medium of murals to serve as both a background and a foreground, giving the vicinity of the restaurants or theaters a personality and reinforcing the spaces as inviting destination-environments.
The University Gallery spotlights Ives's late-career, clean screen prints and a variety of posters he designed for exhibitions, political races, and the work of other artists. Presented in display cases are examples from books designed by Ives, including two major publications by Albers: the 1963 classic, "Interaction of Color," and the 1972 "Formulation: Articulation."
And in the hallway between the exhibition spaces are cases which present Ives' limited edition book, "Eight Symbols," as well as pages of his analysis of figure-ground relationship and the symbols invented to be corporate logos.