Even if you're unfamiliar with the name "Vignelli," you've certainly encountered multiple things designed by Massimo and Lella Vignelli. The New York-based, Italian power couple had their stylish fingers in every piece of the design pie for six decades, creating everything from brand identity, books, maps, tableware, clothing, furniture, to architectural design for companies as diverse as American Airlines, Ford Motor Company, the Metropolitan Transportation Authority of New York City, and Xerox Corporation.
Five years ago, the Vignelli Center for Design was built at Rochester Institute of Technology to preserve the designers' archive and to serve as a valuable teaching collection for RIT's students, but anyone curious about our relationship with good design can explore the world of Vignelli.
PHOTO BY MARK CHAMBERLIN
The Vignelli Center houses numerous pieces from Massimo's career as well as premier examples from other quality designers.
R. Roger Remington, a designer and the director of the Vignelli Center, has worked for more than 30 years to bring the archives of famous designers to RIT as learning resources for students and faculty research.
RIT's Wallace Library is home to more than 35 designers' collections, including "most of the important American Modernist design pioneers," Remington says.
Having formed a relationship with RIT's design community, Massimo and Lella were aware of the school's important collection of teaching archives. When it came time to figure out where to bring their own archive, they decided to place it at RIT.
"They believed very strongly that designers need to know about history, theory, and criticism," Remington says.
But the Vignelli collection was too large to join the others in the library. It was decided that a special building would be built to house the archive, designed by Massimo himself. The idea evolved from a structure for storage and preservation to include plans for an educational and exhibition space.
The project was developed seven years ago, and it's been five years since construction was completed. Today, the Vignelli Center houses two levels of archival storage, two bright, airy galleries, and a study room in which lectures and workshops are held.
"The Vignellis were world-class designers who were trained in architecture, but really designed across the board," Remington says. The center's permanent exhibits include examples of their graphic design — familiar brochures for the National Parks Service, magazines and publications such as the Fodor Travel Guides and Audubon books, and branding-standards manuals for international companies such as Benneton.
One floor is mostly a furniture showroom, presenting wood, marble, and glass tables and the famous 2004 Vignelli Chair for Heller, which is still on the market. Another area showcases stackable tableware the couple designed for Knoll.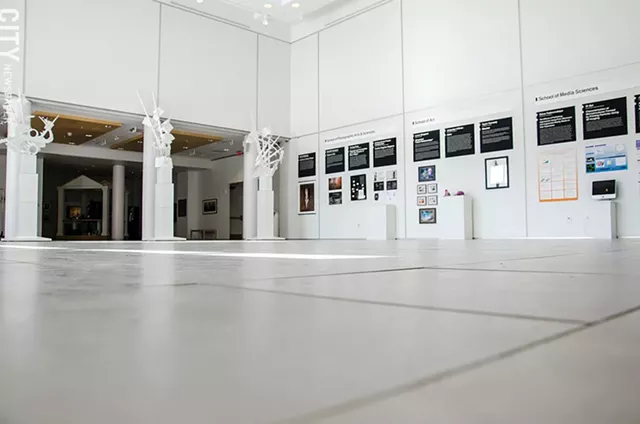 PHOTO BY MARK CHAMBERLIN
Gallery at the Vignelli Center at RIT
Some of the best known Vignelli designs are the maps and graphics created for the New York City Metropolitan Transportation Authority in the 1970's. That's right — they designed the streamlined subway map and the ubiquitous, uniform signage that directs our every move through the city's public transit labyrinth.
Storage rooms of flat files contain countless Vignelli-designed posters and flat graphics. The center also houses the couple's prototypes for 3D work, and the patterns for Vignelli-designed clothing. "We don't have much of the actual clothing yet," Remington says. "That's one of the big things we need to get, before the moths eat it up."
Massimo died in May 2014, and though the Vignelli Center at RIT is the most complete and organized Vignelli collection there is, Remington expects the Vignelli archive at RIT will grow after the estate is settled.
In the meantime, full-time archivist Jennifer Whitlock and program assistant Katie Nix work to rehouse objects into acid-free boxes and folders, fully catalog the collection, and create a digital finding guide. Remington says this will take a number of years to accomplish.
"We're still scratching the surface," Nix says. The center's blog — which is a blog well-done and lot of fun to peruse — shares fun finds during this process. One recent highlight is a system of packaging and displays for a box set of VHS cassettes of Stanley Kubrick films.
In the last 5 years, the center has acquired at least 15 other small collections of designers, including that of Aaron Markis, a California designer who was really the first graphic designer to use the computer.
"We continue to collect carefully because we don't have an unlimited amount of space," Remington says.
The center is geared toward a variety of goals, including education, preservation, collaboration, and globalism. "We try to focus our energies on trying to show that design can improve the human condition and do a public good," Remington says. Some of these ends overlap in their means.
When RIT students learn about the history of design, "they learn about it from looking at real things, not just slides and books," he says.
Remington says that RIT industrial design professor Josh Owen's course, Activating the Vignelli Archive, is "a good example of how faculty and students can use the archive facilities as part of their coursework."
Last year's class produced drinking vessels designed for specific kinds of alcohol or coffee. Owen selected a dozen different beverages, and students took turns choosing their assignment from a hat.
Whoever picked espresso, for example, had to research "the history of the drink, how it's delivered, how different cultures drink it, what are the conventions around size, rituals, et cetera," Owen says. "And then they had to deliver a product that answered or somehow celebrated or made better that particular way of drinking."
PHOTO BY MARK CHAMBERLIN
The Vignelli Center houses numerous pieces from Massimo's career as well as premier examples from other quality designers.
But the designs needed to be in sync with the Vignelli philosophy and approach of good design.
The course included a collaboration with the Glass Lab folks at The Corning Museum of Glass, who offered to jury the designs, and select projects they thought would be possible to materialize with their master craftsmen, Owen says.
Among the winners was a design for an Applejack tumbler, which exploited glass's capacity for holding air bubbles, by incorporating tiny seed-shaped details into the design. Another fun solution was a design that transformed the experience of drinking Champagne, by turning the bubbly into a popsicle with a form that pays homage to the traditional flute.
This year's class is in the middle of the semester, and has different design constraints.
Sixteen first-year industrial design students and about 10 graduate sculpture students are tasked with creating a functional object of any kind, cast in metal, that is no larger than a 12-inch cube. And of course, they'll look to the Vignelli archives for inspiration and guidance.
Owen says this year's course again had collaboration and experimentation in mind.
"When looking at the fine arts areas and the crafts areas at RIT, one of the emergent opportunities that I found was that the depth of material and technological understanding can be a great asset to that design thinking," he says.
Owen says he's interested in testing the potential synergy between connecting that design thinking to a depth of knowledge and understanding of materiality. "In looking around, the sculpture department presented this really interesting opportunity, specifically because of their foundry," he says.
The industrial design students must make industry-ready products, and the sculptors have to respond to the same challenge, but with more open parameters.
"The sculptors may create objects that are more statement based," Owen says. "They may debunk the philosophy, which is sort of their prerogative as artists."
Though the RIT community makes good use of the space, it's by no means closed to the public. "We'd like to have the community see the Vignelli Center as a cultural resource for design and the world of design," Remington says.
The center has seen project collaboration with other colleges and universities. Last fall, the center also organized a project, similar to Owen's course, in which art students from Pittsford Mendon and Pittsford Sutherland High Schools used the Vignelli format system to develop a series of Rochester-area tourism posters. An exhibit of the students' work was hosted in the gallery.
Remington says a master-designer workshop held at the center yielded the hypothetical rebranding of one of Rochester's major cultural institutions — which is now interested in pursuing that rebranding.
In the five years since it opened, the center has been used as a place for individual research, for tours of classes and organizations, and has hosted meetings of professional organizations of designers, from interior designers to graphic artists.
"Anybody who's curious can come see the exhibits, and without too much trouble, take a tour," Remington says. In addition, a monthly lecture series featuring prominent designers is offered September through December, and February through May. The lectures are free and open to the public. To learn more, visit vignellicenter.rit.edu.