[Updated 01/24]
Following the January 11 release of a report on sexual misconduct charges at the University of Rochester, faculty and students have been pushing for accountability at the university.
The controversial report detailed an investigation into how the university handled sexual misconduct charges against Professor Florian Jaeger. The report, conducted by Debevoise & Plimpton LLC, concluded that the university properly handled the accusations and that Jaeger did not violate university policy. But it also criticized Jaeger's behavior and made recommendations for updating and strengthening the university's policies. UR President Joel Seligman resigned the day of the report's release.
On Tuesday, the UR's Faculty Senate was to address a vote on a motion to censure Jaeger. That motion was tabled for further consideration, the D&C reported Wednesday morning. The censure, according to an email to the Faculty Senate that detailed the case, would condemn Jaeger's behavior "in the strongest terms' and express belief that his behavior meets the standards in the faculty handbook under which the Board of Trustees can revoke tenure and terminate contracts.
Last Friday, a group of about 40 people held a demonstration at the steps of the University of Rochester's Wilson Commons on Friday, saying they want to hold policymakers accountable to recommendations made in last week's report on sexual misconduct at the university.
Students and graduates leading the rally read information from the report, announced a letter-writing campaign to other schools about the situation at UR, and urged students to put pressure on the university's Title IX coordinator, Morgan Levy. There was also an announcement that graduate students at the university are again seeking to unionize. Plans were in the early stages, said Yuliya Muradova, but a series of town halls is planned for this semester.
The rally's organizers — UR student Lindsay Wrobel and graduate Jenna Register — urged students to talk with their representative bodies and to make sure the administration was accountable to the student body. And graduate student Marissa Adams outlined the heavy reliance graduate students have on their advisers, and highlighted the disadvantage many students have in that relationship.
Joseph Irrera, an Eastman School of Music graduate who says he was retaliated against after refusing the sexual advances of a professor, also spoke about the need for a separate, independent entity to which students can file complaints. Irrera is suing the university.
A split between the university's administration and its student body has been increasingly visible since last fall. And speakers during Friday's rally emphasized they didn't feel university officials had been concerned enough about the needs of students, prioritizing those of the administration instead.
Register said she met with Interim President Richard Feldman before the rally, and that the conversation's tone was different from that of past talks with administrators, but she still was wary that change would come from the top.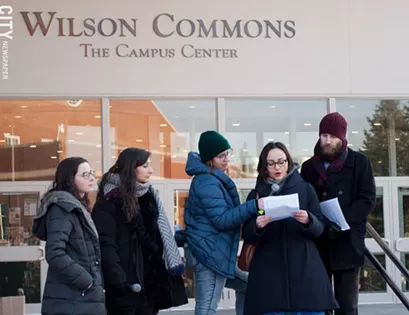 6 slides