Democrats appear poised to take control of the Monroe County Legislature for the first time in 30 years after the counting of absentee and affidavit ballots on Monday narrowed the possible outcome of three undecided races.
Unofficial ballot counts released by the county Board of Elections shows that Democrats captured 15 of 29 seats in the election this month, giving them a slim one-seat majority.
FILE PHOTO
Monroe County Legislature President Joe Carbone
The last time Democrats held the majority was 1992. If the party prevails, it would mark the first time since 1991 that it had a unified government between the legislative and executive branches. County Executive Adam Bello is a Democrat.
A cautious Monroe County Democratic Committee Chair Zach King called the outcome an "historic, albeit still unofficial day in Monroe County."
During an interview Tuesday, Monroe County Republican Party Chair Bernie Iacovangelo said he wasn't going to dodge the fact that Republicans did not win a majority of seats.
"We take today, the first day of our future, and we keep moving forward," Iacovangelo said.
The three races in question included tight contests in districts covering Irondequoit, Henrietta and Pittsford, and parts of Rochester, Gates, and Greece, involving high-profile members of the Legislature.
Incumbent Joe Carbone, a Republican who has represented District 16 in Irondequoit and is the Legislature's president, is trailing his Democratic opponent, Dave Long, by about 170 votes, according to unofficial totals released by the Board of Elections.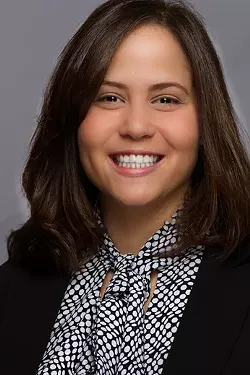 FILE PHOTO
Monroe County Legislator Yversha Roman.
Losing that seat alone could cost Republicans the majority, which they currently hold by one seat.
RELATED: Tight Races Leave Control of Monroe County Legislature Uncertain
Two other close races in which incumbents were at risk involved Democratic legislators Yversha Roman, who is the party's minority leader, and Michael Yudelson. But absentee and affidavit ballots counts appear to have put the vote total squarely in their camps.
Yudelson, who represents the 13th District spanning parts of Henrietta and Pittsford, leads his Republican challenger, Matt Borkowski, by about 100 votes.
Roman, who represents the 26th District covering slices of Rochester, Gates, and Greece, leads her Republican challenger, Orlando Rivera, by roughly 50 votes, according to the unofficial tally. She had been trailing after machine ballots were counted on Election Day.
For years, Democrats complained that GOP legislative leaders have routinely prevented their proposals from going to a vote before the full Legislature, either by rejecting submitted legislation outright or by burying it in committees.
Yversha Roman, leader of the Democratic Caucus, pledged to be more collaborative.
"As a member of the minority caucus, it was not a good feeling to know that you are being hindered in your ability to serve your community," said Yversha Roman, current leader of the Legislature's Democratic Caucus. "I don't forsee that type of practice happening or occurring. I know that's definitely something that I wouldn't welcome."
But the Democrats' likely majority is precarious.
Currently, the party holds 14 of the Legislature's 29 seats but it's members are split between two caucuses. Nine members make up the traditional Democratic Caucus while four make up the breakaway Black and Asian Democratic Caucus, which was officially established with GOP support. One Democratic legislator, Vince Felder, has not been a member of the caucus but he has been aligned with it.
The Black and Asian Caucus joined with the Republicans to form a supermajority, which put both groups in a position to block any legislation and override Democratic County Executive Adam Bello's vetoes. They've done so several times.
"Over the past year and a half I've been very frustrated with some of the leadership in the Legislature and I think that the public has sent a strong message...that they're tired of politicians that are opposing each other for the sake of opposing each other," Bello said during an interview Wednesday. "They really want people to get something done and government to get something done."
Bello added that he wants to work with the current legislators to pass his proposed 2022 budget, and that he wants to work with them in developing plans to spend federal COVID-19 pandemic relief funds as well as a comprehensive plan for the county.
"We have a lot of work to do and we need to work together to get it done," Bello said.
ALL EYES ON LAMAR
Legislator Sabrina Lamar is the only member of the Black and Asian Democratic Caucus who is returning to the Legislature — she was unopposed in the primary and general election. Ultimately, control of the Legislature will come down to her.
If Lamar votes with the Democrats, the caucus can elect the chamber's president, pass legislation from its members and Bello, and stop GOP measures they oppose. That arrangement would allow Bello to better advance his administration's agenda.
But if Lamar votes with the Republicans, the party would be able to push through its own agenda and serve as either a check or a foil to Bello.
No side will have a two-thirds majority, a threshold that's important for rather technical reasons. If the county wants to issue a bond to raise funds for a project, 19 legislators must vote to do so.
Republican and Democratic leaders have made overtures to LaMar, who has not responded to a voicemail seeking comment.
"I welcome continued conversations," Roman said. "I know that she's a Democrat at heart and I know that we all have the intent to do well in our community."
Iacovangelo said the Legislature will start 2022 in a "unique situation," and that he's viewing the Legislature as three separate caucuses, with Lamar being the lone member of the Black and Asian Caucus.
"Right now, I think what we need to do is we have to see how things develop over the next month and a half, because we're not to January 1 yet."
This is a developing story. Check back for more details.

David Andreatta is CITY's editor. He can be reached at dandreatta@rochester-citynews.com.
This article includes reporting by staff from CITY and its media partner WXXI. It has been updated to correct an error regarding the threshold for the Legislature to override a veto by the county excecutive.