Spurred on in part by NTID, the deaf theater community, both in Rochester and nationally, has taken off in the last few years
Rochester is known for many things, but somehow, the fact that the city has the highest per capita deaf population in the United States is often left off the list. A 2012 census survey estimated there are more than 19,000 deaf and hard-of-hearing individuals under the age of 65 in the greater Rochester area.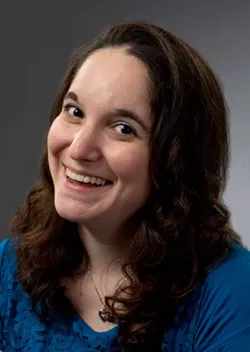 PROVIDED PHOTO
Samantha Geffen
Rochester Institute of Technology's National Technical Institute for the Deaf, and the Rochester School for the Deaf (which enrolls pre-K through grade 12) contribute to that number. NTID, founded in 1968, was the first and continues to be the "largest technological college for deaf and hard-of-hearing students."
While the word "technical" might suggest otherwise, NTID is home to a thriving group of performing artists — many of whom are deaf or hard-of-hearing. Luane Davis Haggerty, an assistant professor of cultural and creative studies at NTID, is behind much of the momentum. In addition to her role as a professor, she's a sign language interpreter, theater artist, Pulitzer Prize-nominated playwright, and considered by many to be a trailblazer in national deaf theater culture.
Haggerty is not deaf or hard-of-hearing; her grandmother was deaf, so she learned to sign at an early age, and the physicality of American Sign Language eventually pushed her toward the world of performance. In 1986, Haggerty cofounded Interborough Repertory Theater, a company that is still "nurturing artistic freedom and career development" in New York City.
She never planned to live in Rochester.
"It was a total accident," Haggerty says with a laugh. "I came here on a 10-month contract to build a bridge between IRT and the deaf community here. But at the end of the 10 months, there was Peter Haggerty. And I fell in love."
When RIT offered a longer contract, Haggerty accepted (and, as her last name suggests, things worked on the romance end as well). That was 20 years ago. Since then, she has mentored hundreds of deaf and hard-of-hearing students and began a theatrical troupe called Dangerous Signs, which often performs off-campus.
PHOTO BY JOSH SAUNDERS
Members of Dangerous Signs interpret a production of "Romeo and Juliet" at Highland Bowl. The group is now rehearsing for shows taking place at the Rochester Fringe Festival in September.
This summer, Dangerous Signs performed the song "What the World Needs Now is Love" at the Rochester Pride Festival and interpreted productions of "Romeo and Juliet" at Highland Bowl; soon, the members will begin rehearsals of "Hands Full of Shakespeare" for a performance at the First Niagara Rochester Fringe Festival in September. (Last year, Dangerous Signs was invited to audition for "America's Got Talent" after a talent scout caught its Fringe performance.)
"Deaf people from all over the world come here to study," Haggerty says, "and once they see how embracing the community is, and how many people know sign language, very often they stay."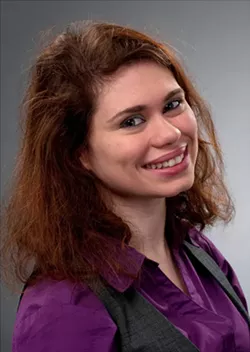 PROVIDED PHOTO
Danica Zielinski
Danica Zielinksi, who is hard-of-hearing, left her native New York City three years ago to pursue her masters at NTID. For students who dream of entering a theatrical profession, NTID is one of only two higher education institutions — the other being Gallaudet University in Washington, DC — with a funded training program focused on the performing arts.
Through Zielinski's involvement with Dangerous Signs and NTID, she was cast this past spring in "Godspell," which was hosted by Geva Theatre Center on its Fielding Stage. It was the first deaf and hard-of-hearing production Geva had been a part of. Deaf actors performed the roles in sign, and were paired with hearing actors who sang and spoke the parts. Sign language merged seamlessly, becoming an added piece of choreography.
"My parents don't know sign, but then they saw all these people that know this language," Zielinksi says, "and they're like, 'Wow, this can happen. You can do what you love because it's becoming so much more widespread now.'"
In the last few years, the national spotlight on deaf and hard-of-hearing entertainers has increased. Nyle DiMarco was the first deaf winner of both "America's Next Top Model" (2015) and "Dancing with the Stars" (2016). Los Angeles's Deaf West Theatre staged a wildly successful deaf and hearing version of "Spring Awakening," which went to Broadway, performed a number in the 2016 Tony Awards, and collaborated with musician Ingrid Michaelson for the music video to her single "Hell No."
But locally (though NTID has a longstanding commitment to deaf theater), it was only two years ago that the same vision began to catch on outside campus. When Shakespeare Players of Rochester entrusted its annual show in Highland Bowl to Haggerty's artistic vision in 2014, she staged a deaf and hearing production of "A Midsummer Night's Dream." The play was widely praised — it also snagged a City Newspaper Best of Rochester Award for Best Local Theater Production.
PHOTO BY JOSH SAUNDERS
"Romeo and Juliet" was on stage at Highland Bowl during the summer.
"Romeo and Juliet" — this year's Shakespeare Players of Rochester production, directed by Virginia Monte of WallByrd Theatre Co. — offered two interpreted shows (at no cost to attendees). While the cast was hearing, it was still vital to Monte to have interpreted performances.
"A few years ago, we did a version of 'The Winter's Tale,' and a young boy in the cast had two deaf parents who would come to rehearsals with him, so we wanted at least one interpreted show they could truly be a part of," Monte says. "I was so amazed and fascinated by that aspect, and wanted it in more shows."
Monte is a Rochester native who trained in directing for classical and contemporary texts at the Royal Conservatoire of Scotland and focuses on fresh takes in her work — her vision for "Romeo and Juliet" featured elements of anime, rock music, and video games — but she's also adamant about accessibility.
"Shakespeare, at its roots, is all about the language, and finding ways to share that with every community is important," Monte says. "Everyone can read it in the public domain now, but not to be included in a performance — that's such an easy barrier to overcome."
Rochester Community Players (the umbrella organization for Shakespeare Players of Rochester) secured a grant to fund two fully interpreted nights of "Romeo and Juliet." The interpreters, including Haggerty and Zielinski, attended several performances so they could note action and sound cues. (For example, when no one onstage is speaking, interpreters will often turn and face the actors so attention is directed toward the action taking place.)
"This is a special effects show, and they asked what they needed to be aware of — they treat it like artists," Monte says. "I find I'm just as invested in them as in the (hearing) cast — they're that engaging."
PROVIDED PHOTO
Fred Beam.
Like Monte, other members of the local theater community welcome an increase in deaf and hearing collaborations. When Christopher Mannelli, Geva's recently appointed executive director and co-CEO, arrived in Rochester from Chicago's Victory Gardens Theatre around the same time "Godspell" was being produced, he was thrilled to see the partnership.
"When you're getting ready to join a new organization and you see they're doing work like that, you think, 'Oh, thank goodness,'" Mannelli says. "We need to have opportunities to connect in the community. As a nonprofit, that's one of our responsibilities."
Samantha Geffen, another NTID alum and member of Dangerous Signs, points to "Godspell" as a standout experience of her five years with the group.
"One of my favorite moments was when people would show up to a performance and had never seen it, maybe didn't know the story, but because of our emotion on stage, everyone just felt it," she says. "Everything we were doing, they felt whether they knew us or not."
Mannelli credits NTID and Haggerty as the experts in deaf and hearing productions locally, but says Geva is open to more collaboration in the future. "Shows like "Godspell" are an exciting endeavor and in the theater community, we don't see a ton of that work," he says. "When we do, it's astounding."
NTID will continue to develop new performance initiatives for deaf and hard-of-hearing actors. Spring 2016 brought the launch of the NTID Performing Arts Advisory Committee, chaired by NTID alumnus Matthew Moore (publisher of Deaf Life magazine).
PHOTO BY MARK BENJAMIN
A scene from "Godspell," on stage at Geva Theatre Center last spring.
The committee's first act was to revive Sunshine Too, a professional traveling theater troupe NTID established in the 90's. The group, now dubbed Sunshine 2.0, will be managed by NTID alumnus and former National Black Deaf Advocates president Fred Beam and made up of six students — three hearing, three deaf — who perform free shows for deaf and hard-of-hearing students throughout the country. Sunshine 2.0 shows will "highlight the fields of Science, Technology, Engineering, Arts, and Math, as well as educational topics pertaining to the deaf experience."
"The main purpose is to bridge the gap between deaf and hard-of-hearing community and hearing communities," says Beam, who has been deaf since the age of three. "Deaf theater is not new. It has been around for a long time. It is our responsibility within the deaf community to educate others and give back to the community."
While Beam believes widespread exposure to deaf theater will help the art form grow both locally and nationally, he notes that another goal is to help the Sunshine 2.0 troupe members themselves.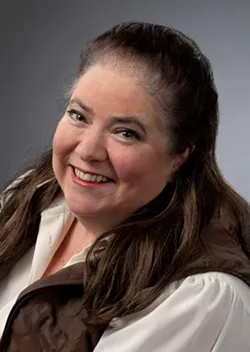 PROVIDED PHOTO
Luane Davis Haggerty
"There are so many talented deaf people not seen in mainstream entertainment and not getting jobs as actors," Beam says. "Sunshine 2.0 is one of the few deaf professional theaters that will open the door for deaf and hard-of-hearing actors who are looking for work."
NPAAC is also working on plans for a summer theater program and more programming by deaf playwrights. While NTID is a collegiate training environment, Haggerty says the faculty raises the bar higher so students can step from the university's Robert F. Panara Theatre straight to Broadway, either in cast or crew roles.
"Simply because of the limited number of opportunities, we need to make sure that the most is made of every (chance) that arrives," she says. "I keep my professional contacts, so when they're looking for deaf performers in New York City, very often I get a call. And I move Heaven and Earth to get the students down there and involved in whatever way possible."
Haggerty has transported whole vanloads of students to NYC for "Law and Order" and an episode of ABC's "What Would You Do Now?" One of her alums, JW Guido, now runs New York Deaf Theatre and often looks to his alma mater for talent. (Zielinski recently traveled to The Public Theatre in New York City to workshop a new deaf and hearing musical project with NYDT.)
"They need to know I believe in them," Haggerty says. "I believe deaf theater will break through, and even though (the students) may only have a tiny flame of belief, if I can fan those flames, it will happen."