What better way to spend a sunny Sunday afternoon than in a Japanese madhouse? That is the setting for "KuruttaIppeji," or "A Page of Madness," a recently discovered silent film from 1926 by the Japanese director Teinosuke Kinugasa. It was presented on September 21 in the Eastman School of Music's Kilbourn Hall with a live percussion accompaniment composed by William Cahn and performed by ensemble including the composer, his wife Ruth Cahn, Eastman professors John Beck and Michael Burritt, and RPO percussionist Brian Stotz.
Part realistic and part hallucinatory, the hour-long film is still a wild, haunting ride; Cahn said beforehand that it takes 10 viewings to fully understand it, and I believe him. The music was extremely effective and beautifully integrated with the film; hearing this huge percussion band positively erupt during two of the film's violent scenes was quite an experience. "A Page of Madness" was only performed once at the Fringe Festival, but check it out if it shows up here again.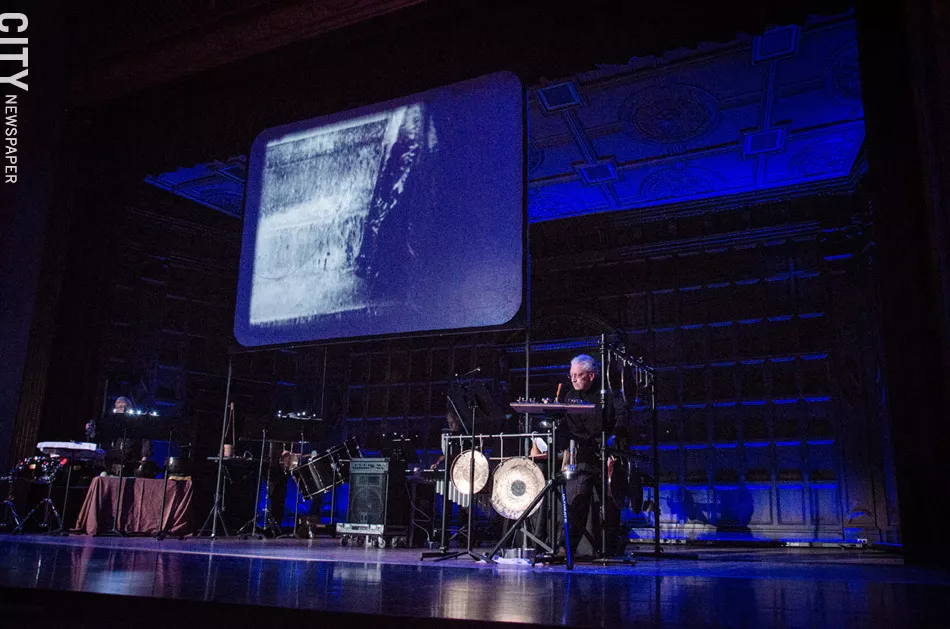 PHOTO BY MARK CHAMBERLIN
"A Page of Madness"
PHOTO BY MARK CHAMBERLIN
"A Page of Madness"
PHOTO BY MARK CHAMBERLIN
"A Page of Madness"
PHOTO BY MARK CHAMBERLIN
"A Page of Madness"
The Fringe Festival is the perfect place for "Coffee With God," a charming and heartfelt one-acter by Kal Wagenheim, directed by Diane Mashia. The main character, Kal (Stephen Cena), does get his chance to have coffee with God (Stephanie Sheak), and ask the deity a few questions about his life and about his parents: a mother (Kate Osher) who died shortly after he was born, and a father (Tom Bigongiari) who was out of the picture before that. There is also a waitress, played by Colleen DiVincenzo. God turns out to be quite approachable, even she occasionally has to Google certain details of people's lives, and helps Kal to find some closure with his parents. The cast is uniformly good, and Cena is particularly great, bringing depth and honest emotion to a character that could easily be a cliché.
"Coffee With God" will be performed again on Tuesday, September 23, at Writers & Books. 9 p.m. $12.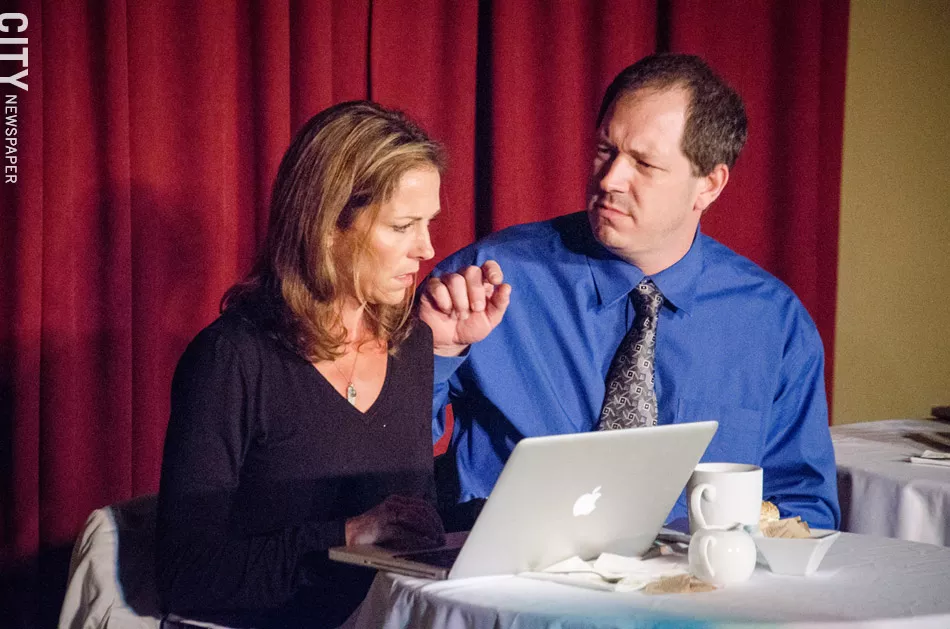 PHOTO BY MARK CHAMBERLIN
"Coffee with God"
Jason Robert Brown's "The Last Five Years" is one of the most-produced recent musicals, and it's not difficult to see why: it's ingenious, extremely musical and emotional, and offers a cast of only two, although the two have roles that most younger singing actors would kill for. The pair play Brown -- here named Jamie -- and his first wife Cathy. In this recent JCC Centerstage production revived for the Fringe Festival, they're played splendidly by Carl Del Buono and Janine Mercandetti. The show is a song cycle about their five-year long marriage, which begins with high hopes but is derailed when Jamie's writing career takes off and Cathy's acting career is permanently stalled. (By the way, he's Jewish and she is, to quote one of the songs, a "shiksa goddess.")
The ingenuity is in the way Brown tells the story: husband and wife alternate, with the husband starting at the beginning and moving to the bitter end, while the wife starts with their divorce and ends at the beginning of their relationship, happy and hopeful. Brown's songs run the gamut from laugh-filled to lacerating, and Del Buono and Mercandetti act and sing the hell out of them. "The Last Five Years" would be even more powerful in a smaller venue than Xerox Auditorium, but it would be a highlight of the Fringe Festival no matter where it was playing.
"The Last Five Years" will be performed again on Saturday, September 27, at The TheatreROCS Stage at Xerox Auditorium. 9 p.m. $16.
Excerpts from "The Last Five Years" at Xerox Auditorium | Video shot & edited by Matt DeTurck