Photographs by Gary Ventura
Sitting in a small green flatbed boat, John Morehouse says he has become pretty good at running construction crews back and forth between the land where materials for the new Troup-Howell Bridge are unloaded and stored and the construction barges floating out on the river.
Navigating the Genesee is trickier than it looks. "Today is pretty calm on the surface," he says, "but this river has a strong undercurrent." And he has to coordinate his travels with the managers of the dam a few hundred yards north. "Just opening one of those panels on their end can change the current in seconds," says Morehouse.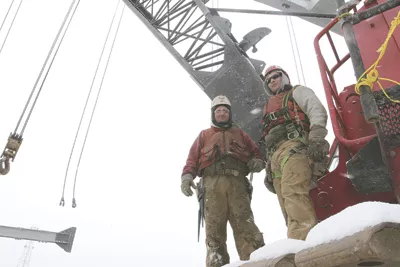 By late last week, the west-side ramp leading up to the bridge was nearly complete. Underneath the ramp is a muddy maze of parts and equipment: mammoth dump trucks and big rigs for hauling, enormous steel girders, cranes that can extend more than 75 feet in the air, Port-a-Johns, hydraulic tools.
The new Troup-Howell is being built in two stages, the south side (which will carry eastbound traffic) first. At this point, says job steward Dan Slike, of Iron Workers Local 33, the old flooring has been removed and hauled away --- all 1,100 tons of it --- and the stage has been set for building a new roadway.
Like San Francisco's Golden Gate, the new Troup-Howell will be a suspension bridge: the roadway will literally be hanging, attached to cables suspended from an arch. Pairs of the suspension cables have been strung through the arch and are waiting to be connected to the girders that will support the new road. The concrete pilings that held up the south side of the old bridge have already been knocked out.
Suspension bridges are among the most graceful, but creating that grace are components of staggering size:
"End" girders, running north and south, that are 40 feet long and weigh 15 tons, 20 on each of the two sections of the bridge.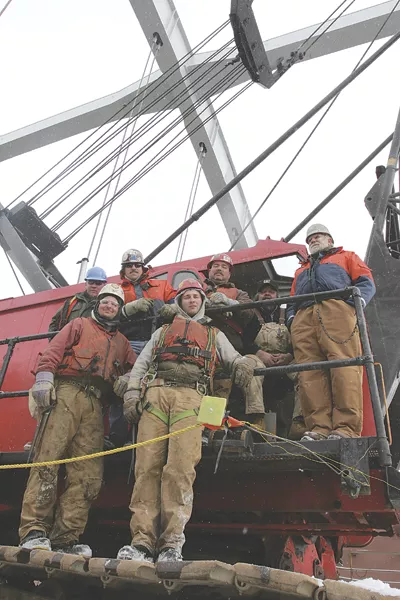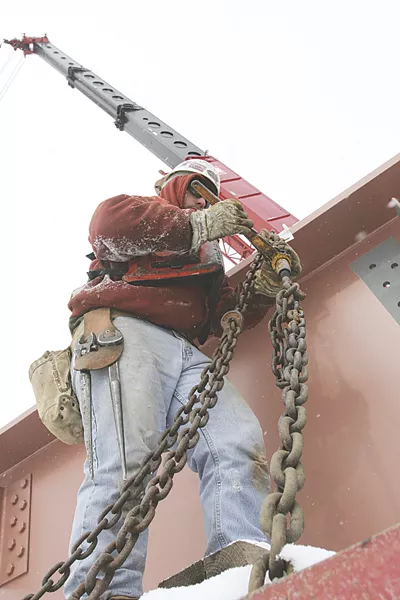 Twenty smaller girders, called "stringers," 20 feet long, that run between the end girders.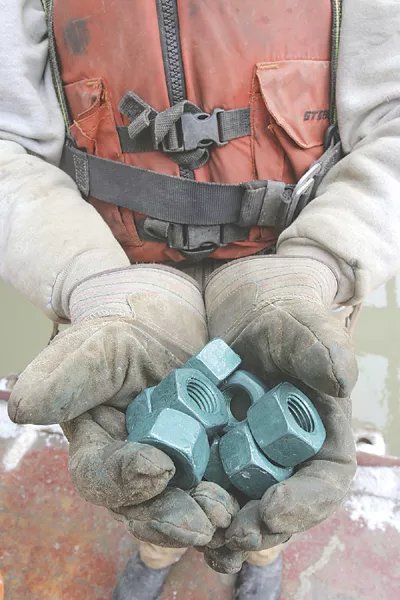 Cables, the longest set --- at the center of the bridge --- 67 feet long, weighing 3,000 pounds.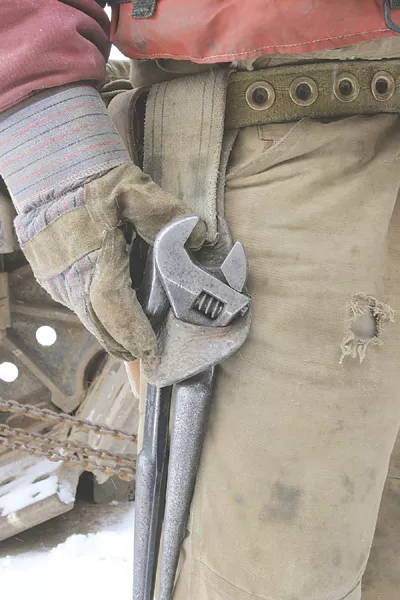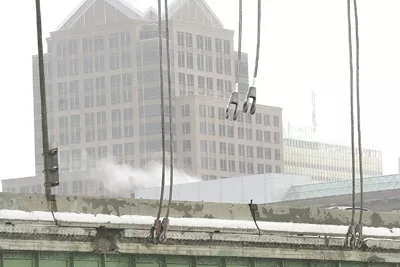 More than 11,609 bolts.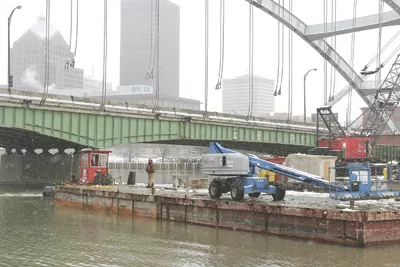 Workers' belts that carry 20 to 35 pounds of tools.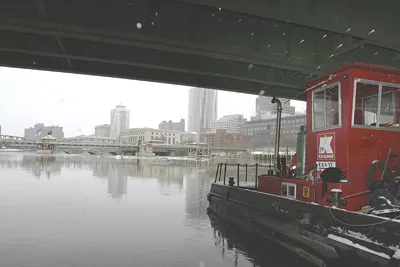 The iron workers, and the bridge, have benefited from this year's mild winter, and project manager Mike Altonberg says the bridge is on schedule to be completed during the fall of this year.