PHOTO COURTESY KEYBANK ROCHESTER FRINGE FESTIVAL
"3D Sound Experience"
"3D Sound Experience in the Immersive Igloo"
I have attended sound baths before, but this experience will take the cake: a psychedelic 40-foot, inflatable igloo is engineered for sound aesthetics in mind. When seated, you will be surrounded by eight speakers that are intentionally placed so that the binaural frequencies create a "Flower of Life" effect, sending vibrations by means of electronic music while the igloo itself visually pleases with ambient, glowing lights. This unique installation is meant to stimulate the senses and calm you. (Various showtimes Thursday, September 14, through Saturday, September 23. Spiegelgarden. $16. Appropriate for ages 13 and over.)
"Carnival of Souls"
Who doesn't love cheesy B-movie thrillers? There is something special about an old, black and white horror film on a big screen, especially one that has heavily influenced directors like David Lynch and the late George Romero. Carnival of Souls is a 1962 cult classic about a woman who, following a tragic car accident, comes across an abandoned carnival in Utah. The film itself was originally scored by Gene Moore, but musician Adam Sterr will perform his own take on the score. (Friday, September 15, 9:30 p.m.; and Sunday, September 17, 7 p.m. School of the Arts: Allen Main Stage. $10. Appropriate for ages 13 and over.)
Big Mean Sound Machine
I've seen this band more times than I could count, and the experience is always something to look forward to. Big Mean Sound Machine is tangible proof that music can fully stimulate the body. This nine-piece group brings together musical traditions and influences from across the globe, including Latin, African, and Caribbean sounds, mixed in with North American funk. They're telling stories without actually singing. The soundscapes are pieced together organically with horn and rhythmic section solos, and it will all make you move and groove into a sweat-induced euphoria. (Saturday, September 16, 9:20 p.m. Parcel 5. Free. All ages.)
Castle Creek
Castle Creek's powerhouse frontwoman Kim Monroe can effortlessly swim through blues, folk, and rock in every song — with a special blend of rich, intimate vocals and soulful guitar riffs. With an ever-evolving rotation of musicians, she has proved she can perform just as well as an acoustic duo as she can in a full, six-piece band. (Sunday, September 17, 5 p.m. School of the Arts: Allen Main Stage Theatre. $5. All ages.)
Discover India
The longest running Indian theater troupe — consisting of artists from 11 different countries — will celebrate the extraordinarily vibrant culture and history of India through classical dances, traditional garb, and music as well as storytelling and food tastings. The troupe's theme for this year is Nari Shakti (Women Power), in hopes to promote the contributions women have made in Indian society. (Friday, September 22, 5:30 p.m. School of the Arts: Allen Main Stage. $5. All ages.)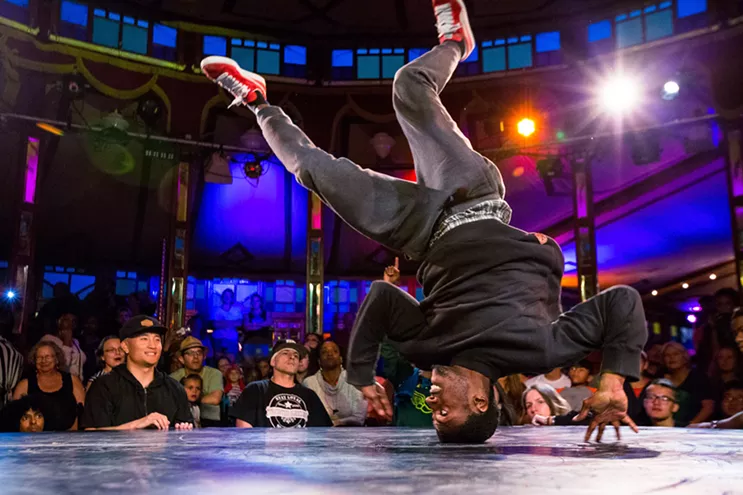 PHOTO BY JOHN SCHLIA; COURTESY KEYBANK ROCHESTER FRINGE FESTIVAL
Fringe Street Beat.
Fringe Street Beat
Don't miss the B-Boy party that will take over Gibbs Street on the second Saturday. Now in its second year, Fringe Street Beat packed out the spiegeltent in 2016 when the competition's original location was rained out. Expect to see some fresh all-style break dancing as 3-on-3 teams battle for the "Fringe Street Beat Championship" — which comes with bragging rights and a $1,500 cash prize. DJ Fleg will provide the hip-hop beats. Preliminaries start at 12 p.m., and you can stick around for the finals at 3 p.m. Competitors can register by emailing info@rochesterfringe.com. (Saturday, September 23, 12 p.m. to 6 p.m. Gibbs Street. Free for spectators; $5 for competitors. All ages.)
Mosaic Foundation
Rochester roots-reggae band Mosaic Foundation inspires positivity by singing songs of praise, love, kindness, and gratitude — it's music that feeds the mind, body, and soul. Lead vocalist "Cha Cha" Foli Yao Augustine was born in Ghana and shows the audience his most authentic self with powerful dance moves and emotional lyrics. He's backed by a diverse group of musicians that match his shine with high energy and smiles all around. (Saturday, September 23, 7 p.m. Gibbs Street Main Stage. Free. All ages.)