Finding time to get the right gifts, decorate your house and spend time with family can be difficult in our fast-paced world. So this holiday season, spare yourself the stress and do all three at once – DIY!
Crafts can make thoughtful gifts, be used as decorations, and be the perfect way to spend time with your family without trying to drag screaming kids through the mall. Below are some suggestions of what to make, events that encourage crafty creativity, and resources to find all the supplies you'll need to stuff in your stocking.
It doesn't take long after Thanksgiving (hell, sometimes it's before Thanksgiving) for Christmas decorations to pop up. Along with them come signs for Christmas trees. And yeah, you can hang standard tinsel and round, red ornaments on the tree. But the decorations I still cherish are ones I made as a kid: Popsicle stick stars and snowflakes; clothespin angels; and felt, handprint mittens shellacked with glitter glue. The Monroe County Library system is encouraging artists young and old to make ornaments for its annual display and scavenger hunt. You can use any materials you like, as long as the ornament is 18 to 36 inches wide, 48 inches tall, and it weighs less than five pounds (they are going to be hanging up after all). Families can work together on a project on Monday, November 19 and Monday, November 26 from 10am-6pm at the Central Library of Rochester and Monroe County (115 South Avenue). Visit roccitylibrary.org for more information.
Try using Popsicle sticks, glue and craft paper to have your kids fashion their own menorah or kinara for Hanukkah and Kwanzaa, respectively. Cut up paper plates or coffee filters to make snowflakes. Maybe this year, skip the fancy, glossy-picture holiday card you can print and order online. Instead, keep the kiddos occupied for hours by having them create their own one-of-a-kind holiday cards to send to friends and family.
When you do need supplies, consider checking out some of the local art shops in town instead of the big box stores. They often have more unique finds, and usually have someone on hand who can offer advice. In some cases, someone may even teach you how to make something. As the name would suggest, Neighborhood of the Arts is a hotbed for crafters and art supplies. Studio 34 Creative Arts Learning Center (34 Elton Street), for example, allows artists to buy supplies and take classes in the same space; possible artistic mediums include everything from glasswork to pottery to photography. The Purple Painted Lady in Village Gate (274 North Goodman Street) sells more finished products than supplies, but they also offer painting classes. There are also store locations in Macedon and in Greece. Not far from NOTA, in the South Wedge, Little Button Craft (658 South Avenue) is a gallery that features work by local artists, who sometimes offer classes in their given field. Learn to sew a doll or paint a masterpiece with your family in tow!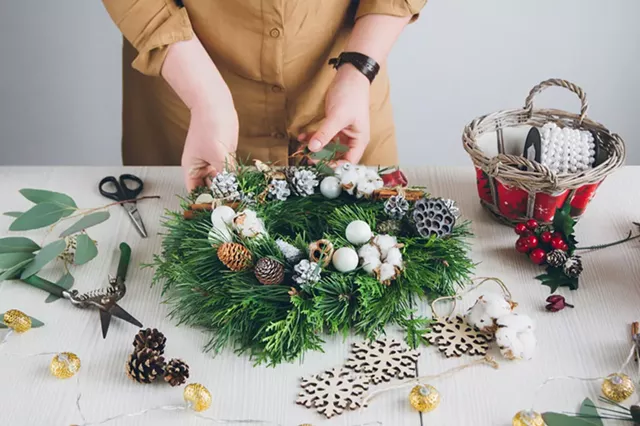 Out in Fairport, Craft Bits & Pieces (138 Fairport Village Landing) sells exactly that, and more. The craft supply and home décor retail shop also provides good holiday cheer. Sales there benefit the Fairport/Perinton Senior Living Council. Bead Breakout (2314 Monroe Avenue), as its name suggests, is focused on beadwork and jewelry-making. You don't have to spend a fortune for jewelry when you can make something extra special for mom, grandma or your wife.
If you're looking for a daytrip with educational crafting, try Crafts at Christmas at the Genesee Village Country & Museum (1410 Flint Hill Road, Mumford) on Saturday, November 17 from 10 a.m. to 4 p.m. The staff there will teach you how to make five traditional crafts from 19th-century American history. They'll also show you how people from that time period made everyday items, like soap and sausage. It's $10 admission for adults, but kids 17 and under are free. Visit gvc.org for more information.
For something a bit different, consider baking as a family craft. Dig out some old family recipes for cookies, pies, hot cocoa, latkes, and other delicious holiday treats and test them out. Or if you're not the baking type, check out Holidays at the Market (Rochester Public Market, 280 North Union Street) on Sundays, November 25 and December 2, 9 and 16 from 9 a.m. to 3 p.m. In addition to checking out local crafters' wares (a great place to snag a unique holiday gift), you can decorate – and eat – holiday cookies (while supplies last!).