Hanane Mouhib has been charged with second-degree murder in the death of her 7-year-old son, but county officials said this morning that Child Protective Services staff had never received any reports about Mouhib acting violently toward her children.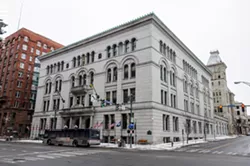 FILE PHOTO
Monroe County officials will review Child Protective Services' involvement with the family of Abraham Cardenas.
At a press conference this morning, that's about the only direct clarification county officials were able to give about whether CPS had any contact with Mouhib. Strict state confidentiality laws prevent the county from releasing pretty much all other details, they said.
Mouhib is accused of
brutally killing her son
, Abraham Cardenas, in their Sweden home Thursday night. Media reports said Mouhib had called 911 twice in March after she apparently recognized she was having mental health problems; one call resulted in a three-week stay at Rochester General Hospital.
During this morning's press conference, County Executive Cheryl Dinolfo announced that she's asked CPS commissioner Corinda Crossdale to conduct an initial review of the county's involvement with the family. Dinolfo said that review has been completed.
She also announced that Crossdale, Deputy County Executive Tom VanStrydonck, and Bivona Child Advocacy Center founding executive director Mary Whittier will conduct a comprehensive review of the matter. Whittier, a former CPS caseworker, is being brought on as a county employee for the review.
One focus of the review will be the county's Family Assessment Response diversion program. FAR has been used in cases that met certain criteria, particularly a lack of violence or abuse. The program will be suspended pending the review.
The county and the state had been having conversations about the program before Abraham's death. County officials couldn't clarify the link, if any, between FAR and his death; they again cited state privacy laws.
Dinolfo previously implemented an eight-point plan to bolster CPS, including the addition of caseworker positions. That initiative followed the death of 3-year-old Brook Stagles from abuse-related injuries. The county received and investigated two reports about maltreatment of the girl, one relating to her biological father, the other relating to her biological mother. But it found nothing that would have triggered CPS intervention.
Brook's father, Michael Stagles, ultimately pleaded guilty to criminally negligent homicide and his girlfriend at the time, Erica Bell, was convicted of second-degree murder and first-degree manslaughter. Bell beat Brook, but both adults failed to get medical care for the girl and prevented others getting medical treatment for her, according to media coverage of the proceedings.