[ UPDATED ] Rochester City Council voted this afternoon to ask the state to "establish financial control" over the Rochester City School District and stabilize the finances.
Council voted 8-0 in favor of a resolution introduced by Mayor Lovely Warren and Council President Loretta Scott. Councilmember LaShay Harris abstained because she works for the district.
The resolution doesn't ask for the financial control to take any specific form, but the mayor has previously pursued a five-year state takeover of the district coupled with temporary elimination of the locally elected school board. A state fiscal control board for the district could be another possibility.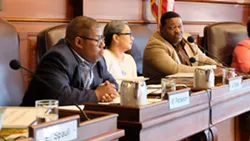 FILE PHOTO
City Council members (from left) Mike Patterson, Jackie Ortiz, and Willie Lightfoot during the June vote authorizing a referendum on the RCSD. Court rulings blocked the referendum.
In remarks before the vote, council members expressed concern about the effect the district's problems may have on the city's budget. Both Councilmember Malik Evans, who is a former Rochester school board president, and Councilmember Mike Patterson said the community lacks confidence in the district. Council has to take action, Evans said, to help restore that confidence.
Superintendent Terry Dade said last week that the district overspent its 2018-19 budget by roughly $30 million. The district learned of the overspending through its external auditors' year-end review. Officials say they still don't know exactly how the overspending happened and why they didn't know about it earlier.
The state Comptroller's Office has said it will audit the district in October.
Moody's credit rating agency is also reviewing the city's bond credit rating as a result of the RCSD shortfall. The city is responsible for the district's finances, and is mandated to contribute $119 million annually to the district's $1 billion budget.
"The Rochester City School District is in a state of severe fiscal crisis, caused by its history of chronic mismanagement and habitual overspending that cannot be resolved absent assistance from the State," the memo from Warren and Scott said. "Without immediate financial and budgetary control from the state, the district will likely continue to take action to jeopardize its own long-term fiscal health, and has already threatened the fiscal well-being of the city, which could lead to negative consequences for city taxpayers."
Mary Anna Towler contributed to this article.
See related PDF