The 2017-18 arts season will feature group shows and exhibits that span multiple venues
Each summer, I break out my crystal ball (gallery contact list) and gaze into the near future of Rochester's art scene. Many of the 2017-18 shows and events that caught my eye during this year's ball-gazing have a common denominator: collaboration. This arts season you'll find group shows, exhibits shown across many venues, and cooperation between curators and different institutions. That isn't to say there aren't some bomb-ass solo shows coming up, too — there totally are.
Looking at a cross-section of large and small operations in town, I've sorted out a preview of some of the intriguing shows and arts events that Rochester's museums and galleries will present this fall through early 2018.
Some exhibition details will become more defined as show time draws near, and other information may change, so check with the specific galleries as time moves forward. And this is only a sampling of what's to come, so look for more scheduled shows on individual websites, and check out CITY Newspaper on stands every Wednesday or keep up with our searchable online calendar.
From September 15 to December 21, Flower City Arts Center (713 Monroe Avenue) will present "From the Seeds of Cucumber Alley: Celebrating 40 Years of Photography." Flower City's photography division has greatly evolved since 1977 when Anne Beach founded the program as the Cucumber Alley School of Printing. The exhibit will present archival materials, a documentary video screening, and a display of photographs by volunteers, artists-in-residence, and staff. It will also include a special sales gallery of photographic prints by Lou Ouzer, Goldee Hecht-Meyer, Dan Neuberger, and others, with 100 percent of the proceeds benefiting the center's 40x40 fundraiser. An opening reception will be held Friday, September 15, from 6 p.m. to 9 p.m. Admission is free. For specific gallery hours and more information, call 244-1730 or visit rochesterarts.org.
The Rochester Biennial, a showcase of regional art typically held every other year at the Memorial Art Gallery, is undergoing some changes moving forward. The New Rochester Biennial will be a collaboration between Rochester's mid-sized venues, states a press release from Rochester Contemporary Art Center. The aim of the program is to expand dialogue surrounding contemporary art and to instigate new curatorial models. Rochester Contemporary, Visual Studies Workshop, and Gallery r will each host curated exhibitions through October and November that investigate collaboration, influence, and partnership.
Gallery r (100 College Avenue) will present an exhibition of works by RIT alums Bethany Krull and Jesse Walp, who create meditations on nature and natural environments using ceramics, wood, and installation. Runs October 6 through October 28. Thursday through Sunday, 1 p.m. to 5 p.m. Free. 256-3312; galleryr.rit.edu.
Visual Studies Workshop (31 Prince Street), from October 6 to November 18, will host "Implement," the latest participatory art project initiated by Bridget Elmer and Emily Larned, co-founders of Impractical Labor in Service of the Speculative Arts. Tuesday through Friday, 12 p.m. to 5 p.m.; Saturday, 10 a.m. to 4 p.m. Free. 442-8676; vsw.org.
Rochester Contemporary Art Center (137 East Avenue) will present "Witness," which features paintings and drawings by Paul Dodd and the late Leo Dodd, spotlighting their mutual interest in documenting life in Rochester. October 6 through November 12. Admission is $2; free to members. Wednesday through Sunday, 12 p.m. to 5 p.m.; Friday until 9 p.m. 461-2222; rochestercontemporary.org.
A series of opening receptions will take place at the three spaces on Friday, October 6, with a traveling Place Making Processional beginning at 6 p.m. at Gallery r, departing to VSW at 6:45 p.m., and heading over to RoCo at 8 p.m. A series of Progressive Artist Talks will be held on Saturday, October 7, at RoCo (12 p.m. to 1:30 p.m.), VSW (2 p.m. to 3:30 p.m.), and Gallery r (4 p.m. to 5:30 p.m.).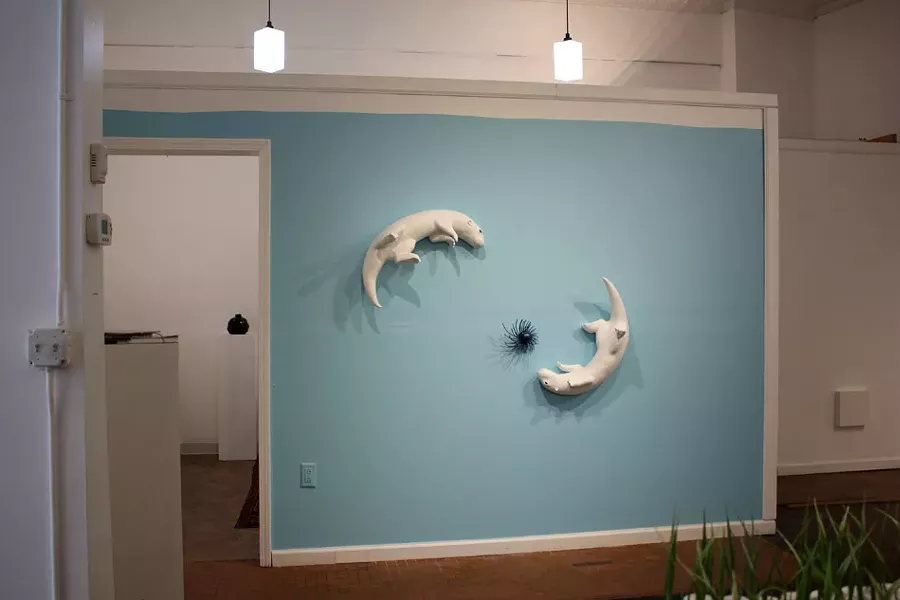 Photo Provided
Sculptural installation by Bethany Krull and Jesse Walp.
Rochester-based artists and curators Karen Sardisco and Colleen Buzzard are co-presenting an ambitious exhibition, "Points of Departure; Meditations on Mapping," which will showcase the work of dozens of regional, national, and international artists and thinkers. The connective tissue between all of the pieces is the way that various disciplines — including art, science, and music — utilize mapping as a tool of inquiry and communication. Presented works will be loaned by individual artists, collections, and institutions, and include flip-flops imprinted with a map of Old Havana by Cuban artists Los Carpinteros, Kyle Butler's map of dead-end streets in Buffalo, and star maps from the Strasenburgh Planetarium.
The anchor exhibit is currently up at the Mercer Gallery (Monroe Community College, 1000 East Henrietta Road) through September 30, and portions of the enormous show will be presented at six satellite art spaces throughout the fall: RIT's Sunken Gallery (Wallace Center Library, 90 Lomb Memorial Drive) through September 30; at the Art and Music Library, the Art and Music Library Gallery, and Department of Rare Books and Special Collections (Rush Rhees Library, University of Rochester) through October 15; at the Lab Space (Rochester Contemporary Art Center, 137 East Avenue) from October 6 through November 12; and at Visual Studies Workshop (31 Prince Street) from October 24 through November 11. Gallery hours and admission fees vary. A reception will be held at each location; for more information, visit the satellite galleries' sites or contact the curators at ksardisco@monroecc.edu or buzzardcolleen@gmail.com.
The Memorial Art Gallery (500 University Avenue) will continue its Media Arts Watch series with Bill Viola's "Martyrs (Earth, Air, Fire, Water)," on view October 11 through mid-July 2018. The color video installation will consist of four, tall, flat-screen monitors, each featuring a single figure who, in synchronized time with the others, endures one of the four elements.
In a provided statement, Viola shared the inspiration for the work, which is rooted in historical and religious iconography: "The Greek word for martyr originally meant 'witness.' In today's world, the mass media turns us all into witnesses to the suffering of others. The martyrs' past lives of action can help illuminate our modern lives of inaction. They also exemplify the human capacity to bear pain, hardship, and even death in order to remain faithful to their values, beliefs, and principles. This piece represents ideas of action, fortitude, perseverance, endurance, and sacrifice."
MAG's hours are Wednesday to Sunday, 11 a.m. to 5 p.m.; and Thursday, 11 a.m. to 9 p.m. Admission is $6-$16, except Thursday nights, when it's half-price. Children under the age of five, members, and University of Rochester students get in for free. For more information, call 276-8900 or visit mag.rochester.edu.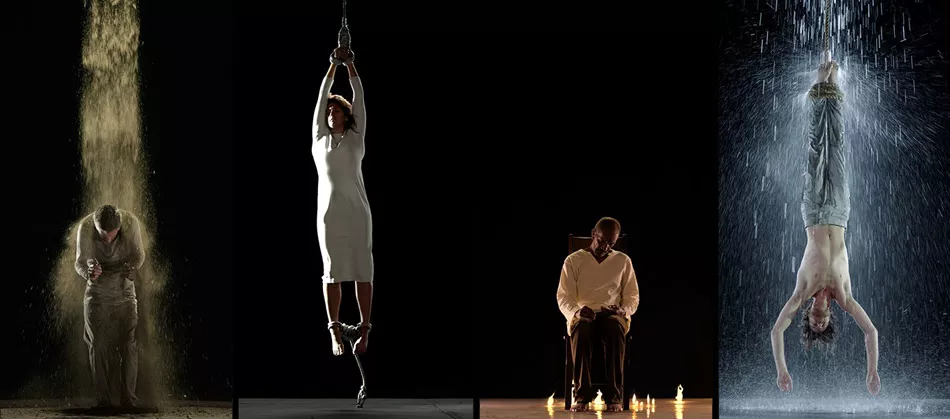 Photo Provided
Still from Bill Viola's "Martyrs (Earth, Air, Fire, Water)."
From September 28 through October 28, More Fire Glass Studio (36 Field Street) will present "Sarah Gilbert: Signs and Signifiers." Gilbert constructs narratives through the process of cameo engraving — a practice, dating back to ancient Roman times, that entails creating designs by etching and carving through fused layers of differently colored glass. Gilbert's work meditates on human questions about navigating our world without getting lost or distracted, and thematically it references survival tools developed from both human and animal ingenuity.
An opening reception will be held Thursday, September 28, from 5 p.m. to 9 p.m., and is part of the First Friday lineup for October 6, from 5 p.m. to 9 p.m. as well. More Fire is open Wednesday through Saturday, 9 a.m. to 4 p.m. and by appointment. For more info, call 242-0450 or visit morefireglass.com.
Visual Studies Workshop (31 Prince Street), from October 9 to November 4, is presenting "Political Prints" by Rochester-based graphic designer, illustrator, and printmaker Adam Maida, whose on-point editorial illustrations have been featured in The New Yorker, The New York Times, The Intercept, Mother Jones, and The Nation. Maida has also designed covers and packaging for Criterion Collection releases and promotional posters for films, theaters, and cultural and academic events. His personal work reflects an interest in issues of political, social, and economic justice in the US and abroad.
During his month-long residency at VSW's Project Space, Maida will use the collections and facilities to construct a new series of work. Opportunities to interact with Maida and his work will be announced. VSW is open Tuesday through Friday, 10 a.m. to 4 p.m. Admission is free. For more information, call 442-8676 or go to vsw.org.
Photo Provided
An image from photographer Nandita Raman's "Cinema Play House" series.
Rochester artists Matt Roberts, John Perry, Bile, John Magnus Champlin, and Nick Brandreth will take over Makers Gallery and Studio (34 Elton Street, floor 3) on Saturday, October 21, with "Unadulterated Overkill," a group show that will transform the space. The contributors promise shenanigans of an undisclosed sort. Given the time of year and the style of the participating artists, you can probably expect some level of grotesque monstrousness to be at play. The opening night party (check back with the gallery for hours) will include a sale of art and shirts designed by each artist, food, booze, and random prizes for those in attendance.
The show will remain on view for about a week, but stay tuned for more info: Alex Gruttadaro of Makers and the artists are throwing a wild Halloween shindig on October 28 with food trucks, door prizes, spirit tastings, and more. Regular gallery hours are Friday and Saturday, 10 a.m. to 6 p.m. (until 8 p.m. on First Fridays and Second Saturdays), or by appointment. Admission is free. For more information, call 507-3569 or visit makersgalleryandstudio.com.
The University Gallery on October 27 will host the second annual Beaux Arts Ball, for which all first year RIT Design, Art, and Crafts students — as well as some elements of the Photo schools — create functional costumes using only paper and sheet material, their designs based on art history research. The event has a history dating at least to the 1950's; RIT lecturer Graham Carson revived the ball in 2016 after years of dormancy.
The students will parade the gallery wearing their own creations, some of which will later be on display at the Beaux Arts Ball Exhibition at Bevier Gallery (James E. Booth Hall 7A, 73 Lomb Memorial Drive), from November 17 through January 6, 2018. For more details about the event and exhibition as the dates approach, call 475-2646 or visit cias.rit.edu/bevier-gallery.
What's happening at the museums?
The George Eastman Museum (900 East Avenue) scored big when in late-2015 it acquired the world's largest collection of contemporary Indian cinema, found in an abandoned warehouse in California. The museum stepped up to save and preserve the more than 700 Bollywood, Malayalam, Punjabi, Tamil, and Telugu films — as well as 6,000 film posters. From November 11 through May 13, 2018, Eastman Museum will present "Stories of Indian Cinema" in two exhibitions: "Abandoned and Rescued," a selection of posters and film screenings from the recent acquisitions, and "Cinema Play House," a series by photographer Nandita Raman that spotlights India's single-screen cinemas that have been threatened by encroaching multiplex theaters.
George Eastman Museum is open Tuesday through Saturday, 10 a.m. to 5 p.m., and Sunday, 11 a.m. to 5 p.m. Admission is $5-$15, and free to members and children ages 4 and younger. For more information, call 271-3361, or visit eastman.org.
It's a well-established fact that The Strong National Museum of Play is not just for kids — besides being an immersive world of toys and games that anyone can appreciate, its extensive collection of nostalgic playthings provides wistful reminiscence. So I'd be willing to bet cash money that The Strong's upcoming Teenage Mutant Ninja Turtles exhibit is going to draw some heavy and enthusiastic visitation from members of my generation.
Billed as the first-ever museum exhibit featuring the heroes in a half shell, "Teenage Mutant Ninja Turtles: Secrets of the Sewer" opens at the museum (1 Manhattan Square) on Saturday, September 16, and continues through January 1, 2018. Set in the masked dudes' underground hideout, the interactive exhibit features puzzles, mazes, and obstacles, a "dojo" with a virtual weapons game, and trivia. And visitors can meet Michelangelo and Raphael during the opening weekend on Saturday, September 16, from 11 a.m. to 4 p.m., and Sunday, September 17, from 1 p.m. to 4 p.m.
Admission to The Strong is $14.50 for ages 2 and up, free to members and babies. The museum's hours are Monday through Thursday, 10 a.m. to 5 p.m.; Friday and Saturday, 10 a.m. to 8 p.m.; and Sunday, noon to 5 p.m. 263-2700; museumofplay.org.
For as long as I could remember, Rochester Museum and Science Center's fascinating "Rochester in 1838" diorama was in a state of sad disrepair. The sky was falling — literally, in the form of peeling paint hanging over miniature, boomtown Rochester. The expansive wintery scene centers on the Erie Canal, and depicts a stretch of downtown from Main Street to Spring Street and South Avenue to Plymouth Avenue. The diorama originally served as Sibley's window display at its Main and Clinton store and came to the museum in 1946, becoming a teaching tool and great glimpse at our past.
After a months-long restoration and reinterpretation project, RMSC will present the reconstructed diorama in an exhibition grand reopening on Thursday, September 28, from 5:30 p.m. to 8 p.m., with an Erie Canal Bicentennial Concert performed by the Brockport Symphony Orchestra at 7:30 p.m. in the museum's Eisenhart Auditorium (657 East Avenue). The event is open to the public and free to attend. 697-1942; rmsc.org.