UPDATE: The City Planning Commission announced Tuesday, following a meeting that ran until 11:45 p.m., that it would postpone its decision until Thursday, January 11. A deliberation meeting is planned for 5 p.m. Thursday at City Hall.
At its January 8 meeting, the City Planning Commission will consider one of the most controversial development proposals it's dealt with recently: Rochester Management's proposal to demolish the buildings at Cobbs Hill Village – a senior housing complex inside Cobbs Hill Park – and replace it with new, more modern buildings for seniors.
Rochester Management says the development, which it has been trying to get under way for more than a year, would help address a serious shortage of affordable housing for people over 55. But a large group of opponents has been fighting it.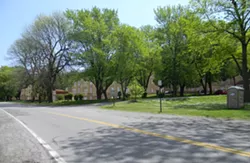 ARTWORK PROVIDED
Architect's rendering of a proposed new Cobbs Hill Village building on Norris Drive in southeast Rochester.
Cobbs Hill Village currently consists of 60 apartments in six one-story buildings on Norris Drive. Rochester Management wants to replace them with 98 units in five two and three-story buildings on the same parcel of land.
The current apartments were built in 1956 on land carved out of Cobbs Hill Park. Rochester Management says the units are outdated and can't be sufficiently upgraded. The new buildings would include larger kitchens, better appliances, better laundry facilities, a fitness room, a computer lab, an indoor community space, and improved heating and air-conditioning.
The site itself is no longer parkland, but its surroundings are, and the critics argue that that the proposed development is incompatible with the adjacent park. They also argue that the current units can be updated without being replaced and that in the new project, rental rates will be higher, and fewer apartments will be affordable for the lowest-income seniors.
As opposition mounted, Rochester Management officials met with critics and revised its plans somewhat, which they say added $2.5 million to construction costs and delayed the start of work by a year. But opposition has continued.
The city's planning and zoning staff have been reviewing the application since July – and well over a thousand letters and petition signatures from supporters and opponents.
Support has come from officials at the Urban League, Action for a Better Community, Catholic Charities Community Services, ARC of Monroe, Ibero American Action League, PathStone, and Lifespan, and from some Cobbs Hill Village residents.
Opponents include the Cobbs Hill Village tenants' association, neighborhood associations from around the city, the Elder Justice Committee of Metro Justice, and two environmental groups.
Prior to the January 8 meeting, city staff will meet with Planning Commission members to discuss the staff's review – and to advise them on what they can consider when they vote.
The land is already zoned R-3 – high-density residential – so the increased density and building height don't require approval. But Rochester Management's use of the land isn't permanent. It's supposed to end in 2041, and then the land is supposed to go back to the city. Rochester Management can own and operate the apartments until then, but the city's Planning Commission has to approve any changes to the current buildings.
The city's law department is advising commission members that they can consider issues such as whether the project will "dominate the immediate vicinity" or would have an adverse impact on the character of the area.
If the Planning Commission votes against the project on January 8, that'll be the end for the proposal. But if the commission gives its OK, both City Council and the mayor will also have to agree. The reason: to build the new units, Rochester Management wants to refinance the mortgage, and that requires city government's approval. And both the mayor and City Council have a broad latitude in what they'll consider, the city's attorneys say.
The Planning Commission's January 8 meeting, which will include a public hearing on the Cobbs Hill Village proposal and other agenda items, will be at 6:30 p.m. in City Council Chambers.
This post has been updated to match the version that appears in the January 3 print edition.