Finger Lakes Chamber Music Festival
10th Anniversary Grand Finale w/Manhattan Chamber Orchestra
Saturday, August 4
PennYanAcademy, 1 School Drive, Penn Yan
7:30 p.m. | $20 (students free) | 315-536-0383, FingerLakes-Music.org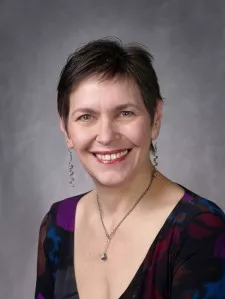 WXXI's Julia Figueras will read Edith Sitwell's poetry as part of "Façade," the author's collaboration with composer William Walton, performed Sunday in the final concert of the 2012 Finger Lakes Chamber Music Festival. PHOTO PROVIDED
"It's their 10th anniversary, and Richard decided that we're going to cut loose," says Julia Figueras about her upcoming performance with the Finger Lakes Chamber Music Festival. The music director and mid-day host at WXXI will be part of the grand finale concert of the festival's 2012 season, which will feature the Manhattan Chamber Orchestra under the baton of festival artistic director Richard Auldon Clark. The program will include Stravinsky's "A Soldier's Tale" and William Walton's "Façade" with poetry of Edith Sitwell, ready by Figueras.
Figueras says that, 20 years ago, she probably wouldn't have liked the Walton/Sitwell piece because it was "too cacophonous." After "threatening to do it for a while," Figueras says, Clark told her it was time. So Figueras went to her father's house and, brought up the LP, and listened to the work again. This time, she was absolutely hooked.
"'Façade' is a pretty riotous piece," says Figueras. "It's verbal tintinnabulation. The words match the sound of the music."
"Façade" is a work for musicians with poetic verse. The music was composed by Sir William Walton (1902-1983) and the poetry by Edith Sitwell (1887-1964). Both Britons, Walton found himself at the home of Sitwell toward the end of his studies at Oxford, and "Façade" was their first collaboration. Figueras says that Sitwell came from a very well-educated family, and that her house was a center for the arts and artists. Sitwell reflected the times, particularly in England, between world wars, and that she was known not only for her poetry, but also for her exotic costumes.
"Façade" debuted in 1923, with Walton at the podium and Sitwell projecting the verse through a Sengerphone (megaphone) poked through a hole in the curtain that was painted to depict a face. According to Figueras, "the public was a little baffled by it."
"It's a crazy piece," says Figueras. "I actually own one of the old-fashioned megaphones and I'm threatening to bring it."
As to whether Figueras will bring a modern relevance to the piece, she was clear in her philosophical approach. "I try not to bring a modern relevance to a piece. I think great art has a relevance of its own," she says. "It was a piece of music that was written at a particular period of time, and it is what it is."
Figueras describes the piece as a vocal challenge, but she revels in delivering the spoken word with live music. Her performance credits include the Rochester Philharmonic Youth Symphony Orchestra, the Penfield Symphony Orchestra, Ad Hoc, and the Canandaigua LakeMusic Festival.
Indeed, Figueras' voice is her instrument, and she is widely known for her work as a host on WXXI's classical radio station at 91.5 FM. She has interviewed Clark for the station and featured the Manhattan Chamber Orchestra on the show "Back Stage Pass."
"It's extraordinary to be sitting in that place where all the energy meets," says Figueras of being a part of a live orchestral performance. "There's a place where the energy of the orchestra is coming to my back and the energy of the audience is coming to my face. Somewhere in the midst of that is this rarified space."
For Figueras, reading for "Façade" is "a real treat. It's on my bucket list of things I'd like to do with an orchestra. It's not going to come around often, so it's a real treat also for the audience to have it performed by professional musicians."
Clark founded the Finger Lakes Chamber Music Festival 10 years ago, and performances principally include the Manhattan Chamber Orchestra, which he founded in 1987. The Manhattan Chamber Orchestra has performed at all the premier New York City venues, including Carnegie Hall, LincolnCenter, Alice Tully Hall, Symphony Space, and even the United Nations. Clark's connection to the Upstate New York region stems from his upbringing in Apalachin (west of Binghamton).
The festival is a series of concerts held throughout the Penn Yan region over a period of weeks. This year's festival concerts took place at the Glenn H. Curtiss Aviation Museum (Hammondsport), Hunt Country Vineyards (Branchport), the lawn of a historic county courthouse (Penn Yan), the Norton Chapel (Keuka College, Keuka Park), and Penn Yan Academy.
Figueras applauds Clark for his programming, which includes a core repertoire that is largely of American composers, as well as "non-core repertoire."
"Music is a living, breathing thing that has to move forward," says Figueras. "Sometimes that means playing new music. Sometimes that means playing music that is not new, but which remains novel. An audience is far more willing to go further with you than is thought, especially in a live setting, as opposed to a radio setting. [Clark] does a really nice job of performing interesting repertoire in lovely venues with a mix of artistic greatness."