We talked to dog owners and their masters soaking up the sun, and it was impossible to say which was which.

Photos by Lauren Petracca. Interviews by Jeremy Moule.
AARON BLUMKIN, 42

BRIGHTON, DATA SCIENTIST
SCOUT, 2, & LOLA, 3
LABRADOODLES
What do you three have in common?
"My coloring is very similar to Lola's (the brown one) and all three of us like lounging on the couch, that's a fun activity, and hiking. They're big hikers, which is fun."
ALEEZA ZOCCHI, 27
ROCHESTER, MENTAL HEALTH COUNSELOR
OLLIE, 2
AUSTRALIAN SHEPHERD
You've had Ollie for four months, what's your experience been?
"We bonded very quickly and now we both have separation anxiety from each other."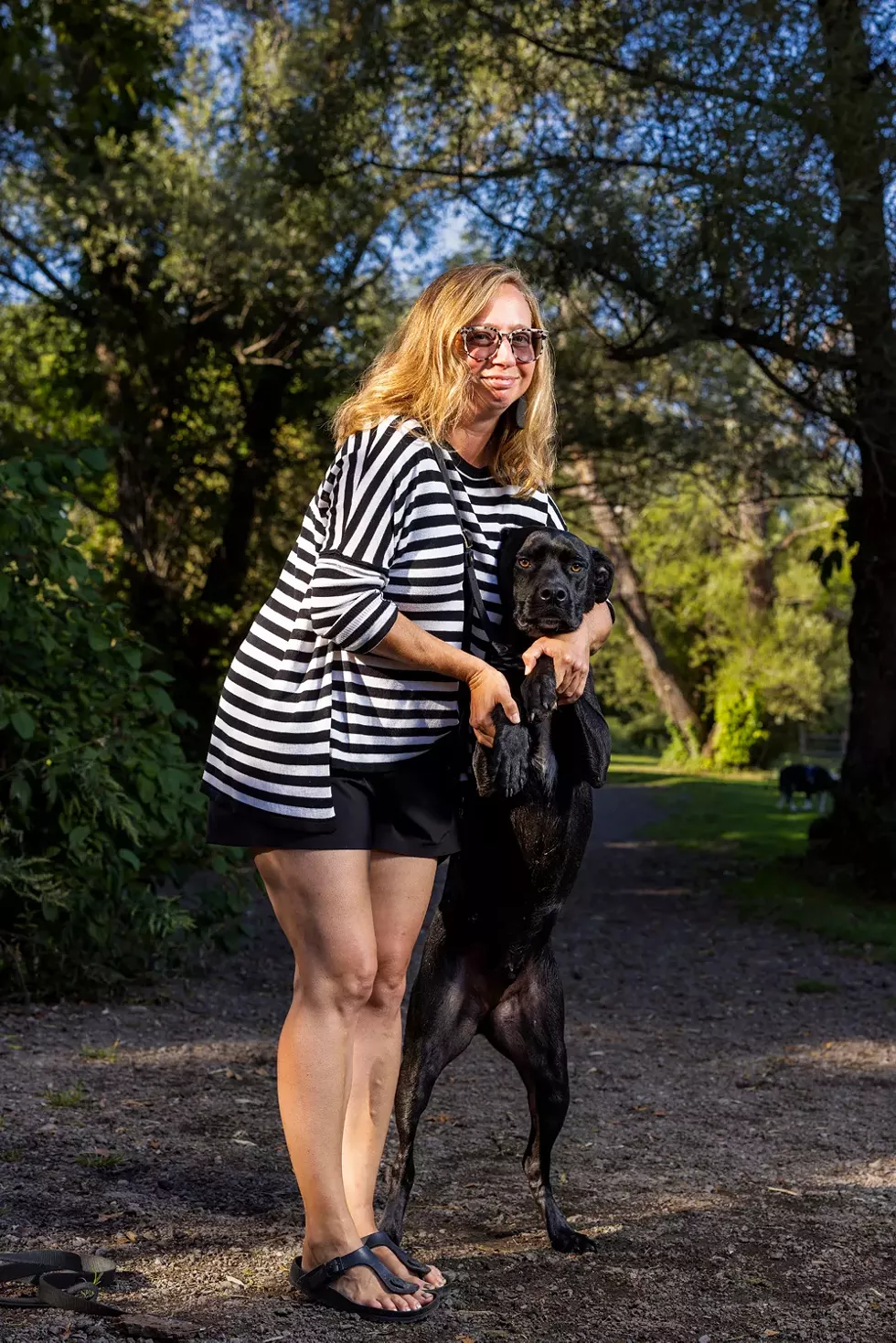 CRISSY WELZEN, 45
ROCHESTER, GRAPHIC DESIGNER
WALDO, 2
MIXED BREED
Do you have any traits in common with Waldo?
"Just our style — black and white. And he's usually in a pretty good mood, so I'd like to think we have that in common."
JANET RICH, 76
ROCHESTER, RETIRED PHYSICAN ASSISTANT
GANDALF & MERLIN, 7
GOLDEN RETRIVERS
It sounds like they're named after fictional wizards.
"He's Lord of the Rings, he's of course King Arthur. They're supposed to be wise and powerful. The powerful thing worked, the wise thing not so much."
JAY (35) AND RENEE (31) PETSCH,
ROCHESTER; TRACK & FIELD COACH, CONSULTANT
DAISY, 10
ENGLISH COONHOUND
KENOBI, 4, & QUILL, 1
MINIATURE AUSTRALIAN SHEPHERDS
Do you think you look like your dog?
"I've been told I look like my hound and I have the same demeanor — we'll lay on the couch together. And then the other two are very active and my husband works in athletics, so he is very happy that they play fetch and play frisbee."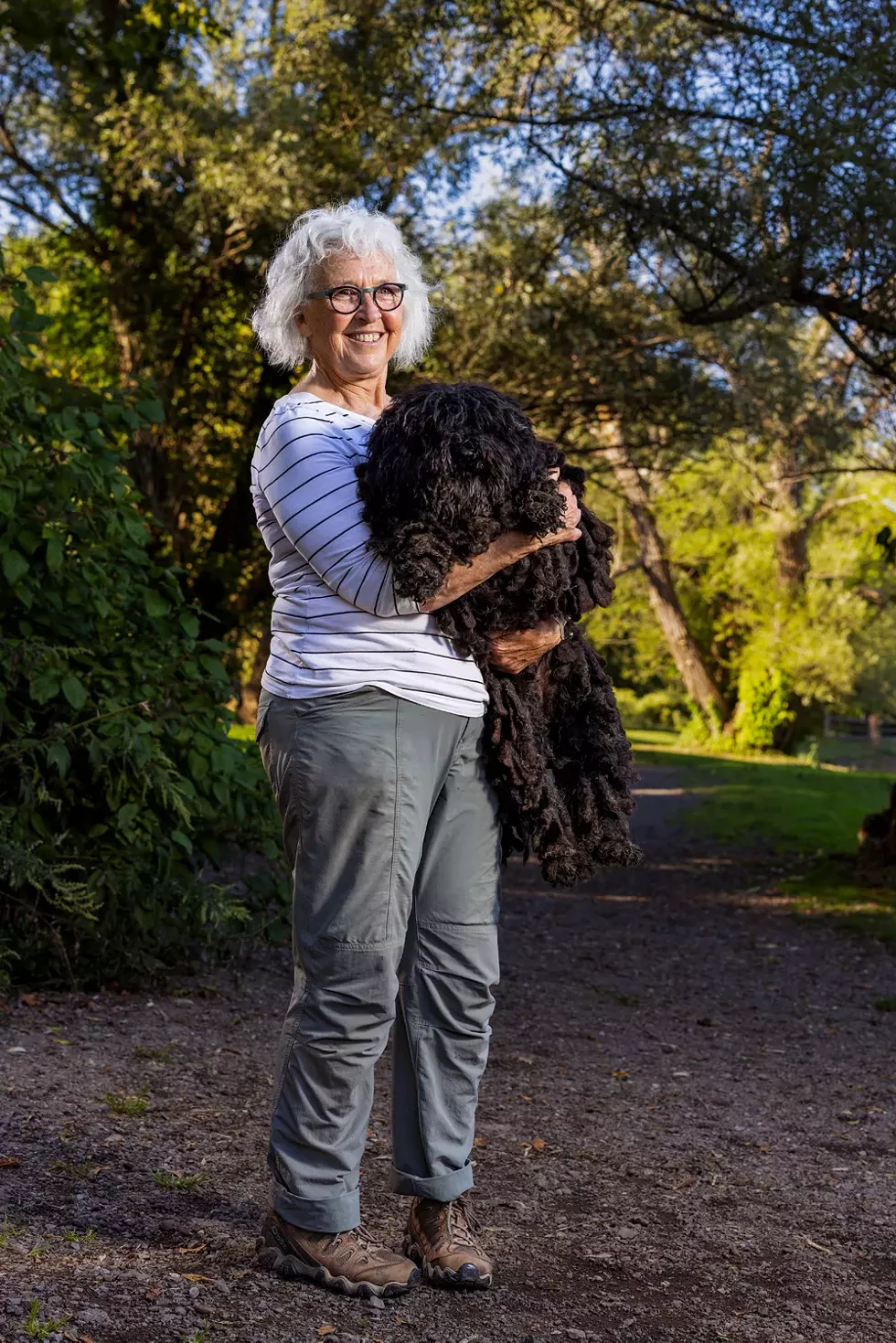 JOYCE MCDONOUGH, 74
BRIGHTON, LINGUIST
MISS KITTY, 4
PULI
How much care is involved with a puli?
"It's a coat, that's for sure. It's more than you think and it's less than you think. Giving her a bath is a big deal ... but in between times she can shake off a lot. She gets really muddy feet so we wash those off, like any dog."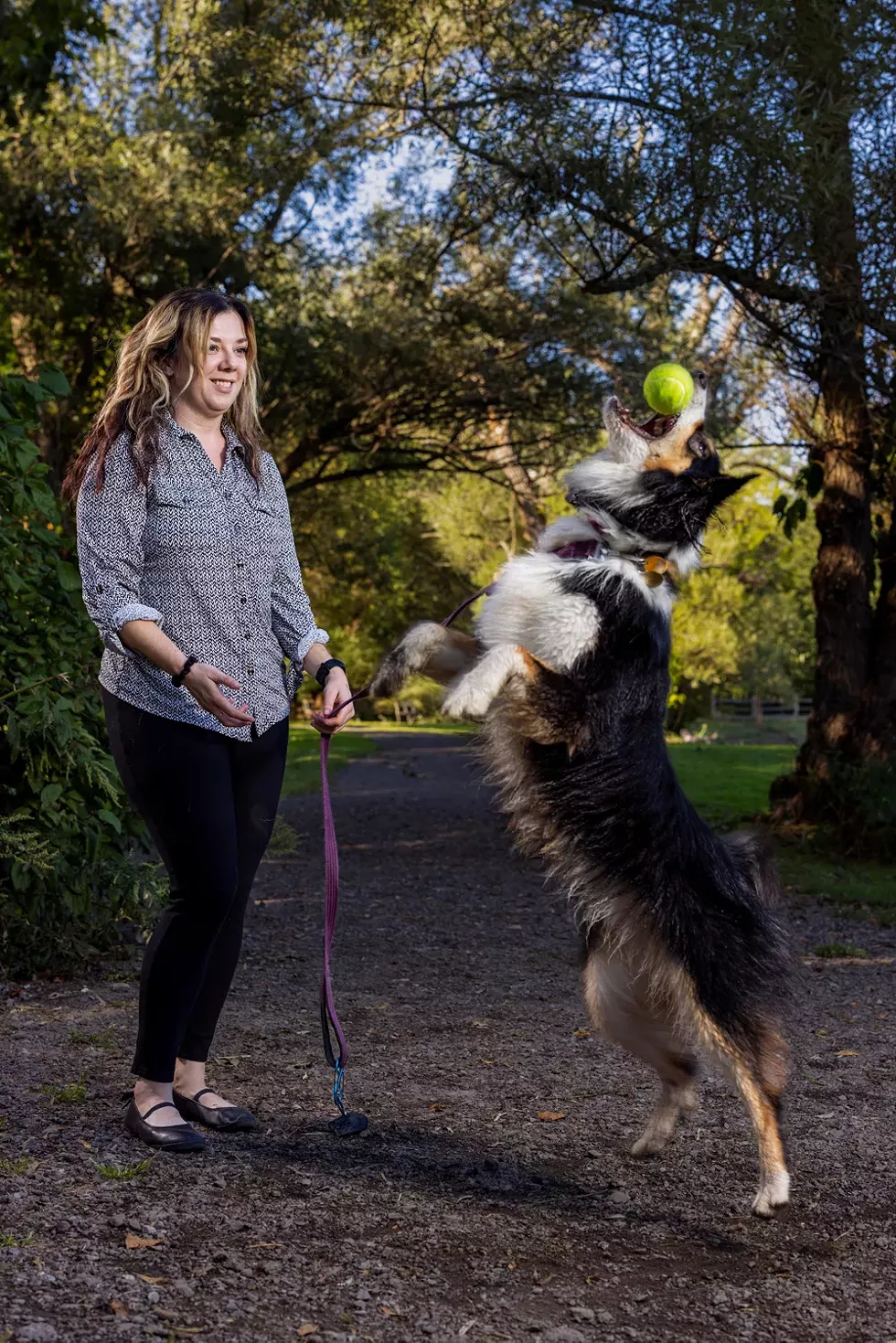 JULIE ADNER, 33
ROCHESTER, CUSTOMER SERVICE
ROBIN, 1
AUSTRALIAN SHEPHERD
Your friend was joking that you look like your dog. Has anybody else told you that?
"I got the blond highlights in the front, because my hair is dark and she's got dark hair, now we have similar features. It wasn't on purpose but then somebody pointed it out and I'm like 'Oh, I guess I do look like her.'"
LORI KOENICK, 28
ROCHESTER, PROGRAM ASSISTANT / FARM TECHNICIAN
BODHI, 3
CHOW MIX
What was the first thing that you noticed about Bodhi?
"He's calm and playful at the same time, he's very cute, great at snuggling. I love him."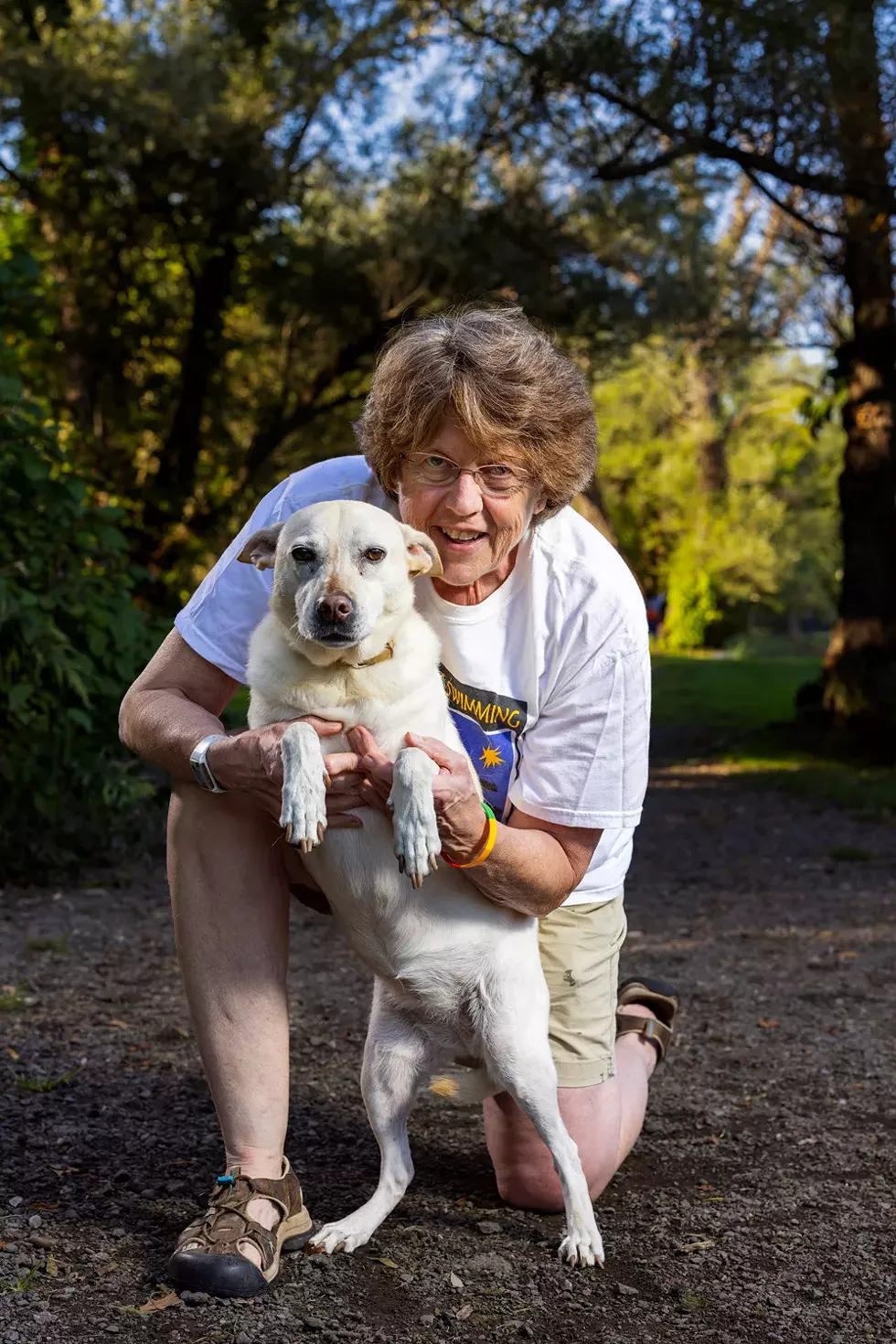 KATHRYN RIVERS, 70
BRIGHTON, RETIRED ENGINEER
PI, 12
THERAPY DOG
She's a therapy dog, what makes her suited for that?
"I got her, she's a rescue, at one year old and we went to classes because she hadn't even been in a car or on stairs or anything. So we went to classes and I had dog trainers tell me she'd make a good therapy dog. Well I said well tell me more. It's basically their temperament and how are they with novelty things they haven't seen and they don't get spooked."


ROXANNE CULLEN, 63
PENFIELD, RETIRED SOCIAL WORKER
SNOOPY, 5
BEAGLE
How are you and Snoopy alike? Are you alike?
"We're not alike, except maybe short and stocky. Other than that, we're not very much alike, actually, but we pair well. We get along well...I think we're both very food focused."
SAM MURRAY, 32
ROCHESTER, STORE MANAGER
GAEA, 1
PIT / RIDGEBACK MIX
How are you two alike?
"She actually sleeps just like I do. It's hard to explain but any kind of way I sleep she lays the exact same way right next to me. She'll lay on the pillows, she'll cover herself up, the whole nine yards. It's super weird."
SAMANTHA FADARE, 28
WEBSTER, CERTIFIED NURSING ASSISTANT
LUNA, 1
BLUE HEELER
You mentioned she has her own Instagram account (@luna_aadventures). Why did you start it?
"We travel so much and she's been so many places I just wanted to share it with everybody in my family and stuff. She loves the car — absolutely loves it."
Want CITY to visit you or a place you like to go?