This coming spring, the City of Rochester will begin issuing five-year permits for established community gardens.
Right now the city issues permits for community gardens on vacant, city-owned properties for one growing season at a time. Under the new policy, if a non-profit organization has held permits for three years and the city hasn't received any complaints about the organization's garden, then it'll qualify for the new five-year permit.
City Department of Recreation and Youth Services Commissioner Daniele Lyman-Torres and City Council member Mitch Gruber announced the change this morning at the South Wedge Victory Gardens' Hamilton Street site. The organization has a second garden on Cypress Street.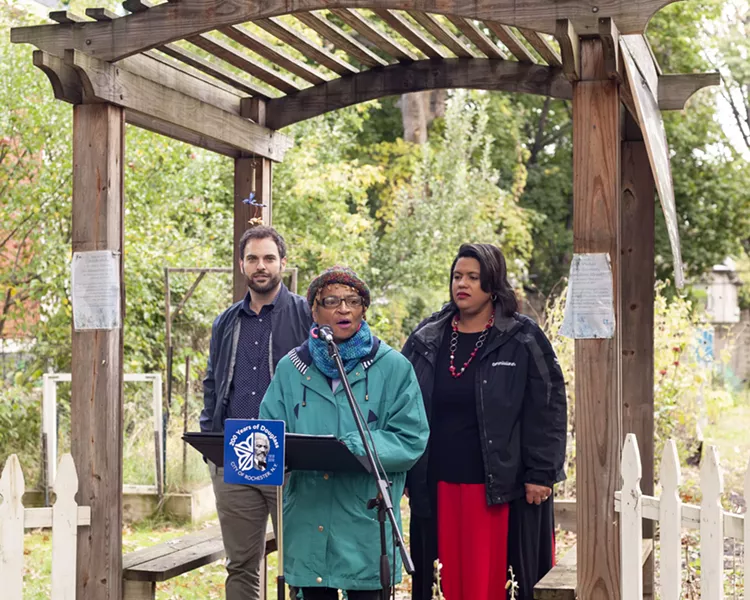 PHOTO BY JEREMY MOULE
Ann Culbreth, co-manager of the South Wedge Victory Gardens, talks about the benefits of longer-term permits for community gardens. With her is City Council member Mitch Gruber, left, and City Department of Recreation and Youth Services Commissioner Daniele Lyman-Torres, right.
"This is, forgive the pun, low-hanging fruit," Lyman-Torres said during this morning's press conference.
The policy change came after Gruber approached the mayor about making the permits last longer. That recommendation came to him from the Urban Agriculture Working Group, an organization he's tied to through his job as chief programs officer at Foodlink, he said. The working group focuses on policies around urban ag, as well as education and advocacy.
Extending the permit length addresses a big frustration for community garden organizers. They could plan and develop a garden one season, but weren't guaranteed the ability to get access to the same plot the next year, Gruber said. And running a community garden takes a lot of work and resources, he said.
"Why would you invest dollars and time in a space you're only guaranteed for nine months?" Gruber said.
Ann Culbreth, who leads the working group, said she's excited to see one of its priority goals come to fruition. Culbreth, who co-manages the South Wedge gardens with her husband, Felton, said the change will allow people to develop community gardens with the knowledge that their work won't be done in vain.
The South Wedge Victory Gardens almost lost its Cypress Street plot a year ago. The organization had built up planting beds and some other work the prior year, but as it applied for its permit for the 2017 growing season, it learned the land was being targeted for development. Through public pressure, the sale was called off.
Urban ag can, and will provide a vital role in the future development of the city, Culbreth said at the end of the press conference. Earlier, Lyman-Torres and Gruber made similar remarks. They said the gardens make neighborhoods more beautiful, boost property values, provide educational and community benefits, and serve as a source of healthy food.