[UPDATED 05/01/2019] LaShay Harris, currently a county legislator, to its South District seat, will serve the remainder of former member Adam McFadden's term, which runs through the end of the year. McFadden was removed from the seat after he pleaded guilty to fraud and money laundering charges.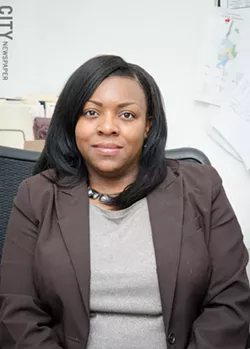 FILE PHOTO
LaShay Harris.
City Council unanimously approved Harris's appointment to the seat during a special meeting Tuesday.
Harris is a coordinator for the Rochester City School District's Career Pathways to Public Safety and past president of the 19th Ward Community Association. She's the party's designated candidate, but she faces a three way primary before she can get on the November ballot. The other two candidates are Ann Lewis and Frank Martin III, both of whom are RCSD teachers.
In a press release sent out Sunday, City Council President Loretta Scott said Council "reviewed and gave consideration to" all applicants for the appointment, but the members kept coming back to "to the experience that one person had both in the community and public service."
"I am grateful for the support of my constituents and the members of the City Council for selecting me to serve as the South District Representative," Harris said in the press release. "I am aware that with new horizons come new challenges and I look forward to working to resolve those challenges for the betterment of my constituents and the City as a whole."
Lewis previously urged Council to hold off on filling the seat until after the June 25 primary, but in a statement sent out Sunday, she said, that appointing Harris now "flies in the face of democracy."
"There will be an election in less than two months," Lewis said in her statement. "Harris will now have an unfair advantage as the incumbent. The Monroe County Democratic Committee does not believe in fair fights.
"After losing a councilman to a disgraceful corruption scandal, the last thing City Council should be doing
is engaging in backroom deals," Lewis said.
It's hardly unusual for a designated candidate for a vacant seat to be appointed to that seat ahead of an election, though the practice has plenty of critics.
Harris is resigning from her County Legislature seat, effective 11:59 p.m. Monday, to take the City Council seat. Democrats will then have another vacancy to fill. Briana Scott, spokesperson for the Monroe County Democratic Committee, says the party plans to release a statement shortly on the 27th District seat vacancy.
Two candidates, Sabrina LaMar and Ebony Dukes, will face off in a primary for the seat. Neither has the party's designation; originally, Harris was running for reelection and received the party's designation.
This post has been updated to note that LaShay Harris has resigned from the County Legislature and to include the outcome of the City Council vote.