Rochester Police Chief Michael Ciminelli is resigning to take a job with the US Drug Enforcement Agency. His last day as chief will be September 15 and Deputy Chief Mark Simmons will fill the post on an interim basis starting September 16.
In a press release announcing the changes, Mayor Lovely Warren says she "has strongly encouraged Deputy Chief Simmons to apply for the permanent job of Chief of Police."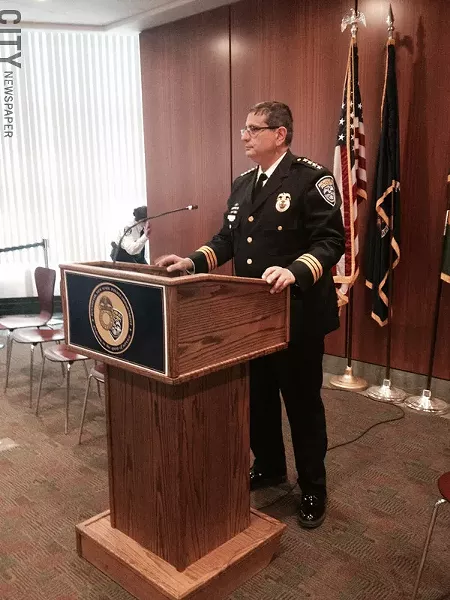 FILE PHOTO
Outgoing Rochester Police Chief Michael Ciminelli.
"Mark Simmons was born and raised in Rochester and is a respected member of the Rochester Police Department command staff," Warren said. "I have great faith in Mark Simmons, and I know he will work to protect and serve the citizens of Rochester and ensure the safety of the Rochester police officers."
Simmons currently heads RPD's Administration Bureau, overseeing the department's policy development, budget, training, personnel management, labor relations, fleet management, grant management, emergency planning, and police facilities management, the press release says.
He joined the department in 2002. He's served as chief of staff to the chief of police and has had assignments to the Organized Violence Reduction Team and the Tactical Unit, says the press release. He's also a former commanding officer of the Professional Standards Section, a background that could be valuable as city officials explore changes to the city's police oversight process.
He was also coordinator for the department's reorganization project, and he's a member of the National Organization of Black Law Enforcement Executives.
Simmons is a Rochester native and a Benjamin Franklin High School graduate. He's married with four children, and his father Bishop Amos Simmons of the Upper Floor Room Family Worship Center on Joseph Avenue.
"It will be my great honor and privilege to serve in Mayor Warren's administration as interim chief of police," Simmons said in the press release. "The opportunity to lead the men and women of the Rochester Police Department while also serving the citizens of my hometown is a dream come true."
Ciminelli became interim chief in January 2014, at the start of Warren's first mayoral term. She appointed him police chief that March. He previously served as deputy chief of police, and in several other positions and assignments within the office. He's also worked for the DEA in the past.
"Mike Ciminelli has provided strong and steady leadership at the RPD from the start of my first term in 2014," Warren said in the press release. "Body worn cameras; the return to a community-based policing model; new patrol sections; new section offices; greater police accountability; and a second-to-none level of professionalism will all be accomplishments that define his successful legacy as Chief of the Rochester Police Department."