Paul Vroman is the co-owner and chef of East Main Street's new Italian restaurant Aunt Rosie's, located in the recent former home of Max Sushi & Noodles, and right before that Duck Soupe. Truly, there are few people with whom I enjoy dishing about food and the Rochester dining scene more than the informed Vroman, so I was counting on that goodwill to soften the blow when I came out swingin':
"This will be the third time I've written about this space in the last two years. What's different about Aunt Rosie's? Why will it succeed?"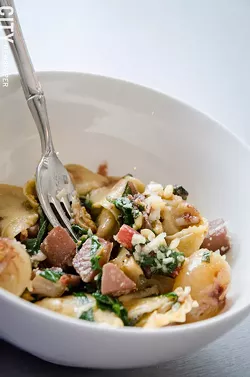 PHOTO BY MARK CHAMBERLIN
Butternut-squash-duck-confit tortellini, swiss chard, turnips, braised onions, and pine nut brown butter from Aunt Rosie's.
"Ah, that's a tough question," says Vroman. "It's Italian food; everybody loves Italian food. It's very comforting, it's very homey. And I think the price point is definitely going to help us in this area, as well as more development going on downtown right now than the previous ventures."
"And I think we'll succeed just because I won't let it not," Vroman says. "I might eat my words; hopefully I never do. But if I set out to do something, I'll do it."
You may remember that the most recent thing Vroman set out to do became a mega-popular food truck called Brick-n-Motor. A desire for stability prompted the new homeowner to sell his half of the truck when restaurateur Tony Gullace offered him the opportunity to get in on Aunt Rosie's, and now the former executive chef at Max of Eastman Place is readjusting to the joys of set hours, a stationary kitchen, and dedicated parking.
It should surprise no one familiar with Vroman's pedigree that Aunt Rosie's, with its seasonally driven menu, is not a traditional red-sauce joint. Sure, you'll find pasta and meatballs ($8; gluten-free is available), but your gnocchi may feature wild boar prepared in the style of porchetta, and your arancini might be redolent of butternut squash and gilded with pistachios and brown butter. Aunt Rosie's also serves panini in the Italian sense of the word ($7-$9); some cold, some warm, none smashed, and all on housemade focaccia with carefully matched proteins, cheeses, vegetables, and dressings.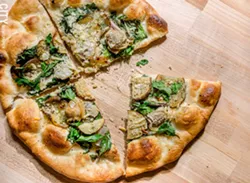 PHOTO BY MARK CHAMBERLIN
A pizza with little-neck clams, Swiss chard, roasted potatoes, and shaved garlic from Aunt Rosie's.
There are beautifully charred pizzas as well, ranging from a classic margherita ($9) to a pie topped with shiitakes, guanciale (that's cured pig jowl), fontina, and herbs ($13). Pizzas and salads (the sweet-and-savory Sicilian roasted cauliflower version is a winner) also pop up on Aunt Rosie's changeable dinner menu, along with some handmade pastas, a pastime that Vroman finds both relaxing and pleasurable.
"The dinner menu is more geared toward me having fun; gain the trust of the guests with the lunch menu and then have them come in for dinner, try something different," says Vroman. "We're going to try to stay classic Italian but put a spin on it."
That helpful price point Vroman mentioned carries over into the adult-beverage department. PBR and Genny cans are a buck (the "College Special" on Fridays will score you a slice and a can for $3), none of the current seasonal beer selections are over $5, and everything on the predominantly Italian wine list is available by the glass for $6 and by the bottle for $26. Vroman hopes to begin hosting wine dinners in January, and event planners might be interested to know that the 48-seat Aunt Rosie's is available for private parties as well as catering gigs.
Aunt Rosie's, according to Vroman, is named in honor of Gullace's aunt, who ran local restaurants with her husband and as a child introduced Gullace to the world of cooking. "The name works well with the concept that we're doing," says Vroman. "From pizza to pasta to salads to sandwiches, Italian food reaches everybody."
Aunt Rosie's is located at 350 E. Main St. It is open for lunch Monday-Friday 10 a.m.-4 p.m., and for dinner Thursday-Saturday 5-9 p.m. Prices range from $3 to $20. For more information, call 713-1470, or visit auntrosies.com.
Good karma
The Karma Sauce Pecks of Peppers Project is a Kickstarter campaign designed to fund a high tunnel, which is a greenhouse that will help extend the pepper-growing season for Karma Sauce owner Gene Olczak. Pledge awards include spicy selections from the locally made line of sauces. The campaign ends on December 25; visit karmasauce.com to learn more, and visit Kickstarter to help out.
Openings
So Paola's Burrito Place is back open at 1011 Culver Road, serving inexpensive Mexican-food favorites. Call 270-5961 for details, or visit Paola's Facebook page.
Cheese Masters has branched out from its original location in Eastview Mall and opened a second location at 703 Park Ave., offering freshly made and customizable grilled-cheese sandwiches and sides. Visit cheesemasters.net for more information.
Built in the style of an old Irish cottage, McColley's is a new pub at 89 S. Union St. in Spencerport specializing in craft beers and comfort food. Call 617-4279 or do some advance work at mccolleys.com.
South Wedge Hots & Subs is now open at 492 Monroe Ave., the menu a mix of breakfast sandwiches, hot and cold subs, fried appetizers, and plates. Call 546-1530 for more, or visit the restaurant's Facebook page.
Changes
Whatta Banh Mi has closed its location at 673 Monroe Ave.; look for it to re-open very soon at the much-larger 309 University Avenue (the old Mamasan's space) with a new name and expanded menu. Keep tabs on things at Whatta's Facebook page.
Chow Hound is a food and restaurant news column. Do you have a tip? Send it to food@rochester-citynews.com.