If there's one thing I've learned from my Italian heritage, it is this: You do not visit someone's home, especially during the holiday season, without an armload of carbohydrates. Sure, you could pop by empty-handed, but everyone will whisper behind your back, and the invitations should dry up quickly once the malocchio really kicks in.
Now, I'd hate for you to become a social pariah during the most wonderful time of the year, so read on for some local bakeries ready to supply you with breakfasty things, breads, desserts, and other treats for when you go a-callin'. And remember that you will almost certainly avoid both headache and heartache by ordering in advance.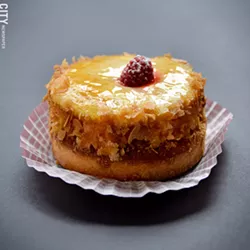 PHOTO BY MATT DETURCK
A raspberry Chiboust from Pittsford Farms Dairy & Bakery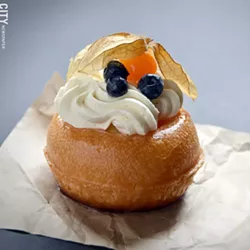 PHOTO BY MATT DETURCK
A rum baba from Pittsford Farms Dairy & Bakery.
We obviously can't name-check all the worthy bakeries that Rochester has to offer, so what's your go-to sweet spot? Let us know by commenting on this article at rochestercitynewspaper.com.
Not many places in town craft textbook French pâtisserie, but Pittsford Farms Dairy & Bakery boasts pastry chef Jean-Claude Carvin, busy in the open kitchen with gorgeous classics like the coffee-and-chocolate religieuse, raspberry Chiboust, and Paris-Brest with hazelnut mousseline. You'll also find breakfast pastries, quick breads, cookies, pies, and custom cakes, and for the a la mode set, the dairy is one-stop shopping. (44 N. Main St., Pittsford, 586-6610)
Etna Italian Pastry Shop and Café is located in what we will call the Awesome Italian Bakery District (the mighty Martusciello's is just a few doors away) and sells a tempting selection of dolci, like cannoli, rum babas, sfogliatelle, and butter cookies that have been filled, frosted, and dipped six ways from Sunday. All make lovely hostess gifts, but no one deserves an adorable pesche con crema more than you do. (2318 Lyell Ave., 429 6369, etnapastryshop.com)
Open since July, Atlas Eats has gotten a lot of attention for its food, especially the Edible Atlas dinner series, but don't forget that the small eatery houses its own tiny bakeshop. Besides a changing array of cookies, bars, cakes, and pies, Atlas Eats makes breads such as a 13-grain loaf and an excellent baguette, plus the popular Russian braid on Sundays. (2185 N. Clinton Ave., 544-1300, atlas-eats.com)
It's not easy to part with a sack of warm bagels from Balsam Bagels, but paired with one of Balsam's approximately 8,000 cream cheese flavors — including a number of vegan options — it's a much-appreciated contribution to just about any brunch gathering. On the sweeter side, Balsam offers a variety of muffins, scones, croissants, turnovers, and more, such as a pretzel-topped salted caramel brownie that you are totally allowed to eat in the morning, too. (288 N. Winton Road, 482-5080, balsambagels.com)
Gluten-free products aren't too hard to find lately, but Donna Marie's Gluten-Free Bakery was Rochester's only dedicated GF bakery when it opened back in 2009. Today Donna Marie's supplies a number of retailers, but you can also head straight to the source for GF bread, rolls, cookies, muffins, custom cakes, and pies, as well as bread dough and pie shells for those who want to add that homemade touch. (164 Newbury St., 254-0706, donnamariesbakery.com)
When Lyndsey Dee isn't slaving over a keyboard (her YA debut novel "Flour City Blues" is available through Amazon), she's masterminding cupcakes at her bakery Cakes a Go-Go. It's a cozy space, so Cakes a Go-Go only stocks several different flavors at a time, along with various cookies and other baked goods. But if you can plan ahead, take a look at the wildly inspired creations on the cupcake menu — The Manhattan Project, for instance, is bourbon-infused orange cake with maraschino buttercream — and get ready to make some hard decisions. (57 S. Main St., Fairport, 337-8021, cakes-a-gogo.com)
Earlier in 2013 Goodness Cakes celebrated five years of making the Neighborhood of the Arts just a bit sweeter, baking up a rotating selection of cookies and bars, tarts like raspberry-almond and chocolate-banana, and cake in its myriad forms, from mini-cupcakes to towering special-occasion cakes. The noncommittal should appreciate the cake-slice option as well as the opportunity to order a "weeclair." (720 University Ave., 271-1890)
Many chefs steer clear of the precision and patience required for baking, but Keith Myers made a seemingly seamless leap with Flour City Bread Co., where he uses organic flours and whole grains to produce loaves like pain au levain, spelt, and sprouted wheat. The viennoiserie are equally excellent, with classics like sticky buns, croissants, and danish. Check FCBC's Facebook page for additional holiday hours and seasonal offerings. (52 Public Market, 957-3096, flourcitybread.com)
The scope of available baked goods at Leo's Bakery & Deli is mindblowing, with yards of showcases that may flummox you. Fortunately, there are no wrong choices: scones, muffins, cookies, pies, cakes, and classy little delights like truffles and petit fours. Or hit up Leo's new café for something savory, because nothing says "Happy Holidays" quite like a bouquet of subs. (101 Despatch Drive, East Rochester, 249-1000, leoselite.com)
Sweet Sammie Jane's Café & Pastry Shop does cookies, cakes, pies, and tarts, but macaron lovers, take note: this place cycles through around 40 different flavors of the delicate confection, which go beyond vanilla and chocolate to include caramel-apple, maple-bacon, pink champagne, roasted pineapple, spiced chai, tiramisu, green tea, and s'mores, to name but a few. Check Facebook for the weekly lineup. (3765 Chili Ave., 474-3100, sweetsammiejanes.com)
Many of us have experienced the comforting bliss of a butterflake roll from Baker Street Bakery, but you may not know that Baker Street will make just about any of its breads — i.e., whole wheat, sunflower, and my favorite sourdough — into roll form. Holiday time brings out the fig-filled cucidati, spice-kissed chocolate meatball cookies, stollen, and a boozy traditional fruitcake that you'll actually want to eat. (745 Park Ave., 241-3120)
Chow Hound is a food and restaurant news column. Do you have a tip? Send it to food@rochester-citynews.com.