When It Comes To Finding Good Food At Reasonable Prices, Rochesterians Have It Easy. We Are Certainly Not As Challenged As Those Poor Folks Who Live In Larger, More Expensive Cities. And Yet, With The Ample Choices We Have For Quality Grub Under A 10 Spot, It Can Be Hard To Cut Through The Clutter And Find The True Diamonds In The Rough.
For our first Cheap Eats guide, the City Newspaper Chow Hound has sorted her choices — none of which cost more than $10 — into nine popular cuisine categories to give you a glimpse of some of Greater Rochester's best deals, all of which will keep both your wallet and stomach full. This is in no way intended to be a comprehensive list of all of the great, inexpensive food in Rochester, just a starter list of some of our favorites. Did we miss a great menu item at your favorite restaurant? Share it with us at rochestercitynewspaper.com, and perhaps we'll include it in the next edition.
Breakfast
It may have the word "diner" in its name, but with its bohemian-chic décor (including its characteristic, tassel-adorned tables) and its German-, Polish- and Irish-inspired menu, the Flour City Diner (2500 East Ave, 586-7730) feels like anything but the traditional greasy spoon. Open since 2001 (though it has changed locations a few times), the diner offers lunch and dinner as well, but it's the breakfast menu that really grabs our attention. Just about everything served at Flour City is homemade, from the pierogies topped with sautéed onions and bacon ($7.95) to the popular hash served with eggs and toast ($7.45). Even the sausage is homemade, best sampled in the delicious sausage gravy over biscuits, served with two eggs for only $5.95. If you like your breakfast on the sweeter side, you can't miss with the Irish oatmeal — steel-cut oats drizzled with maple syrup and topped with whipped cream ($5.50).
Hicks and McCarthy (23 S Main St in Pittsford, 586-0938) has been serving the Village of Pittsford for more than 90 years, and the experience shows. From the apple walnut pancakes ($5.95), which can be served with real, New England maple syrup for $2.25 extra, to the sundried tomato breakfast burrito ($5.95) and signature flat frittatas (also $5.95), the casual, low-key restaurant offers upscale options at diner pricing.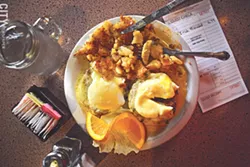 PHOTO BY MATT DETURCK
The Irish Benedict, made with corned beef and Swiss cheese, at Peppermint's Family Restaurant.
When you're craving a sinfully satisfying, gut-busting breakfast, Peppermint's Family Restaurant (4870 West Henrietta Rd, 359-9169) in Henrietta certainly fits the bill. The Chef's Special — somewhat akin to a garbage plate for breakfast — offers heaps of corned beef, potatoes, onions, and peppers covered with two poached eggs, all smothered in Hollandaise and cheddar cheese for only $6.79. The Irish Benedict, made with corned beef and Swiss cheese, also packs a punch for $6.75. And the L.A. cinnamon bread ($2.49), a thick-cut slice of cinnamon-swirl bread drizzled with a cinnamon icing, will make you consider following breakfast with dessert.
Pizza and Italian
Sure, you can walk into almost any pizzeria in Rochester and grab a slice or two for a few bucks, but only Piatza's Pizza Gourmet (365 Park Ave, 271-4950; 1703 Crittenden Rd, 292-5770; 110 Packet Landing, 421-8118; and 2400 Macedon Ctr, 315-986-3665) offers the 14-inch "mega slice" that is literally larger than your head for only $3.99. The slices come from huge, 28-inch pies. To put things in perspective, that's a full foot larger than the average 16-inch large pizza.
At Pudgie's Pizzeria (1753 N Goodman St, 266-6605; 520 N Main St, Canandaigua, 394-6720) you can certainly grab some of the fabulously popular pizza, subs, or wings, but the real deal is Pudgie's inimitable stromboli, which is stuffed with pepperoni, Italian sausage, ham, roasted peppers, and four cheeses (mozzarella, American, Swiss, and grated Romano) for only $4.89 a slice.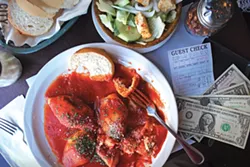 PHOTO BY MATT DETURCK
The stuffed shells lunch special at Rosey's Italian Café.
PHOTO BY MATT DETURCK
The stuffed shells lunch special at Rosey's Italian Café.
Rochester has its fair share of Italian restaurants, but many of them fall into the upscale/fine dining category and very few offer delicious, authentic Italian dishes at affordable prices. For that reason, Rosey's Italian Café (350 E. Main St, 232-8400) is an extremely popular lunch spot (it is only open weekdays 11 a.m.-3 p.m. except for Fridays, when it remains open until 9 p.m.). The always-crowded restaurant offers one of the best lunch deals in the city: spaghetti, rigatoni, angel hair, or penne pasta with a huge meatball and a salad for $6.99, or homemade lasagna, gnocchi, ravioli, manicotti or stuffed shells for just 50 cents more. Mangia!
Burgers
I would like to argue that burgers are to Rochester what apple pie is to America. It's hard to go anywhere in Rochester that doesn't offer a burger on the menu. I'd also hazard a guess that we have more burgers and hots joints than most cities our size, thanks in part to a trend started by Don's Original (4900 Culver Rd, 323-1177; 2545 Monroe Ave, 244-2080; 2055 Fairport Nine Mile Point Rd, 377-1040), which was opened in 1945 as Don and Bob's (for owners Don Barbato and Bob Berl). When Berl left to focus on the Zweigle's sausage-products business he had inherited from his uncle, Barbato stayed on and the roadside restaurant eventually changed its name. The ground steak sandwich ($3.95), the cheeseburger ($4.30), and the bacon cheeseburger ($5.15) are all delicious choices with a taste of history.
Hand-pressed burgers, homemade root beer, and old-fashioned crinkle-cut fries are just three reasons that Tom Wahl's (eight locations, visit tomwahls.com for details) deserves a spot on this list. Plus, a burger for $3.89 is a good deal — but how about two? Insane. You can download a buy-one-get-one-free cheeseburger coupon easily from the restaurant's website. The Wahlburger — a ground steak burger topped with grilled ham, Swiss cheese, and special sauce — also tops the list of good deals here for only $4.49.
If you like your burgers with extra burger, then check out the Dad's Favorite at the Mount Hope Diner (1511 Mt Hope Ave, 256-1939). The sandwich, named after the owner's father who ate the sandwich all the time, features two 1/3-pound cheeseburgers topped with lettuce, tomatoes, onions, and mayonnaise and served on French bread for only $6.20.
Subs/Sandwiches
When a sandwich has the word "bomber" in its name, you can bet it's a formidable foe for your stomach. The steak bomber at Campi's Restaurant (205 Scottsville Rd, 235-7205) is the largest this writer has ever seen. A full 12-inch roll (like a round loaf of bread) is cut in half and stuffed with Philly-style steak, onions, peppers and cheese — it's enough to feed two people, and it only costs $7.49.
When you hear steak sandwich around these parts, you usually think of something akin to the Philly variety, but at LDR Char Pit (4753 Lake Ave, 865-0112) it's a bit more literal: a quarter-inch ribeye steak is seasoned and flash-grilled (so that it keeps its pink center and stays tender) and then served on a large, soft round roll. It's $6.25 for just the steak on a bun, but you can add toppings like cheese and onions and peppers for just a few dimes more.
It may sound crazy to drive out to Geneseo for a sub, but any SUNY Geneseo graduate will tell you that they still crave the subs made at Aunt Cookie's Sub Shop (76 Main St in Geneseo, 243-2650). There's even a Facebook group called, "I could really go for an Aunt Cookie's sub right about now" with nearly 1400 fans. The sub options are standard fare — cold cuts like turkey, Italian assorted, roast beef. But combined with the homemade, toasted sub rolls, the taste is anything but ordinary, and the prices are good too: all half subs are $3.75-$4.25, and all whole subs are less than $8.
Barbeque/Southern
For out-of-towners, two things that really evoke Rochester are garbage plates and Dinosaur Bar-B-Que. For the best of both worlds, the "sticky icky plate" offered at Sticky Lips Pit BBQ (625 Culver Rd, 288-1910) features your choice of barbeque beef brisket, hamburger, cheeseburger, hot dog, chicken, or pulled pork mixed with French fries, macaroni salad, and barbeque baked beans and then smothered in meat hot sauce, onions, and cilantro ($8.95). The Pittsburgh sandwich (your choice of meat — including pulled pork, chicken breast, portabella mushroom, lentil veggie burger — paired with French fries, coleslaw, mustard, and tomatoes all between two slices of jalapeno bread) is an equally filling option offered at a great price ($7.49).
Barbeque and Pizza Too (3105 E. Henrietta Rd, Henrietta, 334 -3300) offers just what its name suggests, all with the convenience of delivery or quick pick-up service at low prices. Just to name a few: the pulled-pork sandwich is just $3.50, and a quarter rack of ribs is $5.95, or $7.50 with a side and a slice of garlic bread.
PHOTO BY MATT DETURCK
"Mud bugs" — crawfish dipped in Cajun batter and fried — from Beale Street Café.
PHOTO BY MATT DETURCK
Gumbo from Beale Street Café.
Many people mistakenly consider Cajun and Creole cuisine to be the same thing; just ask someone from New Orleans and you'll find out just how wrong you are. Beale Street Café (689 South Ave, 271-4650; 1930 Empire Blvd in Webster, 216-1070) is of the Cajun variety, but also offers other authentic Southern favorites to round out the experience. All of the food is delicious, but two offerings are the perfect fit for this cheap eats list: the "mud bugs" — crawfish dipped in Cajun batter and fried — for $7.99, and the gumbo, which features seafood and pork and is served in a huge bowl for $4.79.
Health food/Vegetarian
The common complaint about health food is that you often end up paying more for less, but at Hyjea (2120 Five Mile Line Rd in Penfield, 586-5683) the wide selection of tasty, good-for-you foods at low prices defy this grievance. Take for instance the Buffalo-style sandwich made with either chicken or organic tofu, topped with celery, greens, and light mayonnaise on a wheat wrap, wheat roll, or lettuce leaf, or the raspberry almond wrap with sliced almonds, craisins, low-fat feta, mixed greens, and a raspberry vinaigrette dressing, each only $7.
Places that become popular lunchtime haunts are almost guaranteed to provide good food that's fast, cheap, and close to the office. Grill and Greens (39 State St, 454-4890) is perfectly situated near several downtown office buildings, but it also offers a great, healthy lunch special for those on the go: a salad (your choice of lettuce, five toppings, and dressing) and a cup of soup (changes daily, but often includes options like tomato tortellini, chicken gumbo, and clam chowder) for just $6.49, $6.99 if you choose meat or vegetarian chili.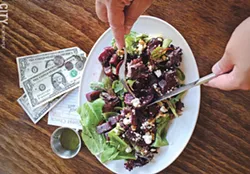 PHOTO BY MATT DETURCK
The roasted and marinated red beets — served over mixed greens and topped with an herb vinaigrette, walnuts, and goat cheese — at Mise en Place.
PHOTO BY MATT DETURCK
The roasted and marinated red beets — served over mixed greens and topped with an herb vinaigrette, walnuts, and goat cheese — at Mise en Place.
Mise en Place (683 South Ave, 325-4160) is both a market and restaurant in one, aiming to offer gourmet food for those in a rush. And while many of the restaurant's entrees are a bit pricey for this cheap eats list, healthy bargain hunters should get excited for the roasted and marinated red beets, which are served over mixed greens and topped with an herb vinaigrette, walnuts, and goat cheese for a mere $7.
Mexican
New to the scene, yet already popular, Hot Rosita's (17 E Main St, 454-2001) features a flexible menu where nothing costs more than $6.25. Choose from a burrito, burrito bowl, or salad and then pick a meat (chicken, ground beef, shredded beef or pork, or grilled shrimp) and your fillings (including cilantro/lime rice, salsa, guacamole, black or pinto beans, and more).
It's easy to see why John's Tex Mex (489 South Ave, 232-5830) is a South Wedge favorite. It offers a long list of items that could make this cheap eats list, but one particular lunch combo — two "fresca" tacos with a side and a drink for $7.75, with the option to add a third taco for just a quarter more — tops the list. Coming in second is the Mexican mush dip, which is actually on the restaurant's appetizer menu, but is plenty filling for a meal. It's served with homemade chips for just $3.
Seven layers of gooey, savory, spicy goodness that can't be consumed in just one sitting for just $6.29? Sign me up! That's the Lucky Seven Layer Dip served at Sol Burrito (521 Monroe Ave, 271-6470), filled with ground beef, refried beans, cheese, tomato, black olives, and jalapenos accompanied by homemade chips and salsa. If that doesn't float your boat, you can grab two tacos (choose from seven varieties) for just more than $5.
Mediterranean
Aladdin's Natural Eatery (646 Monroe Ave, 442-5000; 8 Schoen Place, Pittsford, 264-9000) could just have easily fit into the healthy eating category, but the selected deals seemed a better fit for our Mediterranean category. First up is the falafel pita, which is served with a delicious and tangy homemade tahini and mixed greens with sprouts. The spiced chickpea-and-fava-bean patties that stuff the pita are mildly spiced, yet flavorful and a steal for just $5.75. The moussaka carries a higher price tag at $8.75, but offers a much more filling dish of potatoes layered with ground beef and eggplant, topped with béchamel sauce and served with a choice of a Greek, Caesar, garden, or spinach salad.
The cheapest eats are often found near college campuses, where cash-strapped students flock to save a buck. But it's not often that the food is as delicious as it is inexpensive. King David's (200 Park Point Dr, 424-7482), located in the Park Point development near RIT, offers a wide selection of Mediterranean food (mostly of the Greek persuasion). The Greek "pitzas" — which come in several varieties of delicious toppings baked on 12-inch pitas — show that King David's definitely understands its market, especially with a price tag of only $5.95 to $6.95 per pitza.
A good sign of a popular cheap eats locale is a line that frequently extends out the door. Sinbad's (719 Park Ave, 473-5655) is no stranger to that concept, probably due to its healthy, tasty, unique, and often chic choices at unexpectedly low prices. For instance, the restaurant offers nine varieties of large-portioned salads, all of which are $6.50 or less, including the tabouleh (parsley, tomatoes and bulgur seasoned with olive oil and lemon juice), malfouf (shredded cabbage with tomatoes and scallions tossed in a Greek dressing), or loubieh (blanched green beans and artichoke hearts tossed with Greek dressing). The soups are a great addition to the salads at just $3.50 for one of five filling options, but the "cacik" — yogurt soup with mint and cucumber — is a specialty that should not be missed.
Drinks
It may seem like a stretch to add drinks to a cheap "eats" list, but when you're looking for something filling or refreshing on-the-go, the wide variety of bubble teas from KC Tea & Noodles (363 S Goodman St, 271-1420) will do the trick just fine. At just $3.50 for a 16-ounce small or $5 for a 22-ounce large, the massive teas all include a good helping of the delicious tapioca "bubbles" (hence the name) that provide sustenance with your refreshment. The tea comes in many flavors, from standard green tea to fruit teas like mango, passion fruit, strawberry, and even honeydew.
You might go to Lovin' Cup (300 Park Point Dr, 292-9940) for the live music, the yummy food, or the beer and wine list, but you shouldn't ignore the gourmet coffee selections either. While coffee may not sound very filling, if you add just the right ingredients, it can quench your thirst and your appetite. Take for instance the "instant karmal" made with espresso, steamed milk, and oodles of caramel syrup ($3.10/small, $3.95/large), or for those who like their hot coffee without the coffee, Lovin' Cup offers "the me," which features milk and your choice of a flavor shot steamed into a delicious drink ($1.95/small, $2.60/large).
For drinks that can double as dessert, head out to Moonlight Creamery (36 West Ave, 223.0880) in Fairport where you can find homemade artisan ice creams and other desserts. But for a tasty treat that can be slurped up through a straw, the signature toasted marshmallow milkshake ($5.49) cannot be missed — it tastes just like a marshmallow roasted over an open fire, blended into a delicious, frozen treat. You can also try a "Boston cooler," which was actually invented in Detroit, and is float made of Moonlight's homemade vanilla ice cream and ginger ale ($5.25).
Do you have a favorite local dish that costs $10 or less? Leave a comment on this article, below.