In 1937, the American dinner table changed forever. That was the year Kraft began producing boxed macaroni and cheese, and a beloved comfort food became accessible within minutes. Thomas Jefferson is often credited with introducing macaroni and cheese to the United States when he was in the White House — he'd likely tasted the dish during his trips to Italy, where it was invented as early as the 13th century.
Colder temperatures, understandably, find Rochesterians craving comfort foods, and hot dishes oozing with creamy sauce and carbs top the list. Sure, cooking Kraft at home is fine, but many local restaurants have found ways to put their own tasty spin on cheesy pasta.
Do you have a favorite mac 'n' cheese dish in Rochester? Tell us about it in the comments below this story.
Macarollin
During warmer months, the sunny Macarollin food trucks are constantly popping up at the Rochester Public Market, festivals, private events, and every highway between. When it's snowy, patrons can get their fix in the Eastview Mall food court. Macarollin's classic mac utilizes cavatappi (corkscrew) noodles and a blend of aged Cheddar and shallot-infused cream sauce topped with crispy breadcrumbs, but there are more than 25 rotating flavors in all, including a lobster mac with goat cheese and lemon-scented breadcrumbs. Macarollin began in 2013 and has since grown to four food trucks (with several franchise locations in the works).
The Original Mac & Cheez
Armed with 25 years of recipes and experience from his native Marche, Italy, chef David Piergiacomi moved to Rochester with his family several years ago. In 2012, he and his wife, Maria, set up a sampling table at the Rochester Public Market, where they handed out forkfuls of mac and cheese, pasta al forno style — "pasta in the oven" — and it was so popular that they soon had a food trailer called "The Original Mac & Cheez." In late 2015, their quaint brick and mortar location on Main Street in Webster opened (the trailer still operates during warmer months). Rather than gooey orange cheese and elbow noodles, Piergiacomi uses mostly Italian cheeses (all his dishes have a Parmigiano-Reggiano base) to formulate a homemade sauce and pours it over penne before he bakes it. Sides are available, but the pasta itself is rich and filling.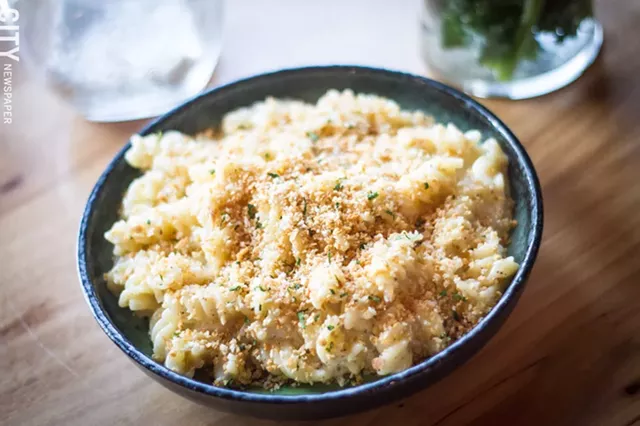 PHOTO BY KEVIN FULLER
The Truffle Mac 'n' Cheese at Next Door Bar and Grill.
Next Door Bar and Grill's Truffle Mac 'n' Cheese
While the menu isn't dedicated to different versions of macaroni and cheese, the Wegmans-owned Next Door Bar and Grill has a truffle mac 'n' cheese that almost never leaves the menu. Truffles already make a meal feel luxurious — but when added to cheese sauce, they kick pasta to a gourmet level. This dish, which uses fusilli (a longer, thicker corkscrew) is also baked and topped with crispy panko breadcrumbs. Of course, it features items patrons can purchase at one of the Wegmans stores and recreate at home using the recipe from Wegmans.com.
PHOTO BY KEVIN FULLER
Jeremiah's Twisted Chicken Mac 'n' Cheese.
Jeremiah's Twisted Chicken Mac 'n' Cheese
For those craving more than a dozen wings and a pitcher of beer, Jeremiah's offers a varied menu filled with comfort food. One of the most popular entrees is the Twisted Chicken Mac 'n' Cheese: cavatappi pasta with white chicken, melted cheddar, and Buffalo wing sauce topped with chunky bleu cheese and diced scallions (pro tip: omit those). It's a generous portion, perfect for sharing or taking home for lunch or dinner the next day.
Tavern 58's Classic Mac 'n' Cheese
Tavern 58 is tucked away on Gibbs in the Eastman neighborhood, an intimate little dining spot with a patio for warmer days. Despite the term "tavern," its menu tends away from bar food and caters to a nice evening out. Tavern 58's Classic Mac 'n' Cheese may be one of the only versions of the dish to include port wine cheese, which gives a sweet tang to the Cheddar sauce and doughy homemade pasta. It's also baked, with a panko crust.
PHOTO BY KEVIN FULLER
The Owl House makes its cheese sauce from Kabocha squash.
The Owl House's Vegan Mac-N-Cheese
OK, so cheese is not vegan. But there are vegan versions of cheese, and some are just as delicious as the actual dairy product. Take, for example, The Owl House's Mac-N-Cheese, which features a sauce made from Kabocha squash (a winter squash that resembles a squat green pumpkin) atop Flour City's radiatori (small nuggets of pasta with plenty of ridges to catch sauce). Green beans and broccoli are tossed in and the whole dish is baked with an herbed panko topping. This version is not always on the menu, since it's a seasonal entrée — previous versions included duck sausage, tofu, and actual cheese.
Mooney's
If braving 490 is worth the largest portion of mac and cheese in Western New York, then a trip to LeRoy might be in order. Mooney's, located on Lake Street in an unobtrusive clapboard building beside railroad tracks, is an outpost of the Buffalo-based franchise sports bar. The menu is extensive but centers around Mooney's Macaroni & Cheese, which has more than 20 varieties. Made with New York's own Yancey's Fancy Cheeses, the dish comes in 'side' and 'whole' sizes. Attentive waiters will warn patrons that a side is an easy two servings, and a whole will feed two to four moderately hungry people. Among the flavors is "Loaded Fries Mac" (French Fries are baked in) and "Beef on Weck" (fresh roast beef and a Kimmelweck topping).