For many people, home always seems to call you back at some point, and like many prodigal sons, SOTA grad Adam Bierton packed up and moved back to Rochester from Brooklyn last year. While enjoying the quieter life of Rochester, he missed some of the easy access to good food that he enjoyed in the borough. And for this reason, Bierton had an idea stewing (or in this case, deep frying) for a while. He spent a year fine-tuning a family recipe that's close to his heart, and finally he set out to found Chick'N Out, a fried chicken spot with hometown roots, but with a little BK soul.
When I got this assignment, I wanted to know where Chick'N Out was. I couldn't find an address. Is it a food truck? A shack? All I could find at the time was an Instagram account (@chicknoutroc). Did my editor just prank me? As it turns out, Chick'N Out is a pop-up spot; they set up shop in one place and take over the kitchen for a night. The old Daisy Dukes on Empire Boulevard used to have weekly pop-ups from different chefs, so I'm familiar with the concept.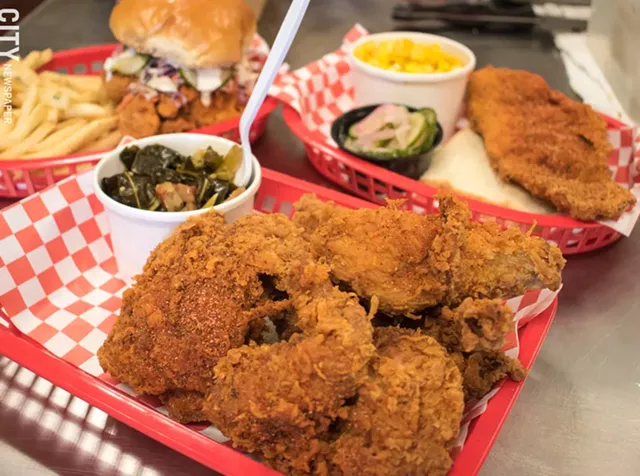 PHOTO BY JACOB WALSH
Each Thursday night Chick'N Out takes over the kitchen at Blossom Road Pub for its popular pop-up stint.
Bierton says he chose a pop-up format partially because he was eager to get his business going. He was wary about going the food truck route, given the seasonal constraints. Finding and renovating a brick-and-mortar space is always a lot of work and would delay his goal even farther. Fortunately, his brother Marcus Lenear co-owns The Blossom Road Pub, and he offered Adam the opportunity to take over the kitchen on Thursday nights for Chick'N Out. At this time, to enjoy Chick'N Out, you have to go to Blossom Road Pub on Thursdays, 5-10 p.m. (but more accurately, it's from 5 p.m. until they run out of food).
Bierton assured me during a pre-visit phone interview that he ordered a more tenders and chicken this week, as he ran out sooner than he expected the previous week. Nevertheless, he advised that I try getting there early. I decided that going immediately after work would be a wise choice, since I would be hungry, and my business clothes make me look more like a serious purveyor of food news than my usual post-work attire of a faded Star Wars t-shirt and whatever jeans look least dirty.
Parking was tricky, even at 5:45 p.m. -- the pub's lot as well as the neighboring businesses' lots were full -- so I wound up having to loop around and park across the street in front of the CVS. As I exited the car, I could smell the aroma of the food from all the way across the street. I could almost see the scent. I felt like I could use my nose to hook to the scent and let it convey me across the street like in old Warner Brothers cartoons. The evening Winton Road traffic reminded me that I should just hit the button at the crosswalk and wait for the green like everyone else.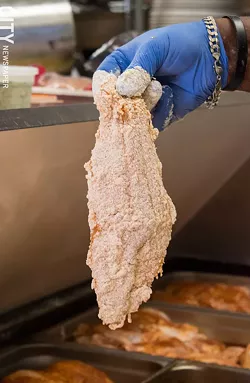 PHOTO BY JACOB WALSH
Also serving fried catfish (off-menu)!
Inside the pub was standing room-only, and people were still filing in. Folks were in every corner of the bar and dining areas, either waiting for their meal or chowing down like they'd discovered the meaning of life in the food.
Chick'N Out portions are a decent size for the price. I ordered a spicy Small Dark (leg and thigh, $10), collard greens ($2), and the cucumber onion salad ($2). I promised my editor that I would take a few shots of the food so that she would know what to look forward to, but I inhaled that leg and thigh without thinking twice. Is it mean or just unprofessional to send to your boss a picture of a completely cleaned-off set of animal bones?
I have not had a piece of fried chicken as juicy since the last time I had family dinner with my cousins down in Baltimore. Conversely, go to any big name fried chicken chain, and the meal will be okay, but the chicken will be dry. If it's juicy, it's also a little bloody. Chick'N Out chicken is so tender it nearly falls off the bone. It is as if the breading is just a light casing to keep the meat in one place. Speaking of the breading, Bierton could just sell that on wafers and make a killing. The collard greens were a nice, mild complement to the spiciness of the chicken. One warning: As good as they are, the greens are cooked with some bacon, so not kosher or halal. The cucumber onion salad was a nice, tangy finish to the meal.
PHOTO BY JACOB WALSH
The (off-menu) fried catfish with cucumber tangy onion salad and corn sides.
Bierton says he plans to bring Chick'N Out to other venues in the future and possibly go mobile with a trailer or portable shack. But for now, being only seven weeks in at the current venue, and as popular as it is already, I would suggest getting there as close to 5 p.m. as possible. After all, the early bird gets the...bird. I'm bad at idioms. Just get the chicken.
PHOTO BY JACOB WALSH
Chick'N Out cook Kevin Stevens prepares collards at Blossom Road Pub.